Thank you for your interest! This journey is either underway or complete, but we do have
many other tour options
for you to choose from.
Just a two-hour flight from Miami, Belize offers a rich blend of Mayan ruins and lush forests still wild enough to host Jaguars and a diversity of tropical birds, butterflies, and mammals. This nation's warm, hospitable people speak English and have a strong tradition of caring for their biological wealth. We concentrate on three of Belize's finest and best-known naturalists' lodges: Pook's Hill, Lamanai Outpost, and Chan Chich, situated in reserves and protected forests, and offer varying habitats, Mayan ruins, and tasty food.

Join us to explore Belize's biological treasures and cultural roots. We emphasize birding, but also examine natural history and Mayan heritage … and some simple, relaxing fun. We enjoy extended time at each lodge to ease travel and soak in the special attributes that give them such fine reputations.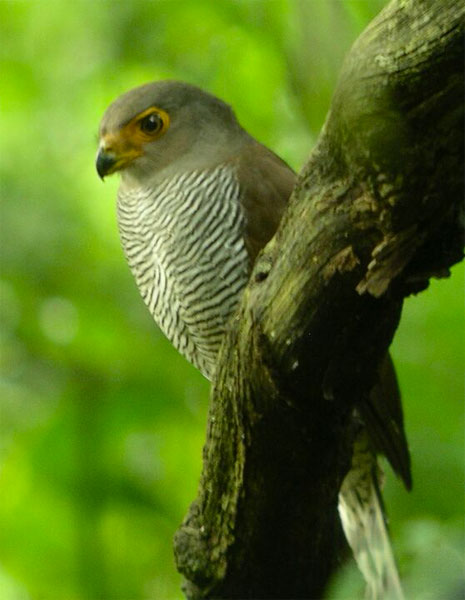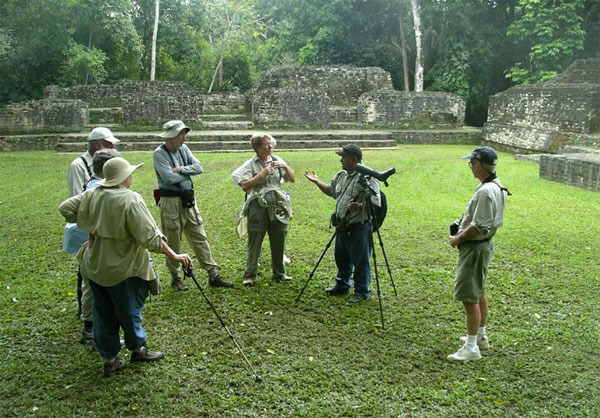 Tour Highlights
From Pook's Hill, explore Pine Ridge Country in search of Orange-breasted Falcon and more
Experience the Belize Zoo to enjoy native creatures and heart-warming signage
Bird the forest canopy from above, atop two stunning Mayan temples
Enjoy three nights at the beautiful Lamanai Lodge, just a stroll away from impressive Mayan ruins
Take night excursions in search of several species of bats, night birds, and maybe even a Jaguar!
Spend three fascinating nights at Chan Chich Rain Forest Lodge, set in a Mayan plaza
Wake to the noisy chorus of tinamous, forest-falcons, and motmots, right outside your door
Traverse the trails at Chan Chich, through numerous habitats in search of trogons, parrots, toucans, and more
Photo credits: Banner: Chan Chich Lodge, Naturalist Journeys Stock; Barred Forest-Falcon by Narca Moore-Craig; Barton Creek Boating by Narca Moore-Craig; Birding Caracol Archeological Project by Narca Moore-Craig; Belize Town, Naturalist Journeys Stock; Keel-billed Toucan by Narca Moore-Craig; Pale-billed Woodpecker by Narca Moore-Craig; Belize Scenic, Naturalist Journeys Stock; Ornate Hawk-Eagle by Narca Moore-Craig.