Join Naturalist Journeys on this South Carolina nature and culture tour. Discover the history, nature, and culture of the charming and beautiful South Carolina coast. Explore Savannah and Charleston, and make stops at historic forts and Morris Island Lighthouse. Relax on horse-drawn carriage rides over cobblestone streets, bird the beautiful Magnolia Plantation, tour antebellum museums and mansions, and indulge at famous local restaurants.

Explore the Savannah National Wildlife Refuge, spend time in historic Savannah, a Revolutionary and Civil War port city that offers incredible Southern Charm. Experience the natural diversity of the massive ACE Basin; this National Wildlife Refuge protects 1-million+ acres that stretch between Charlotte and Savannah. This rich mix of habitats and 700,000+ estuary acres are a haven to endangered wildlife.

Finally, spend two pleasant days walking and birding at charming Folly Beach and enjoying beautiful Charleston.
Tour Highlights
Explore Savannah Wildlife Refuge, home to myriad bird and wildlife species, including Bobcat
Learn about the history of Gullah Sweetgrass baskets, one of the oldest African-based handcrafts in the US
Discover the Caw Caw Interpretive Center, searching for Bald Eagle, Swallow-tailed Kite, Wood Stork, Osprey, waterfowl, wading birds, otters, American Alligator, and deer (to name a few)
Drive scenic Highway 17 through ACE Basin and enjoy the changing fall colors and unusual topography — salt marshes, cypress swamps, and live oak and longleaf pine forest
Spend three days touring the Charleston area, one of North America's most architecturally-significant cities
Explore yourself in the Charleston City Market, teeming with culture, local art, and mouthwatering foods
Boat the Charleston Harbor en route to Ft. Sumter and spot a variety of sea birds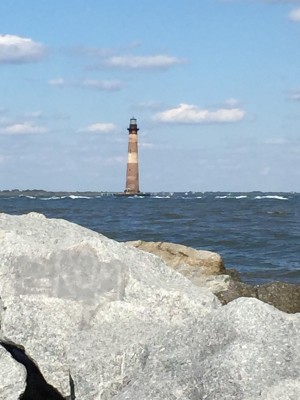 Photo credits: Banner: Estuary by Pat Lueders; Great Egret and Woodstork by Peg Abbott; Estuary Scenic by Peg Lueders; Birding Savannah NWR by Pat Lueders; Colorful Home by Pat Lueders; Folly Beach Sign by Pat Lueders; Yellow-crowned Night Heron, Naturalist Journeys Stock; Lighthouse by Pat Lueders.