"The Galapagos Islands [are] amazing — such a different experience than anywhere else in the world." —Linda Tossing

Naturalist Journeys invites you to join us on an incredible Galapagos cruise. Journey through the Galapagos Islands as you spend time in Ecuador's stunning volcanic archipelago with its fascinating plants and animals. The wildlife is breathtaking and surprisingly docile (and many species cannot be found anywhere else on Earth) — it's not unusual to have to carefully walk over a Blue-footed Booby, or wait patiently as a young sea lion sleeps on the comforts of your daypack that you left on the beach.

We sail through some of the best islands in the chain. On this Galapagos nature cruise, you can expect a small group and flexible trip, designed with natural history, birding, snorkeling, and photography in mind. Expert on-board naturalists familiarize you with the evolution, natural history, history, geology, geography, botany, ichthyology, and entomology of the Islands on your daily excursions.

Back by popular demand! Burt and Susan Mittelstadt of the folk music duo the Gypsy Carpenters host this grand adventure - a fun treat! Burt and Susan are seasoned Latin American travelers that can help you get the most out of your trip. Enjoy impromptu evening songs and concerts under the stars. The Gypsies spend most of their time between Baja California Sur and the Western United States, adding a passion for birding and exploring to their music. They make any trip more memorable and fun. You are sure to have a fabulous toe-tapping time with them!

Our Galapagos wildlife cruise is planned to leave a light footprint, and we support conservation through all steps of the voyage. There is simply no place like the Galapagos.
Tour Highlights
Cruise on a well-appointed and stable yacht
See and photograph myriad seabirds as they court, nest, feed, and care for young
Try to identifying Darwin's finches — what a challenge!
Look for the Galapagos form of Short-eared Owl, Galapagos Dove, and Galapagos Hawk
Witness animals like Marine and Land Iguanas, Sally Lightfoot Crab, and the massive Galapagos Tortoise
Snorkel in quiet coves among colorful fish, and perhaps even dolphins and turtles
Be amazed at the archipelago's incredible volcanic geology — compare "new" and "old" islands and admire their stark beauty
Discover mangrove lagoons by smaller boat for an even more intimate understanding
Take time to explore the Charles Darwin Research Station to learn about conservation efforts, like controlling introduced species, including goats, rats, pigs, and cats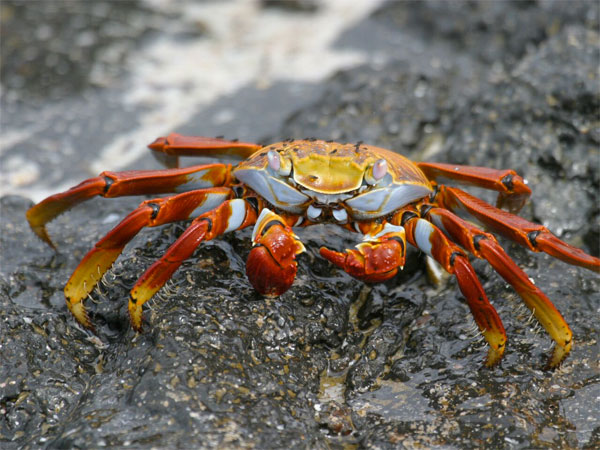 Photo credits: Banner: Galapagos Tortoise by by Bud Ferguson; Great Frigatebird, Naturalist Journeys Stock; Group on Bartolome Island, Naturalist Journeys Stock; Marine Iguana by Greg Smith; Short-eared Owl, Naturalist Journeys Stock; Galapagos Flamingo by Bud Ferguson; Galapagos Scenic by Greg Smith; Blue-footed Boobies by Bud Ferguson; Sally Lightfoot Crab by Bud Ferguson.