Thank you for your interest! This journey is either underway or complete, but we do have
many other tour options
for you to choose from.
Join biologists Carol Simon and Howard Topoff on this exciting tour deep into Brazil's famed Pantanal region. This Brazil wildlife tour will delve deep into animal behavior, complemented by Carol and Simon's renowned presentations ... think of this trip as Biodiversity 101, but without the final exam - fun!

The Pantanal is home to the world's largest fresh-water wetlands, ten-times the size of the Florida Everglades and draining into a single channel: the Paraguay River. This Brazil biodiversity tour travels deep into this world-class wildlife hotspot on a long road that bisects the Transpantaneira wilderness, in search of an adventure that can't be missed.

In this famed region, we witness wildlife thriving in a mix of savanna, forest, and wetland habitats. Even a relaxed field day can yield 100+ species of birds and dozens of mammals — Capybara, the world's largest rodent, are everywhere!

Maned Wolf, Brazilian Tapir, Giant Anteater, Giant Otter, and yes, Jaguar (we saw seven on our 2017 trip!), are five of many fantastic mammals we seek, while Harpy Eagle, Greater Rhea, Toco Toucan, Hyacinth Macaw, and Helmeted Manakin top the list of impressive birds. The Green Anaconda, the world's largest snake, may be a lucky find, while the small crocodilian Yacaré can be seen by the hundreds. For many, it is the sheer number and variety of species that leaves the most lasting impression.

We stay at charming and working cattle ranches, each with its own distinctive wildlife community. Lazy afternoons beckon photographers to wander between shade circles of the ranch trees for rare time with Hyacinth Macaw, Red-capped Cardinal, and other species.
Tour Highlights
Look for South America's "Big Five" of mammals: Brazilian Tapir, Maned Wolf, Giant Anteater, Giant Otter, and Jaguar
Witness the "Big Five" of birds: Harpy Eagle, Greater Rhea, Hyacinth Macaw, Toco Toucan, and Helmeted Manakin. Add Southern Screamer, Sunbittern, Scarlet-headed Blackbird, and so many more!
Traverse the Transpantaneira wilderness road on safari-like excursions
Watch for five species of kingfisher
Indulge on delicious local cuisine and exceptional hospitality at fazendas (working cattle ranches) at several stages along the road
Cruise the Cuiabá River for our best chance at a Jaguar sighting
Experience water birds in mass congregation — like those of the Everglades, but magnified!
Support the Pantanal Wildlife Center with your visit
Watch for at least four species of monkeys and several hundred species of birds
Search for night birds under intense southern sky constellations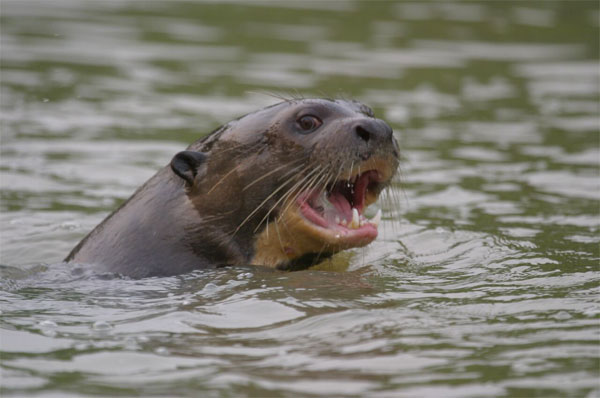 Photo credits: Banner: Hyacinth Macaws, Mark Wetzel; Jaguar, Peg Abbott; Toco Toucan, Peg Abbott; Giant Anteater, Leon Moore; Pantanal Horseback Ride, Naturalist Journeys Stock; Agami Heron, Lori Conrad; Rufous Hornero, Peg Abbott; Jaguar, Peg Abbott, Boat-billed Herons, Tom Dove; Capybara Family, Peg Abbott; Caracara, Naturalist Journeys Stock; Giant Otter, Peg Abbott; Caiman, Xavier Muñoz.