Embark on a true African safari to Botswana, where the wildlife is pristine, and our days are timed with the rhythm of nature. This Ultimate Botswana trip includes three nights in the Kalahari Desert at the start, and at the end caps off with a stunning three-night cruise on the wildlife-rich Chobe River. We call this one "ultimate," not for contrived creature comforts but for the amazing opportunity you have to intimately take in the spectrum of wildlife of Botswana. Designed and guided by our owner, Peg Abbott, who has decades of experience visiting Africa, this is an ultimate experience for birding, photography, and seeing Africa's iconic large mammals.

Enjoy a lovely permanent tented camp, placed on a very active water hole in the Kalahari Desert at Nxai Pan. We then head out to Moremi National Park, where we get amazingly close views of predator and prey, without disturbing their interactions and day-to-day survival. We spend our first days on the move, kept comfortable by the support crew of a mobile-tented camp, complete with private baths, a chef, and a wildlife and birding guide with an unparalleled 25+ years of experience. This mobile camp is designed to get us as close to the wildlife as safety allows. Imagine the richness of those wild nighttime sounds beneath skies awash with southern stars.

We next spend time at Pom-Pom lodge, a luxury deep water camp that features the upscale comfort of elegant platform tents with private facilities, and a central restaurant and bar. With more developed resources, these small permanent camps like Pom-Pom give us a sense of the camps visited by Hemingway and others in years gone by. We fly into Pom-Pom from an airstrip in Moremi, then out to Kasane, on the

incredibly wildlife-rich Chobe River. Here we've chosen an environmentally-friendly lodge that caters to photographers and wildlife enthusiasts. We plan to explore Chobe National Park on safari by day, as well as the Chobe River, with several boat outings.

If big game, southern constellations, and the enchanting sounds of wild Africa beckon, this journey is sure to entice. A visit to Victoria Falls is easy to do from Kasane, either as a day trip or overnight there and depart on your international flight from the Victoria Falls International Airport. Ask a travel planner for details.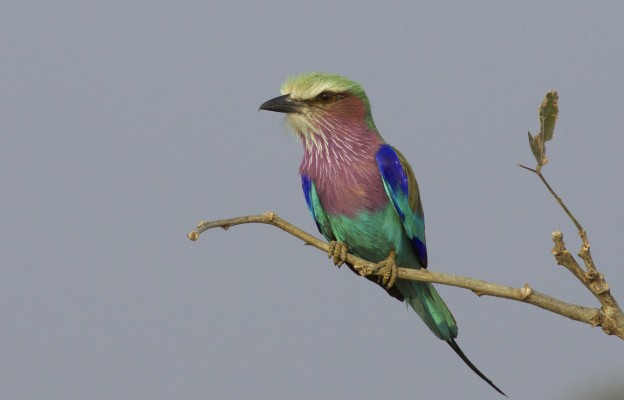 Tour Highlights
Experience the fabulous Kalahari Desert, where wildlife and birds congregate at our tented camp's waterhole
Follow wildlife and brilliant birds with expert guides at a mobile camp in renowned Moremi National Park
Take morning and afternoon game drives
Find Southern Africa's elegant and colorful array of birds, in addition to mammals like big cats, Elephants, and more!
Explore Moremi Game Reserve's papyrus-lined channels, lagoons, and lush forests
Find signature birds like Slaty Egret, Black Heron, African Openbill Stork, Hamerkop, African Fish Eagle, Southern Ground Hornbill, bustards, hoopoes, and of course, the stunning Lilac-breasted Roller
Have an excellent chance to see, and photograph, African Wild Dog
Visit a woven basket gallery — Botswana is known for expert basket-weaving
Spend three nights cruising the wildlife-rich Chobe River, where we watch Elephant, Lion, Sable Antelope, and a host of herons and egrets, including the world's largest: the Goliath Heron
Look for Leopard and other species on a safari drive in Chobe National Park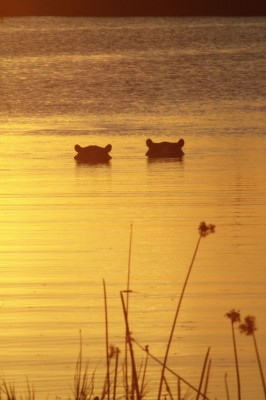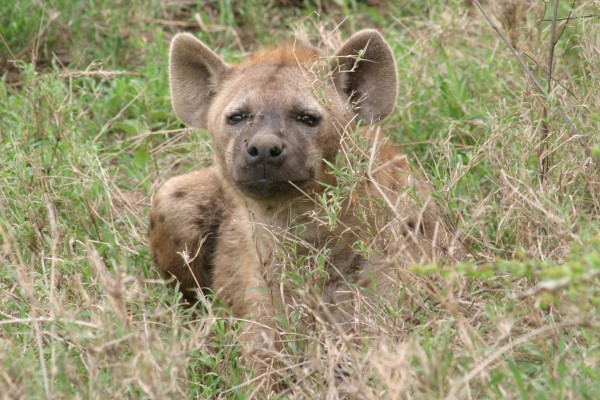 Photo credits: Banner: Mokoro Ride, Peg Abbott; African Elephant, Peg Abbott; Lioness before the Hunt, Peg Abbott; Malachite Kingfisher, Peg Abbott; Leopard, Peg Abbott; Giraffe, Naturalist Journeys Stock; Ground Hornbill, Naturalist Journeys Stock; Lilac-breasted Roller by Greg Smith; Hippos at Sunset by Peg Abbott; Hyena, Naturalist Journeys Stock; Leopard Scratching, Naturalist Journeys Stock; On Safari, Naturalist Journeys Stock.