Tropical environments and ecosystems are extremely diverse in comparison to their temperate counterparts. In Panama, we sit within close distance of distinct biomes and ecosystems, teeming with plant and animal life. Location, elevation, and climate influence these environments and the plants and animals within, all part of an intricate and delicate web of interactions. When you first step into a tropical forest, you may be overwhelmed by the sights, sounds, and smells around you. From the towering canopy above to the soil beneath your feet, there is life lurking around every nook and cranny.

Naturalist Journeys is excited to partner with The Canopy Family to offer a special nature package, featuring guest scientists Dr. Howard Topoff and Dr. Carol Simon, formerly of the American Museum of Natural History and City University in New York, as they bring their expertise on tropical environments and biodiversity to us! As an introduction to tropical biodiversity, we spend our days exploring the forests in search of birds, mammals, frogs, insects, and fascinating trees and plants; every evening features an informative presentation by our guest scientists, on a wide variety of tropical biodiversity topics. Lodging is at the world famous Canopy Tower, surrounded by the lowland tropical forests of Soberania National Park, and the Canopy Lodge, in the picturesque foothills of El Valle de Anton, both perfect locations for exploring tropical ecosystems.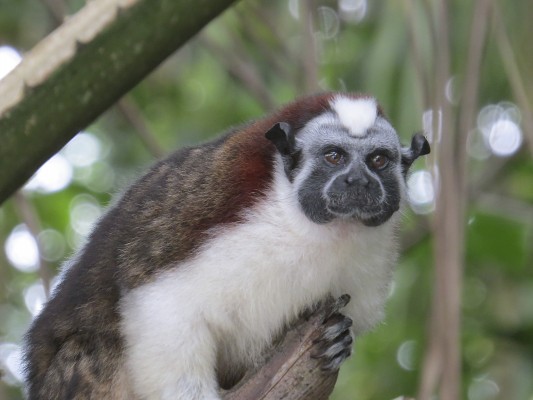 Tour Highlights
See Red-lored Parrot, Keel-billed Toucan, and Palm and Golden-hooded Tanagers right from Canopy Tower
Watch Geoffroy's Tamarin, Mantled Howler, and Brown-throated Three-toed Sloth in the surrounding forests
Search for Broad-billed Motmot, White-whiskered Puffbird, Gartered Trogon, South American Common Toad, Northern Tamandua, and more along Plantation Road
Spend time at the Summit Botanical Gardens, which houses more than 100 non-releasable animals ? a great way to study many species difficult to see in the wild
Walk the famous Pipeline Road, which boasts over 500 species of birds, as well as hundreds of mammals, reptiles and amphibians, and even more insects and trees and plants
Visit the BioMuseo along the Amador Causeway in Panama City, and explore its several halls that focus on the biodiversity of the isthmus of Panama
Explore by boat on Gatun Lake, looking for Lesser Capybara, West Indian Manatee, and more
Enjoy an afternoon at the Panama Canal, learning its history and watching cargo ships go through the locks
Enjoy time at the Canopy Lodge, with cool mountain breezes and incredible birds on feeders and trails
Learn about the herps that live in Panama's forests during a presentation by guide Carol Simon called "Poisonous Reptiles and Amphibians of the Rain Forest"
Visit Cerro Gaital to learn more about the butterflies of the region, from the large Blue Morpho to the pretty little Passion Vine butterflies
Photo credits: Banner: Red-eyed Tree Frog by Greg Smith; Geoffroy's Tamarin by Howard Topoff; Butterfly by Howard Topoff; Three-toed Sloth by Howard Topoff; Orange-bellied Trogon by Howard Topoff; Tamandua by Howard Topoff; Saturnid Moth Larvae by Howard Topoff.