Join Naturalist Journeys for this exciting fall Argentina nature tour. Famous for its varied and dramatic landscapes, northwestern Argentina spans across an ever-changing scenery: snow-capped Andean peaks towering over golden puna grasslands and saline lakes, Monte desert clad in columnar cacti, luxuriant Yungas cloud forests cloaked in mosses and bromeliads, and thorny semi-arid Chaco filled with wildlife.

Due to this variety of habitats, there is an extraordinarily rich and diverse avifauna – many of which are some of the least known species in South America. It is in this region where you may see Black-legged Seriemas running through thorny thickets, Rufous-throated Dipper bobbing about on rushing mountain rivers, James's and Andean Flamingo dancing on high altiplano lakes, Red-tailed Comets glimmering as they feed on flowers, and Burrowing Parakeets chattering as they visit their cliff nest sites. Vicuñas and
Guanacos still roam wilder areas.

In addition to our exploration of the natural history of the region on this Argentina birding tour, we will also have opportunities to sample its many wines, as well as learn about its Incan and Spanish colonial past. Join us on this tour to northwestern Argentina and enjoy this splendid palette of birds set among landscapes that grip the imagination with an awesome sense of geologic time and place, many of which are World Heritage Sites.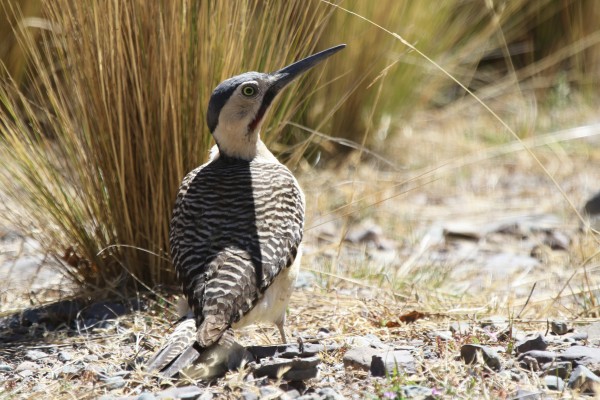 Tour Highlights
Search for unusual and spectacular hummingbirds such as Giant Hummingbird, Slender-tailed Woodstar, Andean Hillstar and the exquisite Red-tailed Comet among high Andean flowers
Explore the poorly known dry Chaco for lanky Black-legged Seriema, stoic Spot-backed Puffbird, melodic Many-colored Chaco Finch and more – a habitat well known for its rich and diverse dawn chorus
Marvel at the fiery sandstone cliffs of Humahuaca Canyon, naturally painted in various of shades of orange and red
Enjoy and learn about the rich wine making tradition of the area, particularly Malbecs and Torrontes
Watch for three species of flamingo in the high altiplano, among a special variety of waterfowl and shorebirds such as Andean Goose, Silvery Grebe, Andean Avocet, Giant Coot and Puna Plover. Perhaps even spot a small heard of Vicuña!
Photo credits: Banner Photos: Assorted Flamingoes by Peg Abbott; Plush-crested Jay by Peg Abbott; Guanaco by Peg Abbott; Burrowing Parrots by Peg Abbott; Cardones National Park by Peg Abbott; Blond-crested Woodpecker by Peg Abbott; Andean Flicker by Peg Abbott; Birding Puna Habitat by Peg Abbott; Vicunas by Peg Abbott; Iguazu Falls by Bud Ferguson; Guira Cuckoos by Greg Smith; Rosy Pochard by Peg Abbott.