Thank you for your interest! This journey is either underway or complete, but we do have
many other tour options
for you to choose from.
Naturalist Journeys is excited to introduce our first of 2020's Lens-Friendly Birding Tours. This fun first trip is to Ecuador, famed for its extraordinary biodiversity. With a superb selection of lodges and reserves, many of them with excellent feeders, it is one of the premier bird photography destinations in South America.

The jewels of the Andes—hummingbirds—feature heavily in this Ecuador bird photography tour; fantastic feeder set-ups allow excellent photographic opportunities of these "winged gems." And while hummingbirds are undoubtedly a front and center feature of this tour, they are also be accompanied by many other colorful tropical birds, including an assortment of tanagers, toucans, trogons, woodpeckers, and even the incredible and vivid scarlet Andean Cock-of-the-rock.

An optional extension to Sani Lodge in the Amazon is also available. Please ask us for details about this Amazon photo tour.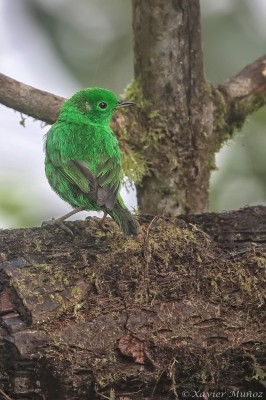 Tour Highlights
Begin your trip with a visit to the stunning Antisana Volcano; scenery and pentiful Carunculated Carara steal the show
Shoot images of Sword-billed Hummingbird, Collared Inca, Chestnut-breasted Coronet, and White-bellied Woodstar at Guango Lodge's feeders
Spend four days exploring and photographing from Sachatamia Lodge near Mindo
Work from hides and blinds, taking images of beauties like Masked Trogon and Rufous Motmot
Practice your macro photography on colorful frogs and lizards, best done at night
Visit Yanacocha to see Scarlet-bellied and Black-chested Mountain-Tanagers, Shining Sunbeam, Great Sapphirewing, and more
Opt for a six-day extension into the Amazon, based out of the lovely Sani Lodge; explore by boat, on foot, and from their massive observation tower—highly recommended!
Photo credits: Blue-winged Mountain-Tanager by Xavier Muñoz; Sun Glass Frog by Xavier Muñoz; Rufous Motmot by Xavier Muñoz; Torrent Ducks by Xavier Muñoz; Booted Racket-tail by Xavier Muñoz; Masked Trogon by Peg Abbott; Glistening Green Hummingbird by Xavier Muñoz; Carunculated Caracara by Xavier Muñoz; Plate-billed Mountain-Toucan by Xavier Muñoz; Antisana Volcano by Xavier Muñoz; Golden Tanager by Xavier Muñoz; Swallow Tanager by Xavier Muñoz.