Isle Royale, an island archipelago in Lake Superior, is a true wilderness gem. There are no cars allowed on the island, and all visitors must come ashore by boat or float plane. There is one simple lodge on the main island, where we stay, and miles of beckoning trails. Isle Royale National Park and the Rock Harbor Lodge concession staff provide a host of interpretive programs; we can choose from these and our own inspirations throughout the trip.

Far away from the rest of the world, enjoy an immersion in North Woods nature. At one time two miles of ice covered this island, set in the largest freshwater lake in the world. Today the park is recognized as a Biosphere Reserve, a pristine example of Northern Biome forests, lakes, bogs, and island shorelines. Its rock spine is ancient and scored by the movements of retreating glaciers some 10,000 years ago. We spend four nights on the island, and our tour price includes the round-trip ferry from Copper Harbor, Michigan. From Houghton at the start and end of the trip, we take two full days to explore the beauty of Michigan's U.P., in particular the Keweenaw Peninsula, where natural and cultural highlights abound.

This is a sampler trip with time for birding, natural history, scenery, and geography; we explore to gain a wonderful sense of place. Plan on an active trip with opportunities to hike, paddle (canoe or kayak), and take short boat trips to nearby islands of the archipelago and before returning to nice accommodations and dining at day's end. Hikes can be gentle or challenging; each day we have a group activity with our leader, or you can choose to explore on your own—we give you options to fit your energies each day. Experience the slowness of island time; the sense of place we gain on Isle Royale can be profound. As a special bonus, we time this trip for the fall migration as it peaks the last week of August on the Lake Superior shorelines.

Tour Highlights
Experience history and grand scenery on Michigan's Keweenaw Peninsula
Witness Lake Superior's scenic coastline and delve into its unique geology
Cross the ocean-like waters of Lake Superior to Rock Harbor on Isle Royale
Enjoy four nights in lakeside accommodations on Isle Royale, one of our most remote national parks
Watch for Moose and listen to Common Loon
Learn from experts about the exciting Isle Royale Wolf Project
Walk trails through aspen and pine forests amid Lilliputian plants and Snowshoe Hare
Watch Beaver feed and busily work on structures in their ponds
View amazing night skies and relax by the lakeshore.
Trip Itinerary
Itineraries are guidelines; variations in itinerary may occur to account for weather, road conditions, closures, etc. and to maximize your experience.
Tues., Aug. 20:
Arrival in Houghton/Hancock, Michigan
Welcome to Michigan's Copper Country, a fascinating area for history, geology, and a sample of birds and natural history in Michigan's famed U.P. (Upper Peninsula). Today is a day to arrive and settle in; if some are in early enough, we do a bit of local birding.

Our hotel sits right on the waterfront of Portage Lake, a partially natural, partially manmade waterway that cuts across the Keweenaw Peninsula, making the Keweenaw effectively an island. A lift-bridge makes it possible for large ships to pass. We plan to meet on the porch for introductions, have dinner, and then with luck we watch the sunset over the lake—a great start to the trip!
Accommodations at the Hampton Inn, Houghton/Hancock (D)

Wed., Aug. 21:
Keweenaw Peninsula | Copper Harbor
We start the day with an optional early morning nature excursion to the Pilgrim River mouth right in Houghton. The boardwalks through the marshes here sometimes yield views of waterbirds at very close range. We then return to hour hotel for breakfast, after which we set off to explore the many highlights of the Keweenaw Peninsula, taking in natural and cultural sites. Few realize that the Copper Rush here brought in 10 times the fortune of California's Gold Rush. Today the story is told by abandoned mines and ghost towns, all part of the Keweenaw National Historic Park, part of our National Park system. The sites of the Park are scattered across the whole peninsula with excellent signs and interpretation of life here during the copper mining boom. If we drove straight through it's an hour up to Copper Harbor—we take most of the day to do it.

There are picturesque lighthouses, several nature reserves where we walk the trails, the Quincy Mine, the legendary Keweenaw Snow Thermometer, and in Calumet we take a look at the excellent displays and a local Theater/Opera House (circa 1900) built of gorgeous Jacobsville red sandstone. We have lunch at a historic restaurant right in town.

We explore the Lake Superior shoreline near Eagle River and Eagle Harbor, where we find granite-eroded sands of the Canadian Shield, picturesque coves, offshore rocks, and often resting Herring and Ring-billed Gulls. We may find a mixed flock of warblers high in the canopy of pines. Magnolia, Myrtle (Yellow-rumped), Chestnut-sided, and Black-throated Green and Northern Parula are likely to be in on the action. For sure we stop by the Jam Pot, a bakery and store for jams and chutneys run by Byzantine monks.

The shoreline around Copper Harbor is beautiful and fascinating from a geology standpoint. A must-see here is the scenic Brockway Mountain Drive from Copper Harbor west, a route on which we stop at several overlooks before reaching the grand view of the very spine of the Keweenaw Fault. The viewpoint is over 700 feet higher than the lakeshore, and on a clear day it is possible to see all the way to Isle Royale, some 50 miles away. This landscape is richly clad in vegetation and dotted with lakes; several ridges run parallel before us adjacent to Lake Superior's pebble-clad shore.

As evening approaches, enjoy some time to walk around the small village of Copper Harbor. Enjoy a delicious dinner at a favorite local restaurant (try the local Lake Superior Whitefish!), then rest up before our adventure—four fabulous nights on Isle Royale National Park.
Accommodations at the King Copper Hotel, Copper Harbor (B,L,D)

Thurs., Aug. 22:
All Aboard the Ferry to Isle Royale National Park
This morning after an early breakfast, we head down to the ferry docks to join other comrades going to Isle Royale.

We set off in the morning on the Isle Royale Queen IV, a 100-passenger ferry, for a four-hour crossing to Rock Harbor. There is comfortable seating in several lounges and plenty of room on deck. Before you know it, staff members from the National Park Service are welcoming us ashore and giving us a brief orientation. We arrive at the island in time for lunch. As we wait to check into our rooms later this afternoon, we orient to the canoe docks, visitor center, trailheads, and general Rock Harbor area.

Enjoy the smell of pines and sound of lapping waves on the shoreline as we settle into our rooms. Those that wish can meet for a first walk and a local nature walk, possibly yielding some birds. Our delicious dinner is in the lodge's cozy dining room.
Accommodations at Isle Royale Lodge (B,L,D)

Fri., Aug. 23 - Sun., Aug. 25:
Isle Royale National Park
With four nights here, we have three full days to explore the island, and each day we offer a mix of hikes at varied paces, opportunities to canoe or kayak, boat excursions with our guides, island bird and nature walks, studying geology, learning about the Moose and Wolf studies, exploring a true bog with pitcher plants and sundews and free time to just relax.

This is a wilderness park, with just the one lodge, and little other development other than trails and the marina. Fall asleep to the lapping of waves on Lake Superior. Enjoy the simple rhythm of all meals at the lodge, unpack once for the four nights, and immerse yourself in North Woods nature. We time the visit for lack of crowds, and lack of pesky mosquitoes and black flies.

Isle Royale is a treasured Biosphere Reserve, a fine example of the Northern Biome, with forests, lakes, bogs, and Lake Superior shorelines. Explore from our home base at Rock Harbor; a water taxi is available so we can take shuttles to facilitate the best hiking. Avid hikers can return from one of our trips on the trail that follows the Island's backbone, the Greenstone Ridge. You might even enjoy fishing or an evening kayak or canoe. Isle Royale is home to the Wolves and Moose of Isle Royale Project, which tracks and disseminates information on wolves and moose over time. Started in 1958, it is believed to be the world's longest-running predator-prey study. A strong supporter of conservation, Naturalist Journeys helped to fund the recent restoration of additional wolves to the island by providing matching funds of $2500 and encouraging donors for this vital project.
Accommodations at Rock Harbor Lodge, Isle Royale (B,L,D each day)

Mon., Aug. 26:
Isle Royale | Copper Harbor
It's always hard to say good-bye to island life, so blessedly removed from the busy pace of life for the rest of the world.

We still have the full morning on the island, as the ferry departs at 2:45 PM. The journey across is four hours, so we arrive with time to retrieve our luggage from the ferry and travel the short distance to our convenient hotel in downtown Copper Harbor. We then have a bit of free time to explore Copper Harbor, followed by dinner at a local restaurant.
Accommodations at the King Copper Hotel, Copper Harbor (B,L,D)

Tues., Aug. 27:
Keweenaw Peninsula | Houghton/Hancock
Today, we have an early morning bird walk at scenic Hunter's Point Park, just across the harbor from our hotel and the boat dock. We then return and, after breakfast and loading our vehicles, we drive back to Houghton exploring parts of the Keweenaw Peninsula on the way, either visiting new places or stopping again at some of our favorites. Time-permitting, we may visit historic Fort Wilkins before leaving town, some nature reserves and state parks, or the abandoned Central Mining District on our way south. We return to the Super 8 in Houghton tonight so if you wish to store some belongings there you can do so. We want to be here so those that need the early morning flights out can take them as there are not that many flights each day.
Accommodations at the Hampton Inn, Houghton/Hancock (B,L,D)

Wed., Aug. 28:
Departures
Those flying out today can depart at your leisure; transportation will be provided to Houghton County Memorial (CMX) for morning departures and to Green Bay Austin Straubel (GRB) for flights out after 1:00 PM. (B)
Cost of the Journey
Cost of the tour is $4290 DBL / $5290 SGL from Houghton/Hancock, Michigan. The tour price includes airport transfers, all accommodations, most meals as specified in the itinerary, round-trip ferry ride to and from the island, professional guide services, local guides, local park entrance fees, and miscellaneous program expenses. It does not include roundtrip airfare to Houghton/Hancock, or items of a personal nature such as laundry, telephone, drinks from the bar, gratuities for porterage, or personal services.
Travel Details
Please plan to make air travel plans only after the minimum group size has been met. We will send you a confirmation email as soon as the trip has been confirmed.
Arrival Airport: Houghton County Memorial Airport (CMX)
Arrival Details: Plan to arrive August 20, 2024 at your leisure.
Departure Airport: Houghton County Memorial Airport (CMX)
Departure Details: Plan flights to depart August 28, 2024at your leisure.
Travel Tips: An alternative to the airport in Houghton, in case your preferred airline does not fly there, would be the Austin Straubel International Airport (GRB) in Green Bay, Wisconsin. If you choose this option, you will need to rent a car and drive to Houghton. Parking is available at the hotel during our tour. If you arrive early to rest up from your travels, especially if you are driving, you can book an early night at our first night tour hotel, the Hampton Inn & Suites Houghton. You can book this online and send us the confirmation number, with the goal being you won't have to switch rooms. The hotel is located close to the waterfront and within walking distance of many restaurants.
Items of Note
There is NO cell phone service on Isle Royale. There is only very limited internet service on Isle Royale. People should be prepared to be unreachable during their time on Isle Royale.
Browse below for trip reports and species lists from past versions of this and other tours from this destination.
Michigan
September 2012
August 2019
August 2021
August 2023
Minnesota
Bearskin Lodge & Boundary Waters
September 2016
September 2017
September 2021
Wisconsin
October 2013
September 2021 (Apostle Islands)
Dave Mehlman

Dave is a naturalist with interests in birds, migration, ecosystems and natural disturbances, plants, and gardening. He holds a PhD from the University of New Mexico. Dave worked for The Nature Conservancy for 25+ years as Director of its Migratory Bird Program. He has researched in Latin American and the Caribbean. An avid birder, Dave enjoys teaching about natural habitats and local cultures. He has published papers in scientific and popular journals.

Other trips with Dave Mehlman

Ryan Klataske

A native Kansan who grew up in the Flint Hills and made annual trips to see the Sandhill Crane migration in Nebraska, Ryan is a cultural anthropologist and ethnographer who is passionate about natural history, wildlife, conservation, and exploration. He earned his PhD in anthropology with a doctoral specialization in environmental science and policy from Michigan State University. Ryan has lived and traveled throughout rural Namibia, studying wildlife conservation, natural resource management, and human-environment interactions. He has also worked for Audubon of Kansas and engaged with conservation efforts in the Great Plains, where his ongoing research focuses on issues of rural life. While teaching at Kansas State University, Ryan helped many students set off on adventures abroad and learn more about the natural world and the need for conservation at home. An avid traveler and photographer, he has vagabonded and worked on farms in Canada and Europe, taught English in China, travelled by bus through Mexico, and explored diverse parts of southern Africa and the United States. He enjoys speaking Spanish and learning Afrikaans, German, and other languages. Ryan lives in the Flint Hills of Kansas, where he loves to hike, birdwatch, explore nature with his two kids, and contribute to the stewardship of his family's prairie ranchland.

Other trips with Ryan Klataske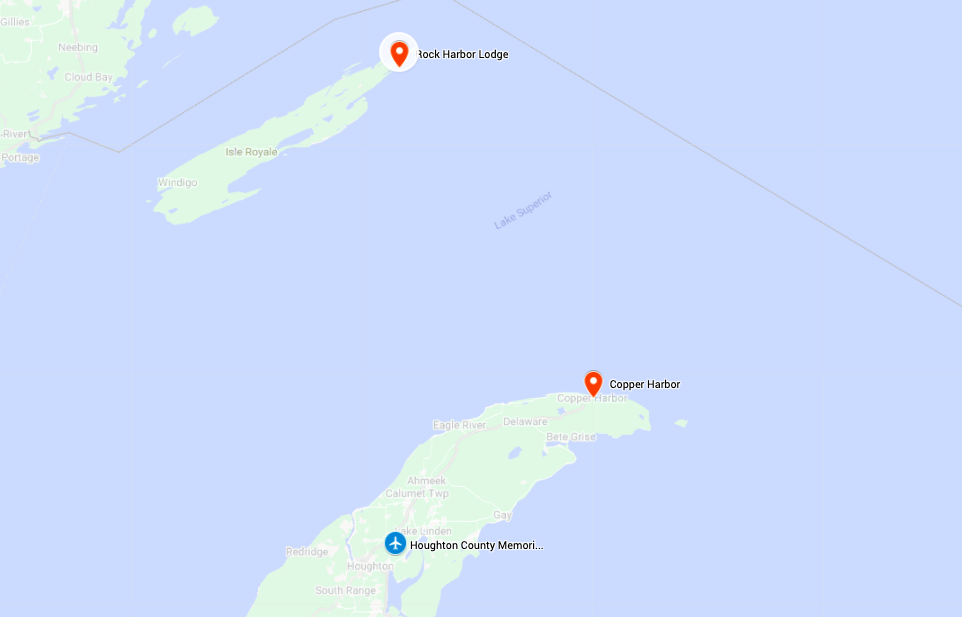 Essential Information +
Packing List +
Suggested Reading List +
Useful Links +
Photo credits: Banners: Moose by Sandy Sorkin; Hiking Isle Royal by Peg Abbott; Waterbirds on Isle Royal by Peg Abbott; Grey Wolf by Greg Smith; Lake Shore, Naturalist Journeys Stock; Common Loon, Naturalist Journeys Stock; White-throated Sparrow, Naturalist Journeys Stock; Sunset, Naturalist Journeys Stock; Happy Hikers, Naturalist Journeys Stock; Moose Antlers, Naturalist Journeys Stock; Sunset over the lake by Peg Abbott; Admiring the view by Peg Abbott; Canoeing by Peg Abbott; Scenery by Peg Abbott; Michigan Scenics, Peg Abbott; Overlooking Lake Peninsula, courtesy of Courtney Celley via Flickr; Boats, Naturalist Journeys Stock; Broad-winged Hawk, Peg Abbott; Michigan group, Peg Abbott; Canoe Panoramic, Peg Abbott; Magnolia Warbler, Doug Greenberg; Pileated Woodpecker, Sandy Sorkin; Moose, Greg Smith; Magnolia Warbler by Doug Greenberg; Moose taking a drink by Peg Abbott; Ruby-throated Hummingbird by Peg Abbott; American Redstart by Mahlon Hale; Chestnut-sided Warbler, Naturalist Journeys Stock; Pileated Woodpecker by Sandy Sorkin.