Experience wild Borneo, a world beyond your imagination! We visit the Malaysian state of Sabah at the northern end of the world's third largest island. Sabah harbors the best of Borneo's equatorial rainforest, and all of Borneo's 52 endemic birds can be found here — out of 650 birds on the island. But our trip goes way beyond the birds. We could see up to eight primate species, including three big endemics: the Bornean Orangutan, Bornean Gibbon, and Proboscis Monkey. The island boasts nearly 100 endemic reptiles (out of 288 total); 63 endemic mammals (280 total); 1,700 orchids; 46 rhododendron species; and 39 Nepenthes pitcher plants.

Few areas on Earth can match Borneo's amazing biological diversity, and our adventure takes us through many fascinating landscapes. We start in Kota Kinabalu (KK), the coastal capital of Sabah. From KK, we access the amazing Crocker Range and the dripping cloud-forests of Mount Kinabalu — at over 13,000 feet, the highest peak in southeastern Asia (though we only get halfway up the mountain). After Kinabalu Park, we venture into some of Sabah's most pristine lowland rainforests, in the magnificent Danum Valley. We then explore the Gomantong Caves before reaching the Kinabatangan River. Based at our lodge in Sukau, we enjoy several casual boat rides into secondary lowland rainforest, still finding new birds and mammals every day. After the Kinabatangan, we drive to Sepilok, where we visit rehab centers for Bornean Orangutan and Sun bear. We hike among giant dipterocarp trees at the Rainforest Discovery Center, and we visit the Labuk Bay Proboscis Monkey sanctuary. This is an adventure that can't be missed.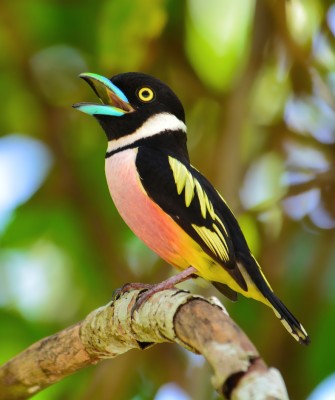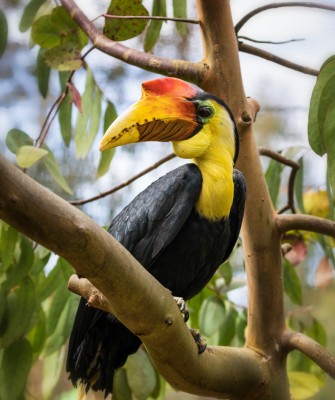 "A wonderful jungle adventure! Great people, fantastic guides. Beautiful places to stay." — Margaret Miller, 2023 Traveler
"Great trip with many wonderful animals, birds and plants seen. Top highlights: Seeing orangutans in the wild and in the refuge in Sepilok, seeing all the different hornbills in Sabah province., and seeing the various
monkey species in the wild like proboscis, macaques, and langurs," —Donna Hogge, 2023 Traveler
"The tour was very well organized. We had a wonderful time. Lots of wildlife and birds. Very high quality lodges and hotels." — Donald Lill, 2023 Traveler
Tour Highlights
Explore the world's third largest island, a bastion of biodiversity
Experience the cloud forest on southeastern Asia's highest mountain, Mt. Kinabalu
See the world's largest flower, the Rafflesia
Search for up to 52 endemic bird species, including the Bornean Bristlehead
Tour canopy walkways through the world's oldest rainforest
Find endemic mammals like the Bornean Pygmy Elephant and the Bornean Orangutan
Enjoy eclectic Asian cuisine at luxury jungle lodges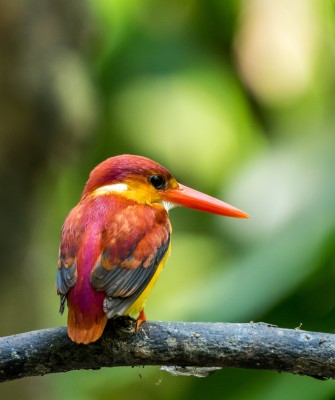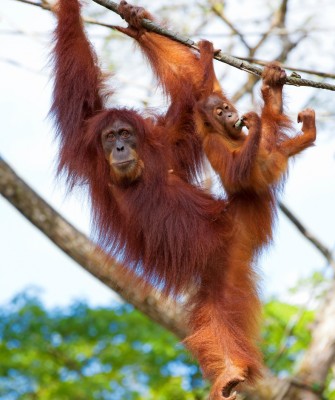 Trip Itinerary
Itineraries are guidelines; variations in itinerary may occur to account for weather, road conditions, closures, etc. and to maximize your experience.
Day 1: Arrivals in Kota Kinabalu
Our tour starts and ends in Kota Kinabalu (KK), the coastal capital city of the Malaysian state of Sabah. Even in the downtown areas, we should see House Swift coursing overhead and Asian Glossy Starling just about everywhere. You may even find a Brown-capped Pygmy Woodpecker in the trees downtown! A walk to the Jesselton Harbor could produce a couple different tern species at eye level or a Pacific Reef Egret on the docks. Kota Kinabalu is a lovely city with many charms, and you may want to spend more time here before or after the tour.

Your guide meets you at Kota Kinabalu International Airport (BKI) and transfers you to our hotel. Please plan to arrive in time to meet in the hotel lobby at 6:00 PM for a welcome dinner at a local restaurant where we get to know our traveling companions and learn about the plan for the trip. We encourage you to come in a night or two early to rest up from your travels and perhaps explore the city.
Accommodations at Grandis Hotel or similar, KK (D)
Day 2: Exploring Crocker Range National Park
On our first full day, we head into the impressive Crocker Range National Park, which supports both secondary and primary hill forest. Our morning stop takes us to Tambunan Rafflesia Center, with its comprehensive museum focused on the unique biology of the genus Rafflesia, the world's largest flowers. Despite the name of the reserve, we will not likely see the blooming Rafflesia here. Instead, we search for several mountain specialty birds and a few Borneo endemics such as Kinabalu Serpent Eagle, Mountain Barbet, Bornean Treepie, Whitehead's Spiderhunter, Bornean Black Flowerpecker, Chestnut-crested Yuhin, and Bornean Bulbul. After lunch at a local restaurant we bird farther south in the Crocker Range in search of Orange-backed Woodpecker, Little Cuckoo-Dove, and Ashy Drongo, among many others. We return to KK for dinner.
Accommodations at Grandis Hotel or similar, KK (B,L,D)

Day 3: Arrival at Kinabalu National Park
After breakfast, we start our journey to Kinabalu National Park (KNP), at the foothills of Mount Kinabalu, with numerous stops for mountain scenery and a local market. Designated a UNESCO World Heritage Site for its high biological diversity, few places on the planet match the botanical variety of Kinabalu Park. As the park centerpiece, Mount Kinabalu rises to 4,095 m (13,436 ft.) above sea level. It is one of the youngest non-volcanic mountains in the world, and it boasts the highest summit between the Himalayas and New Guinea. The 750-km2 park is home to over 4,000 plant species, including 26 rhododendrons and 1,200 orchids. Over 300 species of birds have been recorded here, including a majority of Borneo's endemics. From the park entrance at 1,585 m (5,200 ft.) to a zone just above our lodge, a rich montane oak forest includes familiar laurels, myrtles, and rhododendrons, but also tropical palms, ferns, orchids, bromeliads, and bamboos. As we ascend 2,000 feet up the mountain we discover another cooler cloud forest zone dripping with lichens, ferns, and bromeliads.
We check into our villas and enjoy some afternoon birding around park headquarters before dinner.
Accommodations at Nepenthes Villas or similar, KNP (B,L,D)

Day 4: Exploring Kinabalu National Park Headquarters Region
We spend today birding between Timpohon Gate and KNP headquarters. Around park HQ, we often bird along the park road, which invites us into a network of excellent trails, allowing easy exploration of the varied forest habitats. At the park's botanical garden, not far from our lodge, we marvel at the diversity of orchids and carnivorous Nepenthes pitcher plants. Several endemic bird species occur between park HQ and the Timpohon Gate (the entrance to the summit trail), including Crimson-headed Partridge, Whitehead's Trogon, Golden-naped Barbet, Chestnut-hooded Laughingthrush, Bornean Green Magpie, Mountain Blackeye, Everett's Thrush, Bornean Stubtail, Bornean Whistler, and Bornean Whistling Thrush. We enjoy lunch and dinner between outings and spend the night in the park.
Accommodations at Nepenthes Villas or similar, KNP (B,L,D)

Day 5: Kinabalu Park | Poring Hot Springs | KK
After an early breakfast, we check-out and head to Poring Hot Springs. A short drive around the mountain takes us into sub-montane hill forest where we explore the grounds and trails at Poring. Here we enjoy our first canopy walkway, where we watch forest canopy dwellers at eye level, including trogons, barbets, broadbills, and cuckoos. The route to Poring takes us by a private property that offers the perfect conditions for the world's largest flower, the rare Rafflesia, which can attain a diameter of 36 inches! Endemic birds at Poring may include White-crowned Shama and Dusky Munia, and we typically find some other fun species like the Fluffy-backed Tit-Babbler, Crimson-winged Woodpecker, Diard's Trogon, and Black-backed Dwarf-Kingfisher. In the afternoon, we return to KK for dinner and another night in the Grandis Hotel.
Accommodations at Grandis Hotel or similar, KK (B,L,D)

Day 6: Fly to Lahad Datu | Danum Valley Conservation Area
After breakfast, we take a one-hour flight to Lahad Datu, where we meet the staff from Borneo Rainforest Lodge (BRL). We enjoy lunch in town, followed by the approximate 2.5-hr. drive (depending on wildlife sightings) to the Danum Valley Conservation area. Danum's virgin lowland and hill forests exemplify a swath of land through the middle of the island called the "Heart of Borneo," and they offer perhaps the best bird and wildlife watching on the entire island. We settle into our rooms, with plenty of time to relax before our first of BRL's amazing buffet dinners.
Accommodations at Borneo Rainforest Lodge or similar (B,L,D)


Days 7 – 8: Exploring Danum Valley
The next two full days take us across the network of trails in the Danum Valley. The botanical diversity of Danum's Dipterocarp forest rivals that of lowland South America. In fact, twenty-five acres of forest here contain more plant species than the U.S. and Canada combined. These stunning arboreal habitats support a mind-boggling variety of birds, with more than one-third of Borneo's entire bird list recorded here. From the elegant Great Argus to the stunning Asian Fairy-Bluebird, Danum never fails to impress.

Some of the woodpeckers we might encounter at Danum include Maroon, Rufous, Buff-rumped, and Gray-and-Buff Woodpeckers, just four among the Danum Valley list of 14 woodpecker species. All eight Bornean hornbill species live at Danum Valley, with a special stronghold for the massive Helmeted Hornbill. Black-bellied and Chestnut-breasted Malkohas and Red Leaf-Monkeys may accompany us as we traverse Danum's canopy walkway, marveling at spectacular views of the multi-layer primary forest. Whiskered Treeswift elegantly flycatches from its sky-view perches, while up to seven pitta species tease us with their haunting calls from deep within the impenetrable vegetation of forest floor.

Up to 17 different bulbuls and 24 babblers keep us very busy while we enjoy the colorful pigeons, trogons, and barbets. We are especially diligent in searching for our top bird of the trip: the Bornean Bristlehead, representing the Bornean-endemic monotypic family Pityriaseidae. While most of the birds at the Danum Valley are sleeping, we enjoy at least one night-drive in the valley, searching for Brown Wood-Owl and Malay Eared-Nightjar. Our night excursion also allows us to observe some of Danum's secretive nocturnal mammals, including Greater Mouse-Deer, Tarsier, and the impossibly cute Slow Loris. With some luck, we may also find a Civet, Leopard Cat, or the magnificent Clouded Leopard.
Accommodations at Borneo Rainforest Lodge or similar (B,L,D)

Day 9: Transfer from Danum Valley to Kinabatangan River
Today is our longest travel day, with the drive back to Lahad Datu, and then southwest toward the second longest river in Malaysia, the Kinabatangan (kih-nuh-bah-tung-ahn, said quickly with barely noticeable inflections). The World Wildlife Fund calls the Kinabatangan the "Corridor of Life," describing the river as "arguably the last forested alluvial floodplain in Asia and an area of enormous importance for wildlife and the local community."

En route to the river, we make a stop at Gomantong Caves, birding in secondary forest on the entrance road. After a short hike to the cave entrance, we are surrounded by millions of swiftlets—representing four different species. We learn about the fascinating ecology of the caves and the centuries-old practice of harvesting the edible nests of the White-nest Swiftlet, a practice now managed sustainably throughout the region. The boardwalk through the cave is an otherworldly experience.

That evening take us to the bank of the Kinabatangan at the village of Sukau (SOO-cow), where we take a short boat ride upstream to the Sukau Rainforest Lodge (SRL), named as a "National Geographic Unique Lodge of the World." The lodge here is certainly unique and luxurious, but the real highlight is the chance to see many birds and mammals on multiple boat rides along the main stem of the river, as well as several productive tributaries.
Accommodations at Sukau Rainforest Lodge or similar (B,L,D)


Days 10 – 11: Exploring the Kinabatangan
The next two full days take us up and down the K River and along several tributaries. Cruising the Kinabatangan makes you feel like you are in a wildlife documentary! The forest along the river's edge supports 10 primate species, including the endemic Orangutan and many Proboscis Monkeys, and we watch closely for the world's largest woodpecker, the Great Slaty, which lives in family groups along the river corridor. If we're lucky, we may encounter a herd of Bornean Pygmy Elephants, a rare subspecies of Asian Elephant. When not watching these fantastic mammals, our attention is focused on the rich birdlife of the area. The endangered Storm's Stork finds a stronghold here, along with possible Lesser Adjutant and Purple Heron.

Kingfishers are well-represented in the rich aquatic habitats, with the possibilities including Stork-billed, Blue-eared, Black-back Dwarf, and the migratory Common Kingfisher. We could have Oriental Pied Hornbill around the lodge, and river trips might produce the Wreathed, Wrinkled, Rhinoceros, or Asian Black Hornbills. Bornean Gibbons howl from across the river each morning and evening. Green Imperial Pigeon are very common, and the raptor list for this stretch of the river is amazing. We could see Changeable, Rufous-bellied, and Wallace's Hawk-Eagles; Gray-headed and Lesser Fish-Eagles; Brahminy Kite is common, and we have an excellent chance to see the smallest raptor in the world, the "Bornean" White-fronted Falconet.
Accommodations at Sukau Rainforest Lodge or similar (B,L,D)

Day 12: Transfer from Kinabatangan River to Sepilok
After breakfast, we pack up and take a short boat ride to our vehicle, followed by the drive to Sepilok (sep-i-lock). We settle into our villas at MY Nature Resort, followed lunch on the property and a short break. For the afternoon, we visit the Orangutan Rehabilitation Center for the 3:00 PM feeding ritual.
Accommodations at MY Nature Resort (B,L,D)

Days 13 – 14: Sanctuaries in Sepilok Region
The birding scene around Sepilok is decidedly laid-back, though still brings us many new species for the trip. Our days around Sepilok have many highlights, but the impressive Rainforest Discovery Centre is the gem of the region. This oasis of primary forest boasts an amazing canopy walkway, giving you a bird's eye view of the giant dipterocarp trees. On one evening, we stay until dusk to experience the emergence of Giant Flying Squirrels from their cavities high in the Koompasia trees.

At Sepilok, we also observe Bornean Orangutans and Bornean Sun Bears at their respective rehabilitation facilities. Sturdy elevated boardwalks at these sites allow for close viewing of these threatened mammals, while we are distracted by many new birds, just a few of which may include Scarlet-rumped Trogon, Black-and-red Broadbill, Bushy-crested Hornbill, and up to six different sunbirds. Just a short drive from Sepilok we visit the Labuk Bay Proboscis Monkey Sanctuary, with close-up views of this bizarre primate, as well as practically tame Silver Langurs. We also enjoy a short hike along the mature mangrove forest in search of woodpeckers like Common and Greater Flamebacks.
Accommodations at MY Nature Resort or similar (B,L,D)
Day 15: Return to KK
After breakfast, we pack up for our departure to Sandakan airport and return flights to KK and your individual departures. If you were not able to spend personal time in KK prior to the tour, we recommend that you stay for a couple of days afterward. The markets—especially the fish market and Philippino market—offer superb local culture. Flight schedules look like we will land in KK around 2:30 PM. Please make international flights out for this evening.
Our operator arranges your flights from Sandakan to KK, but the tour officially ends as we leave Sandakan. (B)
Black-and-Yellow Broadbill, by Steve Shunk



Mount Kinabalu



Rhinoceros Hornbill



Blue-eared Kingfisher



Vine Snake, by Steve Shunk



Proboscis Monkey



Crested Serpent Eagle



Pygmy Elephants



Common Green Magpie



Bornean Sunbears



Red Dragonfly, by Steve Shunk



Borneo River



Gibbon



Crocodile, by Steve Shunk



Long-tailed Macaque, by Steve Shunk


Cost of the Journey
The cost of this 15-day journey is $TBD DBL / $TBD SGL, from Kota Kinabalu. This cost is based on double occupancy and includes 14 nights' accommodations; all meals as specified in the itinerary, in-country domestic flight, group airport transfers, professional guide services, local park and other area entrance fees, and miscellaneous program expenses. Cost of the journey does not include airfare from your home to Kota Kinabalu, or items of a personal nature, such as drinks from the bar, telephone, and local guide gratuities. Cost also does not include fixed lens camera fees at the following preserves: The following Professional Camera Fee will be applicable for the usage of fixed lenses: 400mm, 500mm, 600mm, 800mm and above: Sepilok Orang Utan Centre/BSBCC/Gomantong Cave @ RM1,000 p/ camera unit p/location Labuk Bay Proboscis Monkey Sanctuary @ RM500 p/ camera unit Danum Valley @ RM500 p/camera unit
Travel Details
Please plan to make air travel plans only after the minimum group size has been met. We will send you a confirmation email as soon as the trip has been confirmed.
Travel Notes: We recommend that you arrive at least one day early to rest after the long flights from home. You may also want to explore Kota Kinabalu on your own for a day or two to experience the amazing markets, eclectic restaurants, and general hustle and bustle of this small but busy city.
Departure Airport is BKI / Kota Kinabalu International Airport
Items of Note
Tour Style & Pace:

Our Borneo safari will surprise you for its relatively casual tropical birding experience. Birds can be abundant at times, but you will not typically be overwhelmed by species numbers. In fact, we may 'only' tally 200+ species for the entire trip—although more than one-quarter of these will likely represent species and subspecies that are endemic to Borneo!

Many species will be quite common, giving you ample chance for repeated encounters, and we will also see plenty of large birds, such as raptors, hornbills, and waders. Daily outings will include hiking on trails and roadsides, strolling along well-maintained boardwalks, and slow cruising in comfortable boats. Birding time around some of our lodges will include leisurely strolls through manicured gardens and along entry roads.

Bird observation towers and canopy walkways offer wonderful viewing experiences, but they typically require climbing several flights of stairs. We will visit some mountainous and hilly terrain, especially at Mt. Kinabalu, where the trails may have moderately steep grades. Trails can also be quite muddy in places. On all of our outings, your guides will move at a rate suitable for the entire group, and having two guides allows us to easily divide the group for varying ability levels if needed.

In general, our tour operates at a relaxed pace and appeals to birders with a wide range of skill and ability levels. As expected, those guests with more advanced skills will be able to find and identify more of the anticipated species, while less-experienced birders can still be guaranteed jaw-dropping looks at plenty of birds. Each evening, we will review the birds and other wildlife seen during the day, but we are not big 'listers', so we will not let the prospect of a larger bird list drive our daily schedule.

Browse below for trip reports and species lists from past versions of this and other tours from this destination.
Steve Shunk

Steve Shunk started birding in the San Francisco Bay Area in 1989, and he moved to central Oregon's 'Woodpecker Wonderland' in 1997, where 11 woodpecker species breed annually. This phenomenon led to a 20-year obsession studying this charismatic family of birds. Steve founded the region's woodpecker festival in 2008, and his Peterson Reference Guide to Woodpeckers of North America was published in 2016. He has fed leeches (his own blood) in Malaysian Borneo, and he has watched Spotless Starlings swarming around the Greek ruins of Sicily. Steve's Alaska adventures have taken him from Ketchikan to Barrow and St. Paul Island. One of his favorite destinations takes him to see 'eastern' warblers breeding across the boreal forest of Alberta, but recent adventures have led him to favor the cushion plants and condors of the Peruvian high Andes. Steve speaks at bird festivals across North America, and he returns annually to speak and guide at the Vallarta Bird Festival in far-western Jalisco, Mexico. Steve joined Naturalist Journeys earlier this year, and we are excited to have him on the schedule for 2021 and beyond.

Steve's work as a field biologist has taken him from the Coast Range of Oregon to California's Sierra Nevada. Most recently, he conducted point-count and woodpecker surveys for a study in the Central Oregon Cascades. Steve co-founded the East Cascades Bird Conservancy (now East Cascades Audubon), and served as its first president. He also co-founded the Oregon Birding Trails Program and coordinated its flagship project, the Oregon Cascades Birding Trail. When Steve is not traveling the world for tours and lectures, he can be found writing, skiing, hiking, and watching woodpeckers at home in lovely Sisters, Oregon.

Other trips with Steve Shunk
Essential Information +
Pace & Protocols +
Packing List +
Suggested Reading List +
Useful Links +
Photo credits: Banners: Orangutan on Borneo (NJ Stock), Blue-throated Bee-eaters (NJ Stock), Blue-banded Pitta (Andrew Eagle via Creative Commons), Borneo Scenic (NJ Stock), Gliding Tree Frog (Chun Xing Wong via Creative Commons), Borneo Pygmy Elephants (Denis Luyten via Creative Commons) Thumbnails: Hooded Pitta (NJ Stock), Pygmy Elephant (NJ Stock), Red-naped Trogon (NJ Stock)