The Norwegian territory of Svalbard and the islands that make up the archipelago offer a tremendous wildlife and birdlife experience, as well as a fascinating lesson in glaciology. The islands were first used as a whaling base in the 17th and 18th Centuries and are now celebrated as a breeding ground for many seabirds, along with lots of marine mammals.

Start your North Spitsbergen cruise in historic Longyearbyen, then join our expedition to the north of the island to take in the fantastically beautiful landscapes, the thousands of seabirds, and of course the star of the show, the Polar Bear. Nothing can prepare you for your first sighting of a wild Polar Bear, the undisputed king of the Arctic.

The Svalbard archipelago is one of the most dramatic places on earth. Just 600 miles south of the North Pole, warmed by the most northerly waters of the Gulf Stream, this is a spectacular land of rugged mountains, extensive Arctic pack-ice drifting offshore, and the blue ice of ancient, awe-inspiring glaciers. Experience the majesty of these North Atlantic islands as we explore one of the last great wildernesses on earth.

Our voyage focuses on the western coast and pack ice edge west of Spitsbergen, and as far north as the permanent pack ice. This area has the highest concentration of wildlife and places of historic and scenic interest in the archipelago.
"Stunning scenery. Great guides. Excellent tour. Superior food. Comfortable room. The frozen north, particularly the pack ice, was mesmerizing." — Robert Cessaro, 2023 Traveler
"Absolutely fabulous! I loved being in the pack ice, the contrast between the sparkling blue sky, blue water, and the ice. The organized daily activities were fun and interesting. The crew and staff on the Plancius were friendly and helpful. Each expedition leader shared their expertise both on the field trips and in shipboard lectures. We learned so much about sea ice and whales, to name a few." — Christa Russell, 2023 Traveler
Tour Highlights
Take advantage of long daylight hours, coinciding with the height of the breeding season for most birds
Watch for Purple Sandpiper, Red-throated Diver, Ptarmigan, Great and Arctic Skua, Long-tailed Duck, and Common Eider
Witness wild Polar Bear hunting to sustain themselves through the long winter
Watch for the rare and beautiful Ivory Gull and endearing Dovekie
Learn the natural history of this fabled archipelago
Visit fascinating historic locations of early industry and exploration
Trip Itinerary
Itineraries are guidelines; variations in itinerary may occur to account for weather, road conditions, closures, etc. and to maximize your experience.

Day 1: Longyearbyen
Welcome to Svalbard!* You touch down in Longyearbyen, the administrative center of Spitsbergen, the largest island of the Svalbard archipelago. Enjoy strolling around this former mining town, whose parish church and Svalbard Museum make for fascinating attractions. Though the countryside appears stark, more than a hundred species of plant have been recorded in it. In the early evening the ship sails out of Isfjorden, where you might spot the first Minke Whale of your voyage.
*It is important to arrive a day early on June 21 so you don't miss the boat.
Day 2: Route to Raudfjorden
Raudfjord, with glacier fronts, is a good area for meeting Polar Bear and Bearded and Ringed Seals on fjord ice, which is still unbroken. In Hamiltonbukta is an impressive colony of Brünnichs's Guiillemot. Later we visit Ytre Norskøya, a small island that was used for many years as a lookout point for Dutch whalers. There we can still follow their tracks to the summit of the island. On shore the remains of 17th Century blubber ovens can be found near about 200 graves. The north side of the island offers the rare opportunity to see Puffin near their breeding places. There is also a small colony of Kittiwake. From there we sail northwest to the edge of the pack-ice. (B,L,D)

Day 3: The Massive Monaco Glacier
Depending on the weather, we hope to sail into Liefdefjorden and cruise within sight of the 5-kilometer-long (3.1 miles) face of the precipitous Monaco Glacier. The waters in front of this glacier are a favorite feeding spot for thousands of kittiwakes, and the base of the ice is a popular Polar bear hunting ground. If ice conditions prevent sailing here early in the season, an alternate route along the west coast of Spitsbergen can be implemented. (B,L,D)

Day 4: Highlights of Hinlopen
Today we sail into Hinlopen Strait, home to Bearded and Ringed Seals, and Polar Bears. At the entrance there is even the possibility to spot Blue Whale. After cruising among the ice floes of Lomfjordshalvøya in the Zodiacs, we can view the bird cliffs of Alkefjellet with their thousands of Brünnich's Guillemot (Thick-billed Murre). On the east side of Hinlopen Strait, we hope to attempt a landing on Nordaustlandet. Here Reindeer, Pink-footed Goose, and Walrus are likely sights. We take an alternate route if ice prevents entry into Hinlopen. (B,L,D)
Day 5: Stop at the Seven Islands
The northernmost point of our voyage may be north of Nordaustlandet, in the Seven Islands. Here we reach 80° north, just 870 km (540 miles) from the geographic North Pole. Polar Bears inhabit this region, so the ship may park for several hours among the pack ice before wheeling around west again. (B,L,D)
Day 6: Sailing the Continental Shelf
While retracing our route west, we keep watch for polar bears and elusive Greenland (bowhead) Whales. About 40 nautical miles west of Spitsbergen, we sail the edge of the continental shelf. Here Fin Whales forage during the summer in the upwelling zones (where cold, nutrient-rich water wells up from below the sea's surface) that run along the Spitsbergen banks. At the mouth of Kongsfjorden, we have a good chance of sighting Minke Whales. (B,L,D)
Day 7: Reindeer, Foxes & So Many Seabirds
Walrus sometimes haul out in Forlandsundet, our next stop. Alternatively, we might sail into St. Johns Fjord or south to the mouth of Isfjorden, landing at Alkhornet. Seabirds nest on these cliffs, Arctic Fox search below for fallen eggs and chicks, and Reindeer graze the sparse vegetation. You arrive in Longyearbyen later at night. (B,L,D)


Day 8: There & Back Again
Every adventure, no matter how grand, must eventually come to an end. You disembark in Longyearbyen, taking home memories that accompany you wherever your next adventure lies.
Cost of the Journey
Pricing is by cabin, per person, based on double occupancy.
Tour price includes:
Voyage aboard the indicated vessel as indicated in the itinerary;
All meals throughout the voyage aboard the ship including snacks, coffee and tea; All shore excursions and activities throughout the voyage by Zodiac;
Program of lectures by noted naturalists and leadership by experienced expedition staff;
Free use of rubber boots and snowshoes; Luggage transfer from pick-up point to the vessel on the day of embarkation, in Longyearbyen;
Pre-scheduled group transfer from the vessel to the airport in Longyearbyen (directly after disembarkation);
All miscellaneous service taxes and port charges throughout the program; Comprehensive pre-departure material.
Tour price does not include:
Any airfare, whether on scheduled or charter flights; Pre- and post- land arrangements;
Passport and visa expenses; Government arrival and departure taxes;
Meals ashore; Baggage, cancellation and personal insurance (which is strongly recommended);
Excess baggage charges and all items of a personal nature such as laundry, bar, beverage charges and telecommunication charges;
The customary gratuity at the end of the voyages for stewards and other service personnel aboard (guidelines will be provided).
Please note: Cruise payments are subject to the terms and conditions of the cruise company, Oceanwide Expeditions, we contract with and may be fully non-refundable. These terms and conditions are primary over those of Naturalist Journeys.
Naturalist Journeys' Added Value: Why cruise with Naturalist Journeys? First and foremost, it doesn't cost you more to cruise with us. You pay the same rate you would if you booked directly through the operator. That's where the perks come in! When you book with Naturalist Journeys, you're part of a group. We send a leader with you who adds excellent hosting and interpretation skills, and facilitates group interaction. We also send you a species list and trip report once the trip is over. So really, you get the benefit of a small-group guide without the added cost!
Travel Details
Please plan to make air travel plans only after the minimum group size has been met. We will send you a confirmation email as soon as the trip has been confirmed.
Requirements requiring visitors from more than 60 visa-free countries (including the U.S.) to get a travel authorization when entering Europe for brief stays have been delayed until 2025. Learn more at European Travel Information and Authorization System (ETIAS) website.
Items of Note
Ortelius was originally the Marina Svetaeva. Built in Gdynia, Poland in 1989, it served as a special-purpose vessel for the Russian Academy of Science. Later it was re-flagged and renamed after the Dutch/Flemish cartographer Abraham Ortelius (1527 – 1598), who in 1570 published the first modern world atlas: Theatrum Orbis Terrarum or Theater of the World. At that time his atlas was the most expensive book ever printed. Ortelius is classed by Lloyd's Register in London and flies the Dutch flag.

The vessel has the highest ice-class notation (UL1, equivalent to 1A) and is therefor suitable to navigate in solid one-year sea ice as well as loose multi-year pack ice. Ortelius can accommodate up to 108 passengers and has an abundance of open-deck spaces. It is manned by 24 highly experienced nautical crew members, 20 hotel staff, eight expedition specialists (one expedition leader, one assistant, and six lecturer-guides), and one doctor.

Please be aware that a small number of cabins may have a partially obstructed view due to the size of the windows and the design requirements of the ship. For example, some windows may be partly obstructed in the lower half by a gangway. The best view is always on the outer deck or the bridge. Though our voyages are primarily meant to offer our passengers an exploratory wildlife program with as much time ashore as possible, Ortelius offers all the comforts of a standard hotel ? along with a bar and lecture room. Flexibility assures maximum wildlife opportunities. As such, Ortelius carries 10 Zodiacs with 60hp Yamaha engines.

Superior | $7300
Max: 2 Persons | 2 Windows
• 1 double bed
• Sofa
• Private shower & toilet
• Desk & chair
• Flatscreen TV
• Telephone & WiFi (supplemented)
• Refrigerator
• Coffee & tea maker
• Bathrobe
• Hair dryer

Twin Window | $6050
Max: 2 Persons | 1 Window
• 2 single beds
• Small sofa
• Private shower & toilet
• Desk & chair
• Flatscreen TV
• Telephone & WiFi (supplemented)
• Hair dryer

Twin Porthole | $5600
Max: 2 Persons | 2 Portholes
• 2 single beds
• Small sofa
• Private shower & toilet
• Desk & chair
• Flatscreen TV
• Telephone & WiFi (supplemented)
• Hair dryer

Quadruple Porthole | $4000
Max: 4 Persons | 2 Portholes
• 2 upper & lower berths
• Small sofa
• Private shower & toilet
• Desk & chair
• Telephone & WiFi (supplemented)
• Hair dryer
• Suitable for families

Specifications
Passengers: 108 passengers in 50 cabins
Staff & crew: Crew 44 | Guides 8 | Doctor 1
Length: 90.95 meters
Breadth: 17.20 meters
Draft: 5.4 meters
Ice class: UL1 (Equivalent to 1A)
Displacement: 4090 tonnes
Propulsion: 6 ZL 40/48 SULZER
Speed: 10.5 knots average cruising speed

Browse below for trip reports and species lists from past versions of this and other tours from this destination.
Finland & Norway
Spitsbergen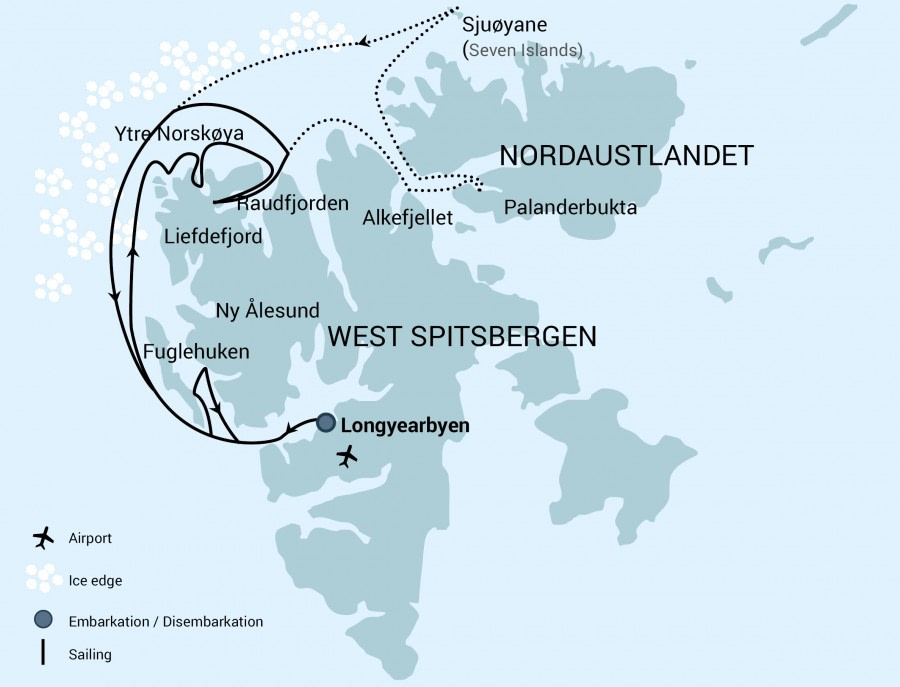 Essential Information +
Pace & Protocols +
Packing List +
Suggested Reading List +
Useful Links +
Photo credits: Banner: Bearded Seal by Erwin Vermeulen courtesy of Oceanwide Expeditions; Arctic Fox by Erwin Vermeulen; Zodiac Cruise by Erwin Vermeulen; Purple Saxifrage on Spitsbergen by Rinie van Meurs courtesy of Oceanwide Expeditions; Polar Bear by Erwin Vermeulen; Little Auk couple by Rinie van Meurs; Ivory Gulls by Rinie van Meurs; Fuglesangen by Rinie van Meurs; Humpback Whales by Erwin Vermeulen; Lounging Walrus by Erwin Vermeulen; Arctic Tern by Erwin Vermeulen; Swimming Polar Bear by Erwin Vermeulen; Perfect day for an zodiac cruise by Erwin Vermeulen; Blue iceberg by Leica Akademie; King Eider Duck taking off by Erwin Vermeulen; Zodiac cruising among the icebergs by Leica Akademie courtesy of Oceanwide Expeditions; Returning to the vessel by Rinie van Meurs; Minke Whale by Rinie van Meurs; Bog Saxifrage by Erwin Vermeulen; Polar bear interaction by Erwin Vermeulen; Arctic Fox with Pink-footed Goose by Rinie van Meurs; Group of Walrus by Erwin Vermeulen; A so called 'wet' landing at Diskobukta, Edgeøya, Sptisbergen by Arjen Drost courtesy of Oceanwide Expeditions.