Thank you for your interest! This journey is either underway or complete, but we do have
many other tour options
for you to choose from.
Join Naturalist Journeys for a spring migration tour! Discover Dauphin Island, one of North America's top spring migration destinations! Of Alabama's 445 bird species, 95% have been seen here. This is where migrants first see land after crossing over the Gulf; a critical rest and rejuvenation stop.

Spot Neo-tropical migrants; 25+ species of warblers, including Swainson's, Worm-eating, Cape May, Prothonotary and Kentucky; and view water, sea and shorebirds, including Magnificent Frigatebird, Reddish Egret, Roseate Spoonbill, Tricolored Heron, and Wilson's, Snowy and Piping Plovers.

Indulge in fresh seafood and visit several prime birding spots. Take a ferry to Fort Morgan for a local history lesson. Then, cruise the Mobile-Tensaw Delta, rightfully called America's Amazon. We also explore a rare pitcher plant bog and search for Swallow-tailed Kite.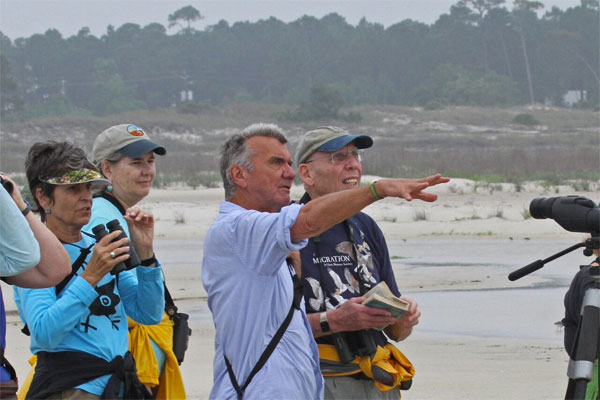 Tour Highlights
Bird the Island's migration hotspots, including Shell Mounds Park, Cadillac Square, The Goat Tree Reserve, Audubon Bird Sanctuary, the East End, and Airport Marsh
Spot up to 20 species of warblers, several vireos, both Summer and Scarlet Tanagers, orioles, and both Indigo and Painted Buntings
Off-Island, explore the Mobile-Tensaw Delta, Grand Bay, and Splinter Hill Bog — one of the largest pitcher plant bogs in the world
Explore the Dauphin Island Sea Lab
Enjoy an eco-boat swamp tour of the lower Mobile-Tensaw Delta and see American Alligator, Bald Eagle, Osprey, herons, cormorants, Brown Pelican, and Nutria
Photo credits: Banners: Cape May Warbler by Peg Abbott; Mississippi Kite by Steve Wolfe; Roseate Spoonbill by Betty Andres; Snowy Egrets by Noel Snyder; Ruby-throated Hummingbird by Peg Abbott; Group Birding Dauphin Island Beach by Peg Abbott; American Alligator, Naturalist Journeys Stock; Summer Tanager by Tom Dove; Birding Dauphin Island Beach by Peg Abbott; White-topped Pitcher Plants by Peg Abbott; Alabama Group, Naturalist Journeys Stock; Prothonotary Warbler by Dough Pratt;