Join Naturalist Journeys on this exciting Thailand birding tour. A four day visit at the start of the trip to nearby Southern Vietnam starts us off in tropical forest, giving us a high probability of successfully seeing two wonderful species of Pitta: Blue-rumped and Bar-bellied. These species are regularly seen at Cat Tien National Park where a mixture of primary and secondary forest, along with open grasslands, give a good chance of finding regional specialities including Germain's Peacock Pheasant. This trip presents a unique opportunity to visit two of Southeast Asia's most interesting countries and see many of the region's most spectacular and colorful birds.

Thailand is frequently visited by birders and with very good reason: its abundance of highly sought-after birds, ease of travel, friendly people, excellent cuisine, and good accommodations make it a great destination. On this Thailand nature tour we visit at a time when many members of the iconic Pitta family are breeding, giving us a high chance of success of finding Blue, Hooded, Blue-winged, Mangrove, and Malayan Banded Pittas. This is also a good time of year to see other stunning forest birds including broadbills and kingfishers as well as many other breeding birds. From Bangkok, we head to the bird-filled rice fields, where colonies of colorful, garrulous Weavers are busy building their nests, before a five night stay close to the wonderful Kaeng Krachan National Park. Here we search for Blue Pitta and Hooded and Blue-winged Pittas, as well as a whole host of colorful broadbills, woodpeckers, hornbills, and many other species. The forests here are exactly what you expect from Southeast Asia with huge trees, spreading canopies, and an abundance of life. Along with a wide variety of birds if we are lucky we could enjoy some good mammal sightings: White-handed Gibbon, Dusky Langur, perhaps Asian Elephant, Malayan Porcupine, or even Leopard. And, at this time of year the congregations of butterflies can be truly spectacular.

A short flight takes us from Bangkok to the island of Phuket where we visit Sri Phang Nga National Park, one of the best places to see the stunning Malayan Banded Pitta; the rich forest here holds many other possibilities too. From here we move on to the mangroves and limestone karst of Phang Nga Bay for Mangrove Pitta and Brown-winged Kingfisher, superb birds set against a very photogenic backdrop.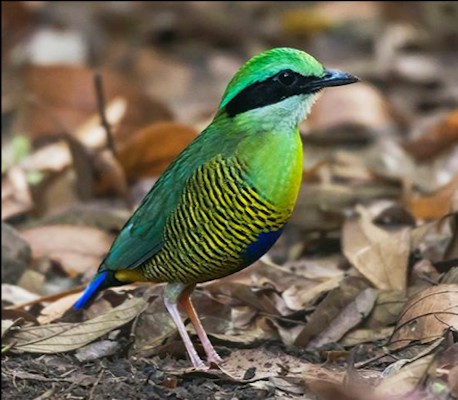 Tour Highlights
Spend three days exploring Cat Tien National Park in Vietnam for Bar-bellied and Blue-rumped Pittas, as well as an assortment of other key birds of the lowland forest
Bird the Petchaburi rice fields Asian Golden, Streaked, and Baya Weaver, as well as Javan Pond Heron in full breeding plumage
Explore Kaeng Krachan National Park for four days looking for pittas and broadbills and mammals like White-handed Gibbon, too
Fly to Phuket to spend time in Sri Phang Nga National Park to see bulbuls, hornbills, and pittas—the geography here is stunning with limestone karst rising sharply out of the turquoise water
Spend time at Sri Phang Nga and the stunning Phang Nga Bay overlooking the mangroves and sparkling sea
Discover the mangroves and watch for Mangrove Pitta and other range-restricted specialties
Photo credits: Banner: Oriental Pied Hornbill by Carlos Sanchez; Bar-bellied Pitta by Nick Upton; White-handed Gibbon by Carlos Sanchez; Doi Inthanon Waterfall by Carlos Sanchez; Long-tailed Broadbill by Carlos Sanchez; Lotus Flower by Carlos Sanchez; Painted Stork by Carlos Sanchez; Malayan Banded Pitta by Nick Upton