Thank you for your interest! This journey is either underway or complete, but we do have
many other tour options
for you to choose from.
This week-long Kenya safari has been designed to complement our Tanzania safari or our Uganda wildlife tour, with a choice of parks that do not duplicate what we experience in on our other trips.

Our Kenya extension is highly recommended to find the most species variety – chosen for habitats that differ from those we visit in Tanzania. We include time in some of country's finest parks: Nairobi NP, Mount Kenya NP, Samburu/Buffalo Springs and Abedere – making a loop north from Nairobi. As Nairobi is a major air hub for the region and many pass through here to get to Arusha, this extension is a great (and simple!) way to expand your experience.

We chose Mountain Lodge so you can see a lush forest on the slopes of Mt. Kenya and Nakuru National Park, famous for its wetlands and the security it provides both White and Black Rhinos, as well as tree-climbing lions and healthy Leopard populations. We end at Amboseli National Park, one of Kenya's most scenic spots with views of Mt. Kilimanjaro, springs, and wetlands contrasting vast salt pans. Amboseli is best known for elephants and the decades-long research of Cynthia Moss. It is rich in bird life and has Cheetah, Hyena, Lion, and more. Our guide, Washington Washira, is one of the leading birders in the region, and loves sharing East Africa's cultures and wildlife with travelers.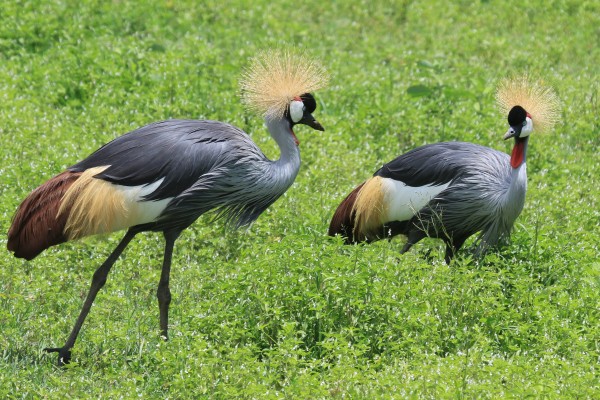 Tour Highlights
Opt to arrive early! We can help you spend time at Daphne Sheldrake's Elephant Orphanage, Karen Blixen's home and the adjacent Giraffe Manor, or a safari in Nairobi National Park
Enjoy time at the beautiful Mountain Lodge in Mount Kenya National Park
Visit Lake Nakuru National Park, famous for Hippos and Greater Flamingo; our lodgings are at an intimate tented camp
Take in the views en route to Amboseli National Park, tucked down near the Tanzanian border
Take advantage of both morning and evening game drives in Amboseli NP, looking for iconic African mammals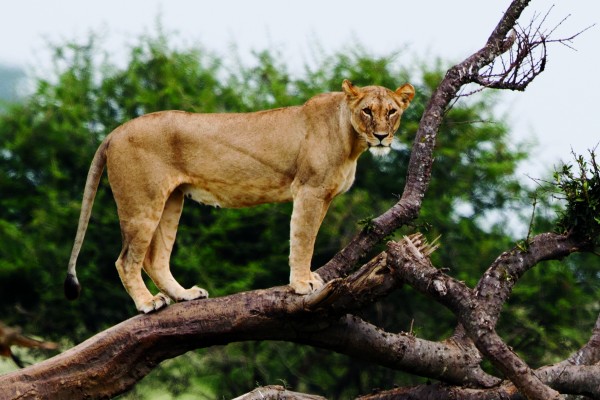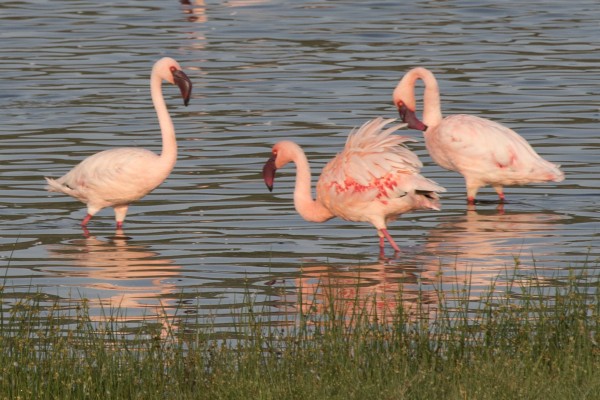 Trip Itinerary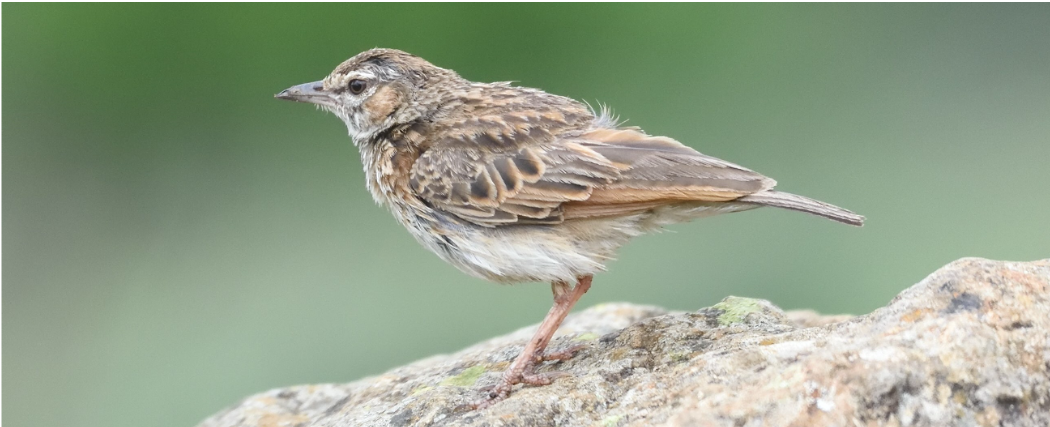 Thurs., Feb. 11:
Arrival in Nairobi | Ole Sereni Airport Hotel
Welcome to Africa! On arrival, you are greeted by Superb Starling and your tour leaders. We make our way to our comfortable hotel to relax after a long day of travelling. The patio looks over Nairobi National Park, and you can dine outside to ease the jet-lag, watching a rainbow of birds at the water feature. As everyone is on their own time table today (some napping, some wide-awake) meals are at leisure in the restaurant or bar area.
Accommodations at Ole Sereni Hotel, Nairobi Airport

Fri., Feb. 12:
Nairobi National Park
Today we explore Nairobi National Park, Kenya's oldest. Located just seven kilometers from the edge of the Nairobi city center (Kenya's capital), this is Kenya's premier birding location with over 500 species recorded in the park. It has a wonderful variety of habitats, from Whistling-Thorn Acacia scrub to gallery forest along streams to ponds and open savanna. We should find species like the impressive Secretarybird, Kori Bustard, Hartlaub's Bustard, and Saddle-billed Stork. We drive a series of park roads, searching out Spotted Thick-knee, Pangani Longclaw (a Meadowlark look-alike), Yellow-throated Sandgrouse, African Quail-finch, Zebra Waxbill, Harlequin Quail, and Violet Wood-hoopoe … to name a few! By our picnic area, we may find African Yellow White-eye, Common Nightingale, Ruppell's Robin-chat, Northern Pied Babbler, Red-throated Tit, Speke's Weaver, and more.

In well-watered areas we look for African Water Rail, Black-winged Plover, Little Grebe, Jackson's Widowbird, and Hamerkop. In open areas, it's reassuring to have a local expert to help us sort out pipits and larks: Nairobi Pipit, Grassland Pipit, White-tailed Lark, Rufous-naped Lark, Somali (Athi) Short-toed Lark, and those cryptic cisticolas—today perhaps Siffling, Croaking, Desert, and more! And watch the sky—avian predators and scavengers here may include Lappet-faced Vulture, Martial Eagle, African Crowned Eagle, Auger Buzzard, and Wahlberg's Eagle.

In addition to the many incredible animals we see during the visit, Nairobi National Park also hosts four of the "African Big Five": Lion, Black Rhino, Leopard, and Cape Buffalo.
Accommodations at Ole Sereni Hotel, Nairobi Airport (B,L,D)
Sat., Feb. 13:
Mt. Kenya
After a hearty breakfast, we head to Mt. Kenya, located just north of Nairobi. We make a few birding stops near water crossings. On arrival, we enjoy stunning mammals and birds from the lodge's balcony viewing point. Alpine Swift, Purple-throated Cuckoo-Shrike, Grey Cuckoo-Shrike, Mountain Yellow-Warbler, Silvery-cheeked Hornbill, Crowned Hornbill, Red-fronted Parrot, Hartlaub's Turaco, Montane (Kikuyu) White-eye, Dusky Turtle Dove, and Eastern Bronze-naped Pigeon. This is a great perch to watch for local raptors like African Cuckoo-Hawk, Mountain Buzzard, and Crowned Eagle.

Near the waterhole our lodge is so famous for, we find Mountain Wagtail, Cape Wagtail, pairs of noisy Hunter's Cisticola, African Black Duck, Spectacled Weaver, and at night Verreaux's Eagle Owl.

Later, we bird in the nearby lush montane forest on a guided walk from the lodge, looking for the many mountain specialties species such as the Slender-billed Greenbul, Cinnamon Bracken Warbler, White-browed Crombec, Grey-headed Negrofinch, Brown-backed Scrub-Robin, Abyssinian Ground Thrush, Black-fronted Bushshrike, Olive Ibis, Barred Long-tailed Cuckoo, Slender-billed Starling, Abbott's Starling, Sharpe's Starling, Kenrick's Starling, Waller's Starling, Fine-banded Woodpecker, White-headed Wood-Hoopoe, Bar-tailed Trogon, Yellow-crowned Canary, African Green Pigeon, Lemon Dove, and African Olive Pigeon—wow!

Mammals we are likely to see include Mt. Kenya Guereza (Black-and-white Colobus Monkey), Mt. Kenya Kolb's (Sykes) Monkey, and Bushbuck, Suni (a tiny antelope), and Cape Buffalo. At night, we just might witness Giant Forest Hog, White-tailed Mongoose, Spotted Hyena, Elephant, and possibly even cats as they visit our lodge's local waterhole.
Accommodations at Serena Mountain Lodge (B,L,D)
Sun., Feb. 14:
Mt. Kenya to Samburu & Buffalo Springs | Hinde's Babbler Site
The local parking lot is great for some early morning final birding in forest surrounding Mt. Kenya. Scaly Francolin are secretive but present. Large trees attract Black-throated, Black-collared, and Chestnut-throated Apalis, Rueppell's Robin-Chat, and Black-headed Waxbill. Flowering trees draw in Tacazze Sunbird, Malachite Sunbird, Golden-winged Sunbird, and Eastern Double-collared Sunbird.

Soon, we head further north to one of Kenya's premier ecological regions at Samburu and Buffalo Springs Reserves. En route, we take a short detour to a site where the rare Kenyan endemic, the Hinde's Babbler, often appears and with searching here we may find an array of other birds, such as Purple Grenadier, Red-chested Cuckoo, Yellow-rumped Tinkerbird, Red-faced Cisticola, Red-cheeked Cordon-bleu, and Rufous Chatterer.

Afterwards we continue north, passing through the city of Isiolo, to Samburu Reserve and our lodgings, a fabulous wildland area home to Leopard, Beisa Oryx, Gerenuk, Grevy's Zebra, Cheetah, Reticulated Giraffe, Lion, and Elephant. The geography of this arid landscape is dramatic, with mountains and inselbergs dotting the landscape carved by sand rivers lined with palms.
Accommodations at Samburu Lodge (B,L,D)
Mon., Feb. 15:
Buffalo Springs & Samburu National Reserves
There is still much to see as we continue our safari in these two adjacent, incredible reserves, seeking species we haven't yet seen. Birds here include Somali Ostrich, Golden Pipit, Golden-breasted Starling, Abyssinian Scimitarbill, Rosy-patched Bushshrike, Pringle's Puffback, Northern Puffback, Northern White-crowned Shrike, White-headed Mousebird, Fire-fronted Bishop, Somali Bee-eater, African Orange-bellied Parrot, Yellow-vented Eremomela, Northern Crombec, Northern Grey Tit, Black-capped Social Weaver, Northern Brownbul, African Bare-eyed Thrush, Somali Sparrow, Donaldson-Smith's Nightjar, Dusky Nightjar, and Rufous Chatterer. Raptors include Egyptian Vulture, possible Palm-Nut Vulture, Bateleur, and both Martial and Tawny Eagles.

Trees flowering draw in Hunter's Sunbird, Black-bellied Sunbird, and Shining Sunbird. In their shade we may find Somali Courser, Stone Partridge, Black-faced or perhaps Chestnut-bellied Sandgrouse, Buff-crested Bustard, Vulturine Guineafowl, or one of three species of hornbill: Red-billed, Eastern Yellow-billed, or Von der Decken's.
The reserves line two sides of a river, and we spend time in both. Along the water we may find groups of Elephant watering, huge troops of Baboons, and a variety of antelopes and other species.

At night, enjoy star-filled skies and time around the campfire.
Accommodations at Samburu Lodge (B,L,D)
Tues., Feb. 16:
Aberdare National Park
We enjoy an early morning safari in Samburu, working along the riverbed with its palms and acacias and host of birds and mammals, before returning to pack up, and enjoy brunch. With luck a herd of Elephant is in view as we dine. We then start on our way south to our final birding spot, back in the mountains at Aberdare National Park.

Aberdare National Park runs the expanse of a majestic mountain range on the eastern edge of the Rift Valley. The park has a great stretch of alpine moorland vegetation, mainly above 3,000m. This incredible landscape has led to the park's nickname, "The Majestic Moorland." There is a thick tropical forest with deep ravines, dissecting riverine gorges, and in certain areas, impressive river-formed waterfalls. Home to some of Kenya's greatest endemic birds, this area promises rewarding views.

A host of other animals occupy this stunning expanse, and good views of Elephants, Cape Buffalo, Common Bushbuck, and Giant Forest Hog can be expected. Here we learn in depth about highland forests and montane ecology.

Expected birds include Aberdare Cisticola, Hunter's Cisticola, Montane Nightjar, Mountain Buzzard, Rufous-breasted Sparrowhawk, Common (African) Stonechat, Mountain Yellow Warbler, Cinnamon Bracken Warbler, Chestnut-throated Apalis, Brown Woodland Warbler, Malachite Sunbird, Golden-winged Sunbird, Moorland Chat, Black-fronted Bushshrike, Yellow-crowned Canary, Yellow-bellied Waxbill, Jackson's Francolin, and Olive Ibis.
Accommodations at Ark Lodge (B,L,D)
Wed., Feb. 17:
Kinangop Grasslands | Nairobi
This morning we enjoy our final birding in the magnificent Aberdares National Park before heading to Kinangop grasslands. Here, we search for another critically endangered Kenyan endemic—the Sharpe's Longclaw. We spend our time searching for this impressive species amongst an array of other potential sightings. Local wetlands are also visited for the highland water birds.

Here we expect to see Red-throated Wryneck, Common Quail, Levaillant's Cisticola, Wing-snapping Cisticola, Long-tailed Widowbird, Jackson's Widowbird, Angola Swallow, Montane Nightjar, Martial Eagle, Mountain Buzzard, Rufous-breasted Sparrowhawk, Red-throated Pipit, Black-tailed Godwit, African Snipe, Lesser Jacana, and African Stonechat.

After a fabulous day, we travel to Nairobi to rest before our departures and celebrate our incredible adventure in Kenya!
Accommodations at the Ole Sereni Hotel, Nairobi Airport (B,L,D)

Thurs., Feb. 18:
Departures from Nairobi | Continue on to Tanzania!
Those joining us from our Uganda Safari most likely head home today, after their grand combination of tours. Others start their fabulous safari to Tanzania's Serengeti!
Cost of the Journey
Cost of this 8-Day / 7-Night Kenya birding tour is $3690 DBL / $4380 SGL per person. This cost includes accommodations for seven nights, all meals as noted in the itinerary (B,L,D), transfer Arusha/Kenya border, all land transportation, game park entry fees, Mt. Kenya nature walk fee, Maasai Cultural village visit fee (if desired), unlimited game/bird viewing drives, bottled mineral water, temporary enrollment in flying doctor services.

Tour cost do not include: transportation from your home city to Nairobi, optional activities, or items of a personal nature such as laundry, telephone charges, gratuities for guides, lodges and drivers, or beverages from the bar. Costs exclude: International airfare; personal, medical, cancellation insurance; tips for guides, drivers, and lodges.
Travel Details
Please plan to arrive in Nairobi at your leisure on February 11. Please plan your departures at your leisure on February 18 if you do not plan to continue on to Tanzania.
Photo credits: Banner: Elephant Sunset by Greg Smith; Zebras by Peg Abbott; Lion Cub by Peg Abbott; Giraffe by Peg Abbott; Herds by Peg Abbott; Crowned Cranes by Peg Abbott; Hippo by Peg Abbott; Elephants by Peg Abbott; Lioness by Peg Abbott; Lesser Flamingos by Peg Abbott; Foxy Lark by Washington Wachira; Little Bee-eater, Washington Wachira; African Yellow White-eye, Washington Wachira; Grassland Pitpit, Washington Wachira; Brubru, Washington Wachira; Giraffe family by Jack Jordan; Elephant, Jack Jordan; Kori Bustard, Washington Wachira; African Cape Buffalo, Jack Jordan; Spotted Thick-knee, Washington Wachira; Holub's Golden Weaver, Washington Wachira; Yellow-throated Longclaw, Washington Wachira; African Wood-Owl, Washington Wachira; Goliath Heron, Washington Wachira; African Paradise Flycatcher, Washington Wachira; Bat-eared Fox, Jack Jordan; Black-backed Jackal, Jack Jordan; Cheetah, Jack Jordan; Elephant, Jack Jordan; Giraffe, Jack Jordan; Secretarybird, Washington Wachira; Variable Sunbird, Washington Wachira; Wildebeest, Jack Jordan; Zebra, Jack Jordan.