We invite you to discover Morocco. Explore Marrakech's famous Medina and Souk with your guide, journey across the highest pass in the High Atlas Mountains, bird the breathtaking Sahara, walk palm-fringed wadis for migrants, search for Egyptian Nightjar, Desert Warbler, Crowned and Spotted Sandgrouse, Hoopoe Lark, Cream-colored Courser, Fulvous Babbler, Lanner Falcon, and more. Witness sunrise over the high sand dunes—life changing. Food is delicious and we soak in all of Morocco's rich nature and culture.

Tour Highlights
Arrive in Marrakech and start birding right away! Our hotel's gardens are the perfect place to start your trip list
Experience the varied habitats of the High Atlas Mountains, from lush green vegetation to sparse steep slopes
Witness the Sahara Desert, with views that take your breath away
Experience minute patches of greenery deep in the desert, magnets for migrating and resident birds
Traverse the desert dunes in 4x4 vehicles
Take in the geologic wonder of Gorges du Dades, a stunning, deep-sided valley
Indulge a bit—we take time to enjoy the delicious culinary offerings along the way
Drive up to Oukaïmeden, a ski resort in the High Atlas Mountains, in search of high mountain species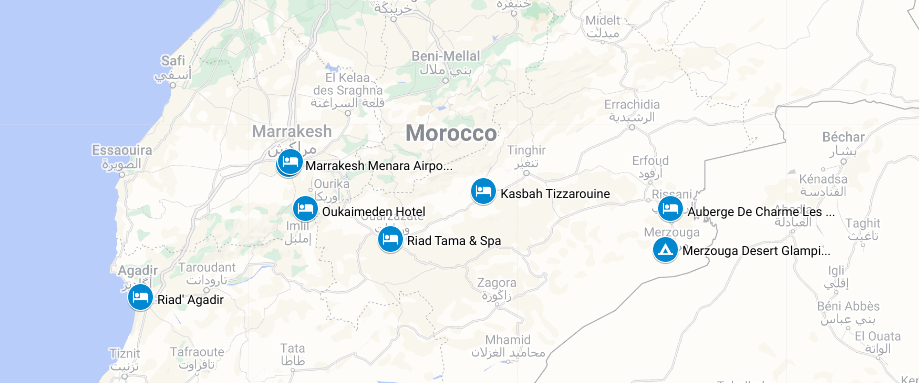 Photo credits: Banners: Camp by Pieter Verjeij Photography (PVP); Bald Ibis, PVP; Scenic, PVP; Desert Sparrows, PVP; Camels, PVP; Scenic, PVP; Little Owl, PVP; Barbary Macaque, PVP; Hoopoe, PVP; Lizard, PVP; Moroccans with Camel, PVP; Desert Wheatear, PVP; Lizard, PVP; Moussier's Redstart, PVP; Market Scene by Miltiadis Fragkidis on Unsplash; Camel, PVP; Dunes, Photo by Rubén Bagüés on Unsplash; Crowned Sandgrouse, PVP; Eurasian Bee-eater, PVP; Greater Flamingo, PVP; Hoopoe, PVP; Egyptian Nightjar, PVP; Black-eared Wheatear, PVP; Cream-colored Courser, PVP; White Storks, PVP; Trumpeter Finch, PVP.