Our inaugural journey to the Kingdom of Bhutan left so many lasting impressions. It was one of the most remarkable tours our founder, Peg Abbott, has made and she can't wait to return. This Bhutan birding tour adds several days, with more time in prime areas for birding and scenic vistas — the Himalayan forests are intriguing and views abound! Nestled between India and China, biodiverse Bhutan is home to seven percent of the world's bird species. Roughly the size of Switzerland, it is naturally dramatic, rising from the lowland rainforest of the Indian-Malay subcontinent to Himalayan heights far above tree line, its mountains interspersed with valleys carved by fast-moving rivers. Bhutan's elevation ranges from 315 feet to a staggering 24,500 feet above sea level.

This Buddhist kingdom is also a conservation champion, with a quarter of its lands protected by national parks and a constitutional decree that no less than 60 percent of the country should be covered in forest. More than 70 percent of it is now richly forested, an important reason some 700 birds call Bhutan home. The incredibly scenic region we travel includes many of the largest and most distinctive birds in Asia, and many riotously colorful and charismatic ones as well, including hornbills, sunbirds, parrotbills, wren-babblers and laughingthrush, to name just a few. On this year's Bhutan tour we stay longer in the mountain areas on this trip, dropping down a bit into broadleaf forest valleys.

For the lowland species we offer an extension to Manas National Park from India, a highly recommended experience if you want to add 100+ species to your trip list. Twin parks occur with Manas and Royal Manas in India and Bhutan respectively — it's just MUCH easier to access this habitat, and to look for specialties such as the endangered Bengal Florican from India. As the main route into Bhutan connects through Delhi, it's easy to combine the two on this Bhutan nature tour.

We chose spring as Bhutan is home to a rich array of colorful rhododendrons and other flowering shrubs. There are striking mammals we hope to see too, including Giant Squirrel, the beautiful and endangered Golden Langur monkey, and even rarer Red Panda, seen just after our group last year on one of our stops!

Our Bhutan birding tour is also culturally rich, a glimpse of rural life hosted by wonderful guides that share their country's story as well as their expertise with birds. We visit architecturally marvelous Buddhist fortress-monasteries, locally called "dzongs," where we observe traditionally robed monks and their devotees in training. We stop at a weaving studio and try out one of Bhutan's first brew pubs. Join us to learn why Bhutan is known as the "Land of the Thunder Dragon," an emblem that adorns the national flag expressing the mysticism that pervades this fascinating culture.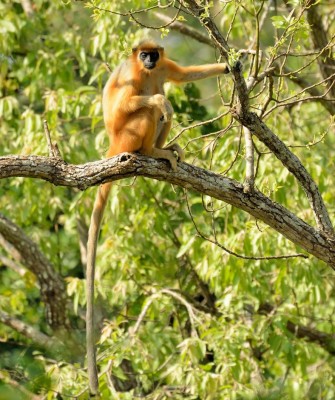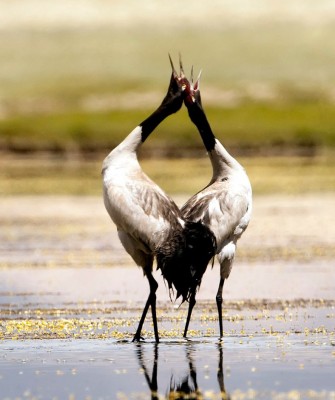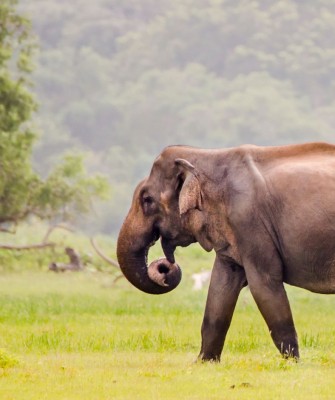 Tour Highlights
Marvel at some of the most spectacular scenery anywhere in the world, including mountain peaks approaching 25,000 feet as a gorgeous backdrop to our birding.
Visit at the height of the rhododendron bloom, a special experience in a country with nearly 50 species found both in the wild and cultivated in special parks in Thimphu and Punakha. Bhutan's rhododendron season is a riot of color.
Enjoy tremendous diversity of birdlife thanks to our tour's varied altitudes and habitats as we cross this Himalayan nation, ranging from lowland rainforest at 500 feet (on our extension to adjacent Manas National Park in India) to mountain passes well above tree line at 13,000 feet. Special birds here include some of the world's largest hornbills, a half dozen species of laughingthrush, charismatic wren-babblers and parrotbills, and many glorious sunbirds.
Marvel at bird superstars, including technicolor Himalayan Monal, Satyr Tragopan, Rufous-necked Hornbill, Fire-tailed Myzornis, Ibisbill, Beautiful Nuthatch, and gorgeous Ward's Trogon.
Admire traditional architecture and visit Buddhist dzongs in this highly devout country. Prayer flags flapping in the breeze are ubiquitous in the settled (not really urban) areas we visit, imbuing our journey with a unique sense of place.
Travel adventurously with us, birding the single road that crosses this sparsely populated country, thrilling at mixed flocks in its most productive habitats close to our nature lodge.
Cross your fingers and toes as we search for White-bellied Heron, one of the most critically endangered bird in the world.
Keep an eye on the skies for one of thirty raptors found in Bhutan, including Changeable Hawk Eagle, Crested Serpent Eagle, Himalayan Vulture, Steppe Eagle, Long-legged Buzzard, and Pallas' Fish Eagle.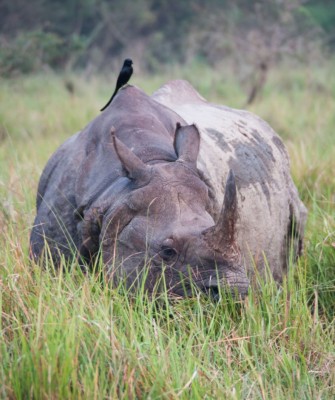 Trip Itinerary
Itineraries are guidelines; variations in itinerary may occur to account for weather, road conditions, closures, etc. and to maximize your experience.
Wed., April 10:
Early Arrivals: Paro, Bhutan or Delhi, India
We strongly recommend that you arrive today or earlier; you have flown a very long way and we want you to be rested for this amazing journey. Paro is a small city with a spectacular setting … even at the international airport, just the landing is exciting! The airport is welcoming and it's easy to walk and explore in town and along the river.

Alternately, you may arrive to the international airport at Delhi, India, today where you can rest up and meet our group members returning from the Manas National Park extension. Our operator can book your flight (additional cost) to fly with the group to Paro the following morning.

Thurs., Apr. 11 :
Welcome to Bhutan! Paro | Thimphu
Paro is a lovely small city in one of Bhutan's loveliest valleys rimmed by high peaks of the Himalayas. Its centerpiece is the Paro Chhu River and the impressive Rinpung (Paro) Dzong. One has the feel in Paro of ancient meeting modern, as trendy coffee shops and cafes have sprung up and you have a chance to see some of the region's arts and crafts.

The airport luggage carousel is a welcoming treat and a glimpse into how much this country supports art and artisans. Those already in Paro will meet up with the group flying in today from Delhi. The scenic drive to the capital city of Thimphu takes about two hours and along the route you see classic Bhutanese architecture and some chortons and stupas, small spiritual sites. Along the river we check for Ibisbill, one of Bhutan's iconic species. We settle into our accommodations at a cool and comfortable 7000 feet. At dinner we provide an overview of our journey and for those that wish, we start our nightly species checklist to tally what we find each day.
Accommodations in Thimphu (B,L,D)

Fri., Apr. 12 :
Thimphu | Punakha
Enjoy a nice breakfast before we depart the city and start to climb up Dochu La Pass. We top out at 10,335 feet, which, weather permitting, provides us with fabulous views of Bhutan's seven highest Himalayan peaks, all above 23,000 feet. Here the 108 Memorial Stupas stand impressively. On the grounds we find mixed flocks at the forest's edge. We bird in lush forests of pine, rhododendron, and evergreen oak, and with luck we see a number of interesting birds like the Fire-tailed Myzornis, Yellow-billed Blue Magpie, Chestnut-capped Babbler, and Ultramarine Flycatcher. We also have a chance for Indian White-eye, Gray Bushchat, Blythe's Leaf Warbler and the showstopping Mrs. Gould's Sunbird. Noisy laughingthrushes may be present (White-throated, Chestnut-crowned, and Spotted), as well as White-collared Blackbird, Green-backed Tit, Whistling Warbler, Large-billed Warbler and Rufous-throated Fulvetta. With luck we could find a troop of Himalayan Gray Langur.

At the Royal Botanical Garden, we walk a loop trail among blooms of wild strawberries, violets, gentians, rhododendrons, and magnolias. At lower elevation than the pass, we can find other species of laughingthrushes (Chestnut-capped, White-throated, and Gray-sided), Rufous-crowned Babbler, both Large Hawk-Cuckoo, Himalayan Cuckoo, and colorful Rufous-bellied Woodpecker. We marvel at colorful butterflies and with luck could find a Large-eared Pika, one of six species in Bhutan.

Late afternoon, we arrive in Punakha, a scenic city defined by the impressive Punaka Dzong (Punthang Dechen Phodrang), or 'Palace of Great Bliss', the winter home of Bhutan's spiritual leader and over 350 monks. This fortress is one of the most beautiful in the country, built in 1637 between the confluence of the Pho Chu and Mo Chu rivers. This afternoon enjoy photos from the edge of the river before we check in to our lodgings.
Accommodations at Four Boutique or similar at Punakha (B,L,D)

Sat., Apr. 13 :
Punakha
An early start from Punakha takes us to the Jigme Dorji National Park, a dramatic and beautifully scenic park of snow-capped peaks and lush mountain valleys. We bird in broad-leafed forests for a number of interesting species including Golden-throated Barbet and Black-winged Cuckooshrike. We hope to have the chance to visit Lamperi, too, looking for birds like Black Eagle, Wedge-tailed Green-pigeon, Asian Koel, Asian Emerald Cuckoo, and Nepal Fulvetta, The park is also home to the bizarre Takin, as well as 30 or so other mammals.

Back in Punakha, we enjoy a privately guided visit to the impressive Punaka Dzong.
Accommodations at Four Boutique or similar at Punakha (B,L,D)

Sun., Apr. 14 :
Punakha | Chumey Nature Resort
This morning we pack up our gear and head on to Chumey, about six hours driving to the east. Before we leave the Punaka valley, we have a second chance at birding the Mo Chhu River in search of White-bellied Heron, Great-crested Grebe, Little Ringed Plover, various ducks and Black-winged Stilt. Then we continue on, looking for mixed flocks on birding breaks. We hope to find Red-tailed Minla, White-tailed Nuthatch and Black-throated Tit. We may find Dark-sided Flycatcher and Brown-flanked Bush Warbler. Chestnut-bellied Rock Thrush are quite common along the road, and we stop at several photogenic waterfalls.

Our route crosses two high passes today; at lunch we may find a herd of free-range yak and an expansive view. Mid-afternoon we descend into the Chumay valley, a peaceful place with a mosaic of agricultural fields and farms; our lodge is of cozy log construction. As we check in we find the cheer of a woodfire welcome. Once settled, we gather to enjoy homemade food featuring local ingredients.
Accommodations at Chumey Nature Resort, Chumey (B,L,D)

Mon., Apr. 15 :
Chumey
The air will be fresh this morning in our little mountain retreat and a hot breakfast hits the spot. We enjoy a walk down the rural road and birding the edges of fields and forests. After our day of travel yesterday it's a more relaxed morning. Among fields of barley and newly planted potatoes, we find fat cattle, still-woolly ponies, and fruit trees in bloom. With the architecture of farmhouses rivaling that of any building seen in town, this rural tapestry creates a lovely background for finding Black-rumped Magpie, Red-billed Chough, and Gray-backed Shrike.

The focus of our afternoon birding is a drive up through forests to a clearing at the Tharpaling Monastery. For birders, this is an interesting place (apart from the cultural value). The monks here co-habit the space with Himalayan Monal and occasionally Satyr Tragopan. We walk on the grounds of the monastery and then wait for the birds to arrive in the late afternoon. Return for a second delicious meal at the lodge and a chance to catch up on our species tally. This evening appreciate that your room is heated and you have a nice, locally made wooly blanket!
Accommodations at Chumey Nature Resort, Chumey (B,L,D)

Tues., Apr. 16 :
Chumey | Sengor
We savor a nice breakfast at the lodge and although we hate to leave this place, it's off to another terrific birding area at Sengor. Getting there takes much of the morning. We have a picnic lunch and then we bird in forests around the camp (a legendary Bhutan birding location) this afternoon and the following morning.

Although there are no hotel facilities, we solve that issue by having our camp crew set up a tented camp for us, with catered meals and a campfire to enjoy. Camp life is simple; we have our own tents with cots and nice foam mattresses and two bathroom tents that are shared. There is a wash system set up and wonderful meals are served right there. With luck we hear owls and see if we can bring them in. It's just one night … but on our last visit everyone wished for more!
Accommodations at Sengor Campsite; Outfitter Camp Tents (B,L,D)

Wed., Apr. 17 :
Sengor | Yongkola
After campfire coffee and a snack we bird the forest by our camp, spending time in moss-draped, mid-altitude broadleaved forests of the foothills across a range of elevations. As we enter the remarkable forests, we scan the understory vegetation, stands of thick bamboo, streambanks, and the sky for a good selection of lower elevation species in superb habitat. Some of our most sought after species include Kalij Pheasant, Streaked Spiderhunter, Slaty-backed Forktail, Red-breasted Pied-flycatcher, Blue Rock Thrush, Indian Blue Robin, White-hooded Babbler, White-crested Laughingthrush, Rufous-necked Hornbill, Blue-throated Barbet and Crested Serpent-Eagle (with a whole lot more!).

We pack up and after lunch continue with a drive to Yongkola, making a few birding stops en route to our next lodge. Once we reach Yongkola, we check into Trogon Villa where we find bird-themed rooms. This evening it's nice to compare notes with other birders at the lodge as we meet for dinner and afterwards, our checklist tally. We have three nights here in the heart of one of Bhutan's best birding areas.
Accommodations at Trogon Villa, Bumthang-Ura Hwy (B,L,D)

Thurs., Apr. 18 & Fri., Apr. 19 :
Two Full Days Birding from Yongkola
The lodge is located close to very pristine forest, and we explore different patches of it from the same road, spending time in lush, mid-altitude subtropical broad-leafed forest, rich in moss, lichens, orchids, and ferns. This is ideal habitat for many species characteristic of the Eastern Himalayas and is one of the finest birding areas throughout the entire Himalayan chain. We search for Beautiful Nuthatch, Himalayan Cutia, Red-headed Trogon, Bay Woodpecker, Black-throated Parrotbill, Blue-bearded Bee-eater, and possibly Black Eagle.
Past groups have seen Sultan Tit, Himalayan Bulbul, Golden Babbler, Gold-naped Finch, Yellow-breasted Greenfinch, Crested Bunting, Asian Barred Owlet, and more. This area throws some pleasant surprises and we may even have a chance at seeing mammals like Himalayan Black Bear or a Common Leopard if we're very lucky.

One evening from Yongkola, weather permitting, we try for nocturnal birds like Hodgson's Frogmouth, Himalayan Wood Owl, Brown Wood Owl and possibly a few mammals like the endemic Bhutan Giant Flying Squirrel on a night outing.
Accommodations at Trogon Villa, Bumthang-Ura Hwy (B,L,D)

Sat., Apr. 20 :
Yongkola | Trongsa
We start out early, and after some travel enjoy a full picnic breakfast, set up and catered by our wonderful team. This are not your every day picnic … there are tables and chairs and the team cooks fresh hot food for us in the field. Fresh flowers adorn the tables and they always seem to be around the bend waiting for us just as our energies falter. We love this Bhutanese hospitality on wheels!

There is prime birding at the subtropical forests between Yonkola and Namling; over the course of the day we gradually head to Trongsa. This one-night stop breaks up what was a long travel day on past trips, and the lovely hotel we have chosen is a good rest stop. It has a view of the historic Trongsa Dzong. On arrival, you can settle into your room and enjoy the ambiance and views. In the evening we gather for dinner and the checklist tally. Some may want to try to photograph the Tronsa Dzong at night as it is spectacularly lit.
Accommodations at Hotel Yankhill, Trongsa (B,L,D)

Sun., Apr. 21 :
Trongsa | Phobjikha
We get an early start as we have about a morning drive to our next stop, crossing back over Pele La Pass. Our destination today is Phobjikha, a lovely timbered valley with extensive wetlands in several patches. This is where Black-necked Cranes spend the winter and while we are too late in the year to see them, we enjoy seeing crane-themed signs and artwork and witnessing the local conservation support. Along our drive, our picnic lunch is set up with a fine view.

Last year a colorful Indian Roller was seen on the road in and out of our hotel. We should arrive by mid-afternoon. Some may wish to call it a day and relax at this lovely spot, but those that wish can retrace our drive to the pass to bird a near-abandoned road at Pele La Pass. We walk here on the old Pele La Road, which hosts incredible rhododendron blooms and on a clear day, fine views and outstanding birding. Mixed flocks are common and Darjeeling and other woodpeckers fly between massive trees, often calling.

Dinner tonight is at the lodge and we finish the day with our checklist tally.
Accommodations at Dewachen Hotel, Gangtey (B,L,D)

Mon., Apr. 22 :
Phobjikha
This morning we head out early, wanting to be in the magic of morning activity on the old Pele La Road, one of the best birding spots of our trip. We hope to hear and see the gorgeous Satyr Tragopan, and should also find Blood Pheasant, and Himalayan Monal — a pheasant family extravaganza! The smaller species hold excitement too, and are plentiful. We may find Green Shrike Babbler, Scaly-breasted Cupwing, and a host of warblers, tits, and yuhinas in mixed flocks. We have the full morning to walk and bird and take in this stunning setting. There is a craft market on the pass we can stop at if you wish … you can even try yak cheese!

This afternoon is guide's choice, depending on what we still hope to see we choose the best spot.
Accommodations at Dewachen Hotel, Gangtey (B,L,D)

Tues., Apr. 23 :
Phobjikha | Paro
We have our breakfast at the lodge and head off to bird and explore the route between Phobjikha and Pele La Pass — then from Pele La to Paro — the total drive is about 5 hours with several good stops. This is the day we hope for good views of beautiful Ward's Trogon and finding this beauty takes some time. We are not in a hurry, and we plan to stop near Thimphu at the national weaving center where we can see artists at work and perhaps purchase a woven treasure. On arrival, some may also enjoy looking around the town of Paro a bit, with its trendy shops and cafes it seems another world from the rural areas we've explored. Our dinner tonight is at a fun local restaurant.
Accommodations at Hotel Olathang, Paro (B,L,D)

Wed., Apr. 24 :
Paro | Chele La Pass Birding
We have one more incredible day of birding, and we head out early to climb Chele La Pass to the west of Paro. We want to spend time in semi-alpine forests where we have a chance to see White-winged Grosbeak, Himalayan White-browed Rosefinch, Blanford's Rosefinch, and both Gray-crested, and Rufous-vented Tits. With luck we may find pika and Yellow-throated Marten. We bring a picnic breakfast with us.

Late afternoon we visit a wetland looking for Black-tailed Crake. If for any reason we have not had good views of Ibisbill, we can work along the river with very good chances to find them. This is the start of their nesting season and we may find a pair with a chick!

Over dinner we share the many highlights and favorite birds of our trip and we do our final checklist tally.
Accommodations at Hotel Olathang, Paro (B,L,D)

Thurs., Apr. 25 :
Departures
Today our flock disperses. We have breakfast and time airport runs for departing flights. (B)
Manas National Park Pre-Tour Extension
Itineraries are guidelines; variations in itinerary may occur to account for weather, road conditions, closures, etc. and to maximize your experience.
India's Manas National Park is a biodiversity jewel and an UNESCO World Heritage Site, nestled in the Himalayan foothills across the border from Bhutan's Royal Manas National Park, which helps fuel its biodiversity. We stay in and explore both the east and west sides of this densely forested park, also taking in grasslands, wetlands and rural areas brimming with birdlife. Our afternoon safaris promise to be rich in impressive birds and mammals like Great Hornbill and Asian Elephant!
Fri., Apr. 5 :
Early Arrivals, New Delhi
We will be met at the airport and transferred to this delightful and modern airport hotel to get settled and rested up from your journey. If anyone wants to do sightseeing or explore nature areas around Delhi, requiring more days, we can put you in touch with our local operator (your guide for the tour) for custom planning. This night is at additional cost but highly recommended so you are rested up for this amazing journey, whether the extension or main tour.
Sat., Apr. 6 :
Arrivals in New Delhi | Flight to Guwahati
Some of our group may arrive in Delhi at dawn and continue on with us on the domestic flight. We worry about tight connections so HIGHLY recommend you come in the day ahead.

We plan to take a packed breakfast from the hotel to eat after you have checked into your flight to Guwahati. This flight is included with the extension and we fly as a group – hopefully we see the high Himalayas en route!

Once in Guwahati, we are met by drivers for the drive to Manas National Park (about three and a half hours). There are birds right from the start and we stop along the route as time permits.

Depending on our flight time, lunch may be en route or at the lodge in Manas. We want to be sure to be there in time for our afternoon jeep safari at Manas National Park. Bird highlights in travel may include Asian Palm Swift, White-throated Kingfisher, Green Imperial Pigeon, Rufous Treepie, and Crimson Sunbird.

Safaris into the park can be very good for mammals as well as birds. Highlights may include Indian Rhino, Asian Elephant, Indian Gar, and though rare, this is a Tiger reserve and we have found tracks in past years. We may find Lineated and Blue-throated Barbets, Red-collared Dove, Green-billed Malkoha, Black-naped Monarch, Himalayan Flameback, and Gray-capped Pygmy Woodpecker.
Accommodations at Thobgang Jungle Tourist Lodge, Assam (B,L,D)

Sun., Apr. 7 :
Full Day Safari, East Side of Manas National Park
Enjoy the sunrise in India! This morning we head to a grassland section of the park. The habitat is open and we look directly into neighboring Bhutan with mountains that rise above the Manas River that outlines the border. We hope to find Bengel Florican, a critically endangered and impressive member of the bustard clan. In spring, they leap into the air and vocalize, making it possible to find them so we are here at a good time. Golden-headed Cisticola gleam in the sun, perched up on emergent stalks taller than the main grassy areas. We search for Siberian Stonechat, both Ashy and Plain Prinias, and four species of babblers: Striated, Slender-billed, Yellow-eyed, and Chestnut Capped. Changeable Hawk Eagle patrol above along with the more common Oriental Honey-Buzzard. In wet areas we can pick up Red-wattled Lapwing, Lesser Adjutant, and Asian Openbill. Wild Peacock (Indian Peafowl) call and display from tree tops, memorable!

We return to the lodge for lunch and in the afternoon go into the forested part of the park close by on a safari drive. Asian Fairy-bluebird and two lovely minivets, Scarlet and Rosy, brighten the forest with color. This is a great area for several species of green-pigeon, which enjoy flowering trees alongside Red-breasted Parakeet. Silver-breasted Broadbill nest here and mixed flocks abound.
Accommodations at Thobgang Jungle Tourist Lodge, Assam (B,L,D)

Mon., Apr. 8 & Tues., Apr. 9:
West Side of Manas National Park
The first day, we cross over to the other side of the park to check in to a different lodge for two nights and to enter and explore from a different gate. Travel through local villages is fun, watching the buzz of local life. Collared Falconet are agile small predators that feed on butterflies. The first morning we bird the edge of the park and rural areas, wetlands, the second we drive deep into the forest. There is so much to see in Manas!

On both days we have lunch at our lodge and go back out for afternoon safari. Our route in from the gate parallels the river, and we make a few side turnoffs to see what we can find. Likely candidates include Fulvous-breasted Woodpecker, Puff-throated Babbler, White-rumped Shama, and Small Niltava. Long-tailed Broadbill, Asian Barred Owlet, and Kalij Pheasant are all possible. Inside the park we find extraordinary lushness to the forests, with activity at a level of a bird explosion, it's spring! We may find both Greater and Black-rumped Flamebacks, Black-winged Cuckooshrike, Velvet-fronted Nuthatch, and the usual mix of drongos, bulbuls, and warblers. Chestnut-headed Bee-eater show off their array of color, and here we can find Great Hornbill — absolutely incredible birds, not unlike the New World toucans. Rufous-necked Laughingthrush might feed on tracks of the dirt roads we travel while Bengal Monitor Lizards sun themselves on trunks of trees.

We have an excellent chance to see mammals here, including Asian Elephant. Dinners are at the lodge.
Accommodations at Musa Jungle Lodge, Assam (B,L,D)

Wed., Apr. 10 :
Return to Guwahati | Flight to Delhi
We enjoy breakfast and one last drive into the park, perhaps spotting Red-headed Trogon. We return to pack up and drive back to Guwahati where we board afternoon flights to New Delhi. We are met at the airport and return in time for dinner and to join those coming in for the main tour – Bhutan here we come!
Accommodations at Andaz Aerocity, New Delhi (B,L,D)

Great Indian Hornbill (f.) Photo Credit: Debrup Chakrabort via Creative Commons



Black-throated Sunbird. Photo Credit: JJ Harrison via Creative Commons



Mrs. Gould's Sunbird. Photo Credit: jj harrison via Creative Commons



Takin. Photo Credit: Rufus46, via Creative Commons



Satyr Tragopan. Photo Credit: Mate?j Bat?hvia via Creative Commons



Ward'sTrogon. Photo Credit: Jharsh via Creative Commons



Silver-eared Mesia. Photo Credit: Marc Haisenko via Creative Commons



Golden Langur. Photo Credit: M.Swarnali via Creative Commons



Rufous-necked Hornbill by Rohit Naniwadekar, via Creative Commons



Bhutan Physiography, Credit CIA via Creative Commons


Cost of the Journey
Cost of the journey is $7890 DBL / $8595 SGL, per person, based on double occupancy, from Paro*. Cost includes all accommodations; all meals as stated in the itinerary; group airport transfers; ground transportation in a Toyota Hiace; professional guide services; park, preserve, and other activity fees; and miscellaneous program expenses.
Tour price does not include: roundtrip airfare to and from Paro, or items of a personal nature such as laundry, porterage, telephone charges, or alcoholic beverages, overstay expenses arising from weather or COVID reasons or other unforeseen situations.
Tour price also does not include the Bhutan tourism fees or your visa cost ($40). These are currently (October 2023) $100 per person, per night. We will add these to your invoice.
*If you choose to come into Dehli and fly with the extension group to Paro, our operator can book that flight for you and we can add it to your invoice.
Cost of the Manas extension is $2890 DBL / $3195 SGL and includes the internal flights (Dehli - Guwahati - Dehli - Paro).
A note about the cost of this trip: This is an expensive tour. Bhutan limits tourist visits and links visas to the use of an authorized local operator and by requiring local operators to charge a minimum per person per day for even basic services, with a portion of that going back to the government. A visit to Bhutan is a privilege, we do pay for it in the tourism fees.
Travel Details
Please plan to make air travel plans only after the minimum group size has been met. We will send you a confirmation email as soon as the trip has been confirmed.
Arrival and Departure Airport: Paro International Airport (PBH) Alternatively, you can arrive at the Indira Gandhi International Airport (DEL) in Delhi, India where you can meet our group members returning from the Manas National Park extension. Our operator can book your flight (additional cost) to fly with the group to Paro the following morning.
Arrival Details: Plan flights to arrive April 10, 2024 at your leisure. It is important to arrive April 10 so you have time to rest up in Paro before we head out on the first day of the tour.
Departure Details: Plan flights to depart April 25, 2024 after 11:00 AM.
Travel Tip: We highly recommend you add the pre-tour extension as it will give you a better understanding of the lowland habitats, which we do not visit in Bhutan. This is a perfect pairing that will add 100+ species to your list! The guide will be the same on both tours and will make logistics easy for getting to the main tour start in Paro.
If you arrive early in Paro to rest up from your travels, we can book you an early night at a hotel in town where it's easy to walk around and explore. If you arrive early into New Delhi, we can book a room for you at the Andaz Delhi by Hyatt. If you want to see a bit of the city of New Delhi, our operator can arrange a tour for you on a custom basis.
Visa Requirements: You will need a visa to visit India. Please send us a scan of your passport to allow us to process the visa for you. Your Bhutan Visa will be arranged by the local team in Bhutan and be sent to you a couple of weeks prior to your travel. You will be requested to give a reference address in India – please use the following: Vana Safaris Pvt Ltd. 226 Platinum Heights, Sector 18B Dwarka New Delhi (this is the city), Delhi (this is the state), 110075 India Telephone: +91-11-47512262.
Items of Note
Please expect a fair amount of walking in Bhutan, and note altitudes below. Daily activity starts at 0500 hours, with breakfast at 0700 hours, followed by birding until about 1030 hours. We break then have lunch at around 1230 hours and then birding resumes till 1600 hours. We plan evening birding on two or three different days.

Elevation of Accommodations
Gangtey — 3050 meters / 10,000 ft
Sengor — 3,000 m / 9842 ft
Ura Hwy/Bumthang — 2,800 m / 9,185 ft
Thimphu — 2,350 m / 7,710 ft
Trongsa — 2,200 m / 7,215 ft
Paro — 2,250 m / 7,382 ft
Punakha — 1,310 m / 4,300 ft

High Passes – Altitude
Chele la — 3988 metres / 13,083 ft
Thrumsing la — 3780 metres / 12,401 ft
Yotong la — 3425 metres / 11,236 ft
Dochu la — 3100 metres / 10,170 ft
Browse below for trip reports and species lists from past versions of this and other tours from this destination.
Peg Abbott

Peg Abbott is the owner and lead guide of Naturalist Journeys, LLC. She has been designing, guiding, and organizing natural history tours for more than 25 years, working for the National Audubon Society and other organizations before launching Naturalist Journeys, LLC in 1998. Her work has taken her from Alaska to Africa and Argentina, as well as many other locations around the world. She has conducted research on several bird and mammal species and keeps a close interest in Yellowstone and Mexican wolf reintroduction projects. Her interests include all aspects of natural history and geology. After 20 years in and around the Yellowstone area, Peg relocated in 2003 to the birding mecca of Portal, AZ.

Photo credit: Carol Simon

Other trips with Peg Abbott
Essential Information +
Pace & Protocols +
Packing List +
Suggested Reading List +
Useful Links +
Photo credits: Banners: Thimphu, Bhutan, Dr Vikramjit Kakati via Creative Commons; Golden Langur, M. Swarnali via Creative Commons; Rufous-necked Hornbill by Rohit Naniwadekar via Creative Commons; Great Buddha Dordenma, Christopher J. Fynn via Creative Commons; Female Great Hornbill Debrup Chakraborty via Creative Commons; Golden Eagle Photo Credit/ Avijit Sarkhel; Black-throated Sunbird by JJ Harrison via Creative Commons. Thumbnails: Golden Langur (NJ Stock), Black-necked Crane (NJ Stock), Asian Elephant (NJ Stock), Rufous-necked Hornbill (NJ Stock), Fire-tailed Myzornis (NJ Stock), Asian Emerald Cuckoo (NJ Stock), Indian Rhino (NJ Stock), Blood Pheasant (NJ Stock)