Hokkaido is the northernmost and least developed island in Japan, privileged to have Japan's most complete array of species, including large predators. During our winter trips, temperatures below zero are common and snow and ice dominate the scenery. But summer is fresh and bright! Hokkaido transforms into a different world full of wildflowers and singing birds. Thanks to many national parks and protected areas, unspoiled nature abounds. Our dynamic guide team from Japan, Bryan and Koichi, can't wait to share Hokkaido with you!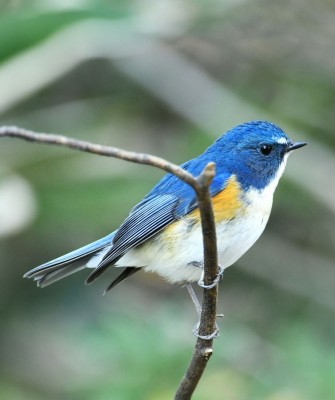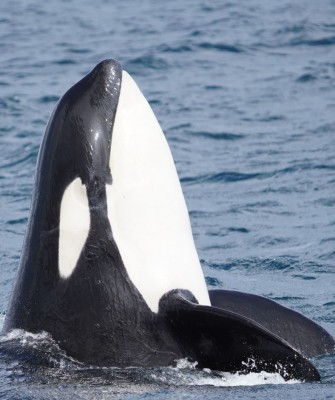 Tour Highlights
Discover Japan's wild side on an itinerary based entirely on Hokkaido!
Experience the wilds of Northern Japan in five national parks
Spend two nights on Rebun Island — nicknamed "island of flowers" due to the abundance of wildflowers, including many types unique to Rebun and Hokkaido
Catch prime time for northern breeding birds like Siberian Rubythroat, Japanese Robin, Long-tailed Rosefinch, and many more
View Red-crowned Cranes with chicks in Kushiro Shitsugen National Park
Enjoy two scenic boat cruises along the Shiretoko Peninsula to look for Hokkaido Brown Bears, Spectacled Guillemot, Sperm Whale, Orca, and of course the amazing scenery!
Spend two nights at a traditional Japanese Onsen (hot spring) hotel with a good chance of Blakiston's Fish Owl feeding just outside the lodge windows
Visit an Ainu village to learn about the indigenous Hokkaido culture and watch a traditional dance presentation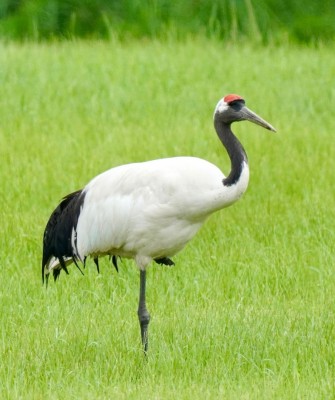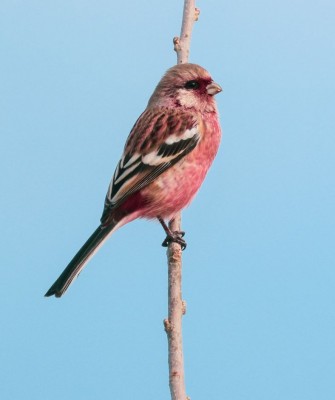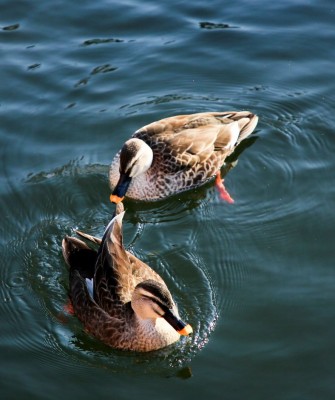 Trip Itinerary
Itineraries are guidelines; variations in itinerary may occur to account for weather, road conditions, closures, etc. and to maximize your experience.
Tues., June 18 :
Welcome to Japan!
Tokyo has two international airports — we recommend you come in at Haneda as our internal flight tomorrow is from Haneda and we stay tonight at a hotel near Haneda Airport. Our tour officially starts tonight with a welcome dinner.
Accommodations at a Haneda Airport Hotel (D)
Wed., June 19 :
Fly to Hokkaido | Ferry to Rebun Island
This morning we take a walk to the nearby river for our first Japan birds. Eastern Spot-billed Duck, Gray Heron, Great-crested Grebe, Little Tern, and others breed along the river. Gray-cheeked Starling and Large-billed Crow are good representatives of common Tokyo birds and along the river we have a chance at other goodies like Oriental Greenfinch, Brown-eared Bulbul, and Oriental Reed Warbler. Local gardens brighten our pathways as we walk.

Our flight to Wakkanai is about two hours; our flight lands on the very north tip of Hokkaido where our driver/local guide greets us. Depending on the ferry departure times, we may have a bit of time for some exploring in the area before our crossing. Our final destination of Rebun Island is about 1.5 hours by ferry from Wakkanai. From the ferry we have great views of Mt. Rishiri, a beautiful extinct volcano on the neighboring island. Of course, from the ferry we keep an eye out for Spectacled Murrelet, Rhinoceros Auklet, and any other exciting wildlife during our passage.
Accommodations on Rebun Island (B,L,D)
Thurs., June 20 :
Exploring Spectacular Rebun Island
Today we have all day to explore and enjoy the spectacular Rebun Island. Part of Rishiri-Rebun Sarobetsu National Park, the island is home to around 300 species of flowers, many of which are only found here. The island even has the well-deserved nickname "Island of Flowers". Today is also our first day of full birding and we have a lot of exciting species here. Rebun is near the northern breeding limit of Japanese Robin. They are always easy to hear and tricky to see, but with patience we should be able to get good looks at this beautiful skulker. Pacific Swifts, Japanese Cormorant, Siberian Rubythroat, Amur Stonechat, and the Asian race of Eurasian Bullfinch are a few of the other birds to keep us busy. There are several nice walking trails to choose from here and after the long travel days it it's nice to spend most of the day outside enjoying this spectacular place!
Accommodations on Rebun Island (B,L,D)
Fri., June 21 :
Ferry Trip | Sarobetsu Plain Birding & Flowers
This morning we have a bit of time for some final birding on Rebun before we take the ferry back to mainland Hokkaido. Upon arrival in Wakkanai, we visit the Sarobetsu Wetlands. The Sarobetsu Wetlands are included in the Rishiri/Rebun/Sarobetsu National Park. The wetlands are actually a moor of peat that is 10-15 feet deep. There is a nice boardwalk here where we can view the flowers and birds without getting our feet wet! Yellow-breasted Bunting once was common here but has had a tragic decline in numbers in the last 30 years. We would need to be very lucky to see one, but there are a few reported here every year. More likely birds along the boardwalk include Black-browed Reed Warbler, Chestnut-eared Bunting, Reed Bunting, and both Sakhalin and Middendorf's Grasshopper Warblers. Latham's Snipe are common around Hokkaido, and we should see them performing their display flights around the marsh.

In the afternoon we have about a four-hour drive to Asahikawa where our next adventure awaits. Our accommodations are in a small village that serves as a base for exploring Daisetsuzan National Park — our destination for tomorrow. For those that wish, enjoy an opportunity for a relaxing soak as part of our stay at the onsen.
Accommodations at Asahidake Onsen (B,L,D)
Sat., June 22 :
Daisetsu National Park | Mount Asahidake
Boasting over 2000 square km and 16 peaks over 2000 meters, Daisetuzan National Park offers some of the most rugged scenery in all of Japan. We start the day with a gondola ride up Asahidake, the highest mountain in Hokkaido. The Ainu name for Asahidake translates to "playground of the gods" and the scenery definitely is inspiring.

The 10-minute gondola ride takes us to 1600 meters elevation (appx 5250 feet) where there are a number of trails to explore the area. Snow often lingers into late summer, but by June most has melted and the area is covered with alpine flowers. Pika enjoy the warm temperatures and fresh food, and this is one of the best places in Hokkaido for finding high elevation bird species like Pine Grosbeak, Japanese Accentor, and Red-flanked Bluetail. We do a short, relatively easy hike to a small lake to look for birds and enjoy the alpine scenery. From there if the weather is nice those interested in a bit more strenuous hike can continue up to the summit of Asahidake while others may opt for a more leisurely walk back to the gondola or a return to have a soak or siesta at the hotel.
Accommodations at Asahidake Onsen (B,L,D)
Sun., June 23 :
Morning Birding | Ainu Village in Akan
This morning we bird a bit around the hotel for some birds not found in the higher parts of the national park. The forests of Hokkaido are home to six species of woodpecker: Black, Gray-headed, Great Spotted, White-backed, Japanese Pygmy Woodpecker, and Lesser Spotted. Other birds we hope to see here include the near endemic Brown-headed Thrush and the well-named Narcissus Flycatcher.

We have another drive today to get to our next area, but we break it up with birding stops along the way. Our next destination is Akan Mashu, another stunning national park known for crystal clear lakes surrounded by volcanic mountains.

Besides the scenery and wildlife, this area is home to some of the few remaining examples of the indigenous Ainu people, the original inhabitants of Hokkaido. Today we visit a museum to learn about their culture and have some time to check out the shops showcasing the Ainu woodcarving and art. In the evening we enjoy a traditional Ainu dance performance.
Accommodations in Akan (B,L,D)
Mon., June 24 :
Mt. Mokoto | Utoro
Today we take a birding hike on Mt. Mokoto, one of the most scenic mountains in Akan Masshu National Park. Both Oriental and Common Cuckoos call throughout our hike, and with luck we could see a Northern Hawk-Cuckoo as well. In spite of not being very high, Mt. Mokoto is a great place to look for Eurasian Nutcracker. The views from the top are incredible with Lake Kussharo on one side and the Okhotsk Sea visible to the north.
After our hike we travel along the Okhotsk Sea to Utoro, our home for the next two nights.
Accommodations in Utoro (B,L,D)
Tues., June 25 :
Shiretoko National Park
Northeastern Hokkaido has a long peninsula jutting out into the Okhotsk Sea. This peninsula is known as Shiretoko and is a national park as well as a UNESCO World Heritage site. The park includes most of the peninsula and the surrounding marine environment. UNESCO describes Shiretoko as "one of the richest integrated ecosystems in the world". Shiretoko is surrounded by sea ice in the winter, which plays an important role in supplying nutrient rich waters that form the base for the marine ecosystem and sustains the key terrestrial species like Brown Bear and Blakiston's Fish-Owl. Most of the peninsula is roadless, so today we cruise along the north shoreline of the peninsula. Hokkaido Brown Bear, second in size only to Kodiak Brown Bear, are common here and are often seen foraging along the shoreline. Spectacled Guillemot breed along the rocky cliffs. Orca, Steller's Sea Lion, Harbor Seal, and Sea Otter are in the area and could be seen with luck.

After our boat trip we explore some of the areas accessible by road and take a short hike through the forest to a waterfall. Brown Dipper live along the river here and Mountain Hawk-Eagle is often seen soaring over the ridges. It is definitely one of our most memorable days in Japan.
Accommodations in Utoro (B,L,D)
Wed., June 26 :
Shiretoko | Blakiston's Fish Owl
This morning we cross the Shiretoko pass and then descend on the south side of the peninsula to another fishing village called Rausu where we take off on another boat cruise. This side of the peninsula tends to have more Orca present, and Sperm Whale are common. We should see a few new sea birds as well. Streaked Shearwater are common and although Short-tailed Albatross only breed in southern Japan, non-breeding sub-adults are frequently seen here in the summer.

After we get off the boat we continue south along the coast birding and sightseeing along the way. Eventually we make our way to our hotel for the night, and it is one of the most exciting places we stay during the trip. It is a traditional "onsen" or hot spring hotel and we make sure that we arrive in time for those who want to soak in the pools. There is also a bird feeder that give us point blank photo ops of the more common birds of the area, but the real excitement here starts at dark … there is a pair of Blakiston's Fish Owls that fish along the river and in the hotel's fishpond every night!
Accommodations at Yoroushi Onsen (B,L,D)
Thurs., June 27 :
Morning Birding at Yoroushi | Notsuke Penninsula
Hopefully the owl didn't make us wait up too late last night, but today we plan on a very leisurely morning. There is more time to enjoy the hot springs or watch the bird feeders, plus the breakfast here is fabulous!

Today we drive back out to the coast and visit Notsuke Penninsula, a 28-km long sand pit sticking out into the Nemuro Strait. The disputed island of Kunashiri on the east of the strait and the Shiretoko Mountains to the north, the scenery is quite stunning. There should be lots of wildflowers in bloom and the ocean and marshes always have birds to keep us excited.

This evening we enjoy another fabulous meal at Yoroushi and another chance for the Fish-Owl as well.
Accommodations at Yoroushi Onsen (B,L,D)
Fri., June 28 :
Kushiro Shitsugen National Park
Today is our last full day in Japan and it should be another great day as we visit our fifth national park of the trip: Kushiro Shitsugen. Shitsugen means wetland and Kushiro Shitsugen is the largest marsh in Japan. The Kushiro River snakes its way south from Lake Kussharo though the wetlands for over 200 km. We have a guided canoe trip down the river and should be able to get good looks at the endangered Red-crowned Crane that breed here. Latham's Snipe are common in the marshes and Crested Kingfisher fly up and down the river searching for prey. There are also a few places to explore the marsh on foot including a nice walk along a boardwalk into the marsh. A nearby forest offers a few different species including a great chance to find Ural Owl roosting in the large trees.
Accommodations in Kushiro (B,L,D)
Sat., June 29 :
Flight to Tokyo | End of Tour
Depending on flight times we may have time to enjoy one last morning walk before we head to the Kushiro airport for our flight back to Tokyo. We plan on arriving at Haneda airport no later than NOON so that we can catch our international flights later this evening. Please make departures out after 4:00 PM.
Kushiro Shitsugen National Park Scenic by Takumi Koichi



Hokkaido Flower Fields



Japanese Grosbeak



Hokkaido Brown Bears



Eurasian Nutcracker



Shiretoko Peninsula near Utoro



White-backed Woodpecker by Ron Knight via Creative Commons



Shiretoko Pass



Siberian Rubythroat



Falcated Duck



Japanese Pygmy Woodpecker



Orca Whales by Takumi Koichi



Japanese Tit by Alpsdake



Red-crowned Crane in Kushiro Shitsugen National Park



Mountain Hawk-eagle by Mike Prince via Wikimedia Commons



Ainu House, Hokkaido



Dall's Porpoise, Shiretoko Peninsula



Rebun Island Coast



Kushiro Shitsugen National Park



Rhinoceros Auklet



Sika Deer



Cormorants at Shiretoko Peninsula



Kushiro River Canoe by Takumi Koichi



Daisetsu Flowers by Takumi Koichi



Sarobetsu Flower Garden by Takumi Koichi



Spotted Seal by Takumi Koichi



Japanese Raccoon Dog (Tanuki) by Takumi Koichi



Narcissus Flycatcher by Takumi Koichi



Lake Mashu by Takumi Koichi



Amur Stonechat by Takumi Koichi


Cost of the Journey
The cost of the tour: $6990 DBL / $7975 SGL from Tokyo. Cost does not include required internal flights.
Cost of the Tour Includes: Accommodations for 11 nights, meals as specified in the itinerary (B=breakfast, L=lunch, D=dinner), park entrance and other activity fees for activities as described in the itinerary, professional guide services, pre-departure materials and miscellaneous program expenses.
Cost does not Include: Round-trip airfare to and from Tokyo, Japan, or internal flights. It does not include items of a personal nature such as laundry, telephone, drinks from the bar; or gratuities for luggage handling or personal services.
Travel Details
Please plan to make air travel plans only after the minimum group size has been met. We will send you a confirmation email as soon as the trip has been confirmed.
Arrival and Departure Airport: Haneda Airport (HND) in Ota City, Japan
Arrival Details: Plan to arrive June 18 by 5:00 PM if you wish to join the group for dinner
Departure Details: Plan June 29 flights after 4:00 PM
If you would prefer to overnight (additional cost) in Tokyo June 29, you can depart at your leisure on June 30.
Travel Tips: If you arrive early we suggest booking an early night at our first night tour hotel, the Hotel Mystays Haneda. You can book online and send us your confirmation number, with the goal being you won't have to switch rooms. If you would like to book a different hotel, there are many options and it's best to work with your travel agent to find something that best suits your needs. If you'd like to explore Tokyo, there are an endless number of things to see! The Anamori Inari Shrine is located behind the Hotel Mystays Haneda and is an early 19 th century Shinto shrine that has dozens of fox statues. Other shrines worth visiting are the Asakusa Shrine, the most famous in Tokyo, and the Meiji Jinjgu Shrine, dedicated to Emperor Meiji and also located in a park with good birding. If you'd like to visit botanical gardens, the Hamarikyu Gardens are nice to walk around and can be good for birding, even in winter. Do you prefer museums? The Sumida Hokusai Museum features exhibits on the life and art of Katsushika Hokusai, recognized as one of Japan's greatest artists. The Edo Tokyo Museum has exhibits on the history of Tokyo. The Tokyo National Museum is the oldest in Japan and has the largest collection of important cultural artifacts. And finally, if you really want to get an early start on your birding list, head over to Tokyo Port Wild Bird Park, a nature preserve next to Tokyo Bay.
Browse below for trip reports and species lists from past versions of this and other tours from this destination.
Bryan Shirley

Bryan Shirley graduated from the University of Kentucky with a degree in Japanese/International Economics. He lived in Japan for 3 years when he was 20 and fell in love with the language and culture and has been guiding and birding there ever since. Besides guiding in Japan, he regularly leads tours for Japanese birding groups around the US and other countries. When not guiding he has been involved with various DWR and USFWS projects such as relocating Sage Grouse, breeding bird surveys, and bird-related projects for private environmental consulting firms. He also has volunteered his time to serve as president of Utah County Birders and organizes the annual Audubon Christmas Bird Counts for Provo and Payson, Utah where he currently resides. He currently is a member of the Utah Bird Records Committee.

Other trips with Bryan Shirley

Peg Abbott

Peg Abbott is the owner and lead guide of Naturalist Journeys, LLC. She has been designing, guiding, and organizing natural history tours for more than 25 years, working for the National Audubon Society and other organizations before launching Naturalist Journeys, LLC in 1998. Her work has taken her from Alaska to Africa and Argentina, as well as many other locations around the world. She has conducted research on several bird and mammal species and keeps a close interest in Yellowstone and Mexican wolf reintroduction projects. Her interests include all aspects of natural history and geology. After 20 years in and around the Yellowstone area, Peg relocated in 2003 to the birding mecca of Portal, AZ.

Photo credit: Carol Simon

Other trips with Peg Abbott
Essential Information +
Pace & Protocols +
Packing List +
Suggested Reading List +
Useful Links +
Photo credits: BANNERS: Hokkaido Summer Flower Fields (NJ Stock), Blue-and-white Flycatcher (NJ Stock), Red-crowned Cranes (NJ Stock), Smew (NJ Stock), Lavender Field (NJ Stock), Japanese Pygmy Woodpecker (NJ Stock), Baikal Teal (NJ Stock) THUMBNAILS: Red-flanked Bluetail (NJ Stock), Red-crowned Crane (NJ Stock), Japanese Robin (NJ Stock), Blakiston's Fish-Owl (NJ Stock), Eastern Spot-billed Duck (NJ Stock), Long-tailed Rosefinch (NJ Stock), Hokkaido Brown Bear (NJ Stock), Reed Bunting (NJ Stock)