Thank you for your interest! This journey is either underway or complete, but we do have
many other tour options
for you to choose from.
Travel past the reaches of civilization, deep into the heart of the great Amazon rainforest. More than 1,300 species of birds, 40,000 plant species, two species of river dolphin, and an abundance of primates are found in this lush, ever-changing realm known simply as "The Amazon."

While outsiders rarely visit the riverbank villages, our guests — under the guidance of naturalists who were born and reared in similar villages — are greeted like family while we visit local schools and a revered Shaman.

Immerse yourself in the living labyrinth of forests, wildlife, and people along the river. Our river boat offers unrivaled comfort while allowing us to responsibly travel further into the ever-smaller waterways and remote corners of the Upper Amazon Basin.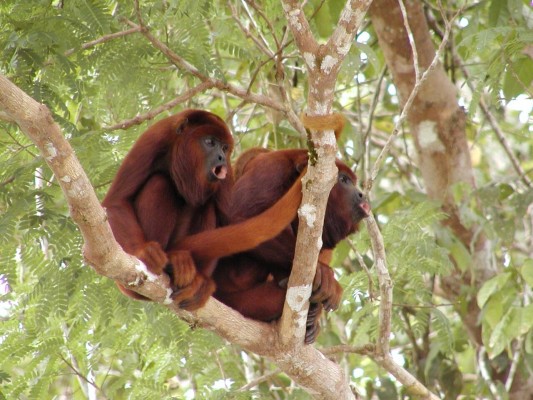 Tour Highlights
Experience the nature and culture of the Amazon with expert naturalists who ensure you learn about the Amazon's plants, wildlife, people, and history
Find birds and mammals here so difficult to see in less-pristine areas, from macaws to piping-guans, large woodpeckers, fabulous raptors, and more
Explore the fascinating relationship between the river and the people who live along the banks
Immerse yourself in an atmosphere that pulsates with life
Cruise in luxury on a riverboat, built specifically for wildlife and bird observation
Photo credits: Banner: Hoatzin by Greg Smith; Exploring the Amazon by Peg Abbott; Red Howler Monkey by Howard Topoff; Blue-and-Yellow Macaw by Peg Abbott; Monk Saki by Peg Abbott; Kayaking by Peg Abbott; Hoatzin on Nest, Naturalist Journeys Stock; Oropendola Colony, Naturalist Journeys Stock; Black-capped Donacobius by Peg Abbott.