Thank you for your interest! This journey is either underway or complete, but we do have
many other tour options
for you to choose from.
Join us for a Colombia birding tour with Naturalist Journeys on an adventure to the endemic-rich Caribbean Coast of Colombia, a spectacularly scenic area where palm-lined beaches fringe the skirts of snow-capped summits, and avian diversity is unmatched.

We ascend into the lush forest slopes of the Sierra Nevada de Santa Marta (8,800 feet), to the higher reaches of the delightful El Dorado Lodge, and back to Tayrona National Park on the coast. With little drive time, we are left with plentiful opportunities to bird, swim, and relax.

This adventure should produce most of the 21 endemics of the Sierra Nevada de Santa Marta! Colombia's 1,900 bird species include exclusively Neotropical families like guans, woodcreepers, ovenbirds, antbirds, puffbirds, toucans, jacamars, manakins, and motmots.
Tour Highlights
Explore in one of the safest and most beautiful areas of Colombia
Bird the Magdalena River and the Ciénaga Grande marshes, the setting for Nobel Prize winner, García Marquez's book Love in the Time of Cholera
Search for Santa Marta endemics en route to El Dorado Lodge, including the Santa Marta Tapaculo and White-tailed Starfrontlet
Take in the sunrise and waking birds atop San Lorenzo Ridge, high above the windswept cloud forest
Absorb breathtaking sunset views of the ocean and Magdalena Delta from our lodge
Explore Tropical Dry Forest in Tayrona National Park, one of the last Dry Forest habitats in Colombia
Watch for mammals like Three-toed Sloth, Nine-banded Armadillo, Cotton-top Tamarin, Night Monkey, White-fronted Capuchin Monkey, and two species of brocket deer in Tayrona
Enjoy an optional beach, birding, and history extension in Tayrona and Santa Marta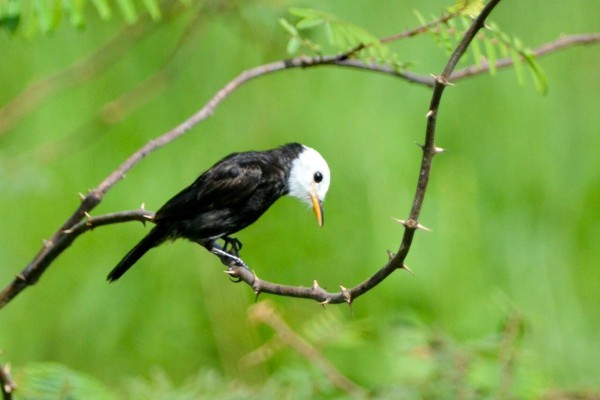 Photo credits: Banner: Hummingbirds by Linda Paine; Santa Marta Scenic, Naturalist Journeys Stock; Naturalist Journeys Group by Linda Paine; Sunset by Linda Paine; Birding Colombia, Naturalist Journeys Stock; Red Howler Monkey, Naturalist Journeys Stock; Gustavo Guiding by Peg Abbott; White-tailed Hillstar by Peg Abbott; Adventure Birding, Naturalist Journeys Stock; White-tipped Quetzal, courtesy Neblina Forest; White-tailed Hillstar by Peg Abbott; White-headed Marsh Tyrant, by Sandy Sorkin.