The Andes Mountains of Southern Ecuador are a highly complex system of mountain-ridges and valleys, providing a great variety of habitats within a small geographic area. For decades, birders have recognized the region's rich biodiversity.

This fun tour, timed for the Christmas holiday, is a fantastic opportunity to immerse in this fasincating landscape and soak in the atmosphere of beautiful, relaxing lodges. Treat yourself to delicious meals, incredible birding, and good camaraderie on our inaugural Christmas in Ecuador tour.
Tour Highlights
Experience Cotopaxi National Park and its towering, snowcapped volcano
Relax for two nights at Inca House, an ancient Inca fortress and Augustinian monastery through the years
Stop at the Quitsato Solar Clock and Equator museum
Enjoy three nights at a restored 17th Century estate, home to 50 species of birds, including Golden-rumped Euphonia, Black-tailed Trainbearer, Giant Hummingbird
Explore Cuicocha Crater Lake, home to Silvery Grebe, Plumbeous Sierra Finch, Scarlet-bellied Mountain Tanager, and more
Watch for Andean Condor, Black-faced Ibis, Andean Lapwing, and Andean Hillstar at Antisana National Park
Relax and soak in the Termas de Papallacta hotsprings, a perfect ending to the tour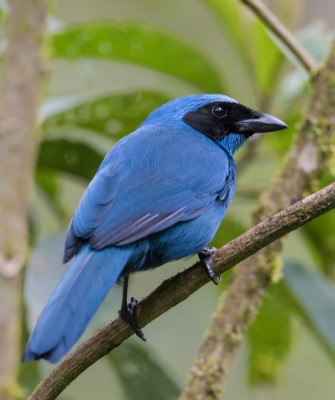 Trip Itinerary
Itineraries are guidelines; variations in itinerary may occur to account for weather, road conditions, closures, etc. and to maximize your experience.
Thurs., Dec. 21 :
Arrivals in Quito
Welcome to Ecuador! Your hotel is a short distance from the Quito airport. Many have dinner on the plane tonight, but if you arrive earlier in the day, you can enjoy dinner at the hotel at your leisure.
Accommodations at Holiday Inn Quito Airport

Fri., Dec. 22 :
Hacienda San Agustin del Callo (Inca House)
In the morning we drive to the Cotopaxi National Park (11,880 elevation). We enjoy a few nice walks in this reserve. If weather is cooperative, our time here this morning allows us the chance to enjoy the stunning view of the impressive Cotopaxi Volcano 5897. The impressive Limpiopungo lake offers the chance to find Andean Teal, Andean Gull, Tawny Antpitta, and many more.

Our rooms are cozy with fireplaces, thick stone walls, plush bedding, and other rich textiles; dining is local and delicious … the volcano backdrops our hacienda.
Accommodations at San Agustin de Callo (B,L,D)

Sat., Dec. 23 :
Hacienda San Agustin del Callo (Inca House)
Our accommodations are unique! The hacienda has served as an Inca fortress and Augustinian monastery through the years, and we use the morning to visit nearby plantations where you can admire the best roses in the world! Lunch is back at our hacienda where we enjoy their fabulous local family gastronomy. Yard birds here include Sparkling Violetear, Black-tailed Trainbearer, Cinereous Harrier, and gorgeous Black Flowerpiercer. This afternoon we can bird the lodge grounds and explore by horseback (optional).
Accommodations at San Agustin de Callo (B,L,D)

Sun., Dec. 24 :
Equator | Hacienda Cusin
Today we drive to Otavalo with a stop at Quitsato Solar Clock and Equator museum to understand a bit more about the Equator. We then enjoy a snack tasting in the best bizcocho's bakery (a sweet cake or bread) of Cayambe. Arriving to la Plaza de los Ponchos in Otavalo we have the chance to see one of the biggest handicrafts markets in Latin America, here we have time to shop or just enjoy the colors of the stands and the people from this community. We switch landscapes to a new volcano today, the Taita (father) Imbabura.

Our accommodations for the next three nights are a restored 17th Century estate surrounded by beautiful gardens and home to 50 species of birds, including Golden-rumped Euphonia, Black-tailed Trainbearer, Giant Hummingbird, Blue-and-yellow and Blue-and-black Tanagers, and more.
Accommodations at Hacienda Cusín (B,L,D)

Mon., Dec. 25 :
Christmas at Hacienda Cusín
Feliz Navidad! We enjoy a slow day today, taking in the different cultural traditions of this holiday, and exploring our beautiful hacienda, famous for their perennial gardens. Five acres of beautifully landscaped gardens, where bougainvillea, jasmine, agapanthus, hydrangeas, begonias, poppies, geraniums, dahlias, primroses, orchids, magnolia, Aztec lilies, and more, host more than 50 species of birds, including Vermilion Flycatcher, Golden Grosbeaks, Tyrian Metaltail, Undulated and Tawny Antpittas, Andean Pygmy Owl, Crimson-mantled Woodpecker, and more!

Enjoy a special dinner tonight at the hacienda.
Accommodations at Hacienda Cusín (B,L,D)

Tues., Dec. 26 :
Cuicocha Crater Lake | Local Artisans
This morning we drive to Cuicocha Crater Lake, where we take a short, 30 minute hike. Birds we could see here include Silvery Grebe, Plumbeous Sierra Finch, Glossy-black Thrush, Yellow-breasted Brushfinch, and the stunning Scarlet-bellied Mountain Tanager. Then another short drive to Cotacachi, the most known leather works town of the country. Our next stop is to a master weaver's workshop, to see how special the hand weaving of these fine textiles is and why they are so hard to find nowadays. We enjoy junch in cabañas del lago enjoying the nicest view of Lago San Pablo and birds like Subtropical Doradito, Azara's Spinetail, and Blue-black Grassquit; we also scan the skies for Andean Condor and the lake for Torrent and Masked Ducks, White-cheeked Pintail, Stilt Sandpiper, and Southern Lapwing. On our way back we stop in the village of Zuleta to visit a local family and see the well-known embroideries made by these amazing women.
Accommodations at Hacienda Cusín (B,L,D)

Wed., Dec. 27 :
Antisana National Park
We leave the slopes of Imbabura Volcano and drive to Antisana National Park. Here we explore the high paramo, a tundra-like terrain with the stunning and snow-capped Antisana Volcano in view. Vistas here are on a grand scale, and several large lakes and ponds attract a variety of species. Our eyes are peeled for Andean Condor, very much at home here. We also look for Black-faced Ibis, Andean Lapwing, and a high-elevation hummingbird, the Andean Hillstar, as well as Giant Hummingbird. Black-chested Buzzard Eagle and Carunculated Caracara are two birds of prey we can study, and we also note plant life that exhibits adaptations required to survive in these high elevation grasslands. With luck we may even see Spectacled Bear.

Enjoy lunch in a local restaurant before driving to Termas de Papallacta, well known for its natural thermal springs.
Accommodations at Termas de Papallacta (B,L,D)

Thurs., Dec. 28 :
Hot Springs | Guango Lodge Hummingbird Garden
This morning we have time to relax and enjoy the hot springs and spa at our lodge. Late in the morning we make the short drive to Guango Lodge for lunch and to explore their hummingbird garden where we can see the amazing Sword-billed Hummingbird, as well Mountain Velvetbreast, Tourmaline Sunangel, Golden-breasted and Glowing Pufflegs, Mountain Avocetbill, and White-bellied and Gorgeted Woodstars. Other birds include Turquoise Jay, Torrent Duck, Andean Guan, Gray-breasted Mountain-Toucan, Scarlet-bellied, Lacrimose, Buff-breasted and Hooded Mountain-Tanagers, Gray-hooded Bush-Tanager, Black-headed, Black-capped, and Black-eared Hemispingus and Slaty Brush-Finch just to name a few!
Accommodations at Termas de Papallacta (B,L,D)

Fri., Dec. 29 :
Departures
Depending on the group's return flight times, we can have more time for birding or a soak in the springs before our hour-long drive to the airport for flights home. (B)


Rufous Motmot



Cuicocha Crater Lake



Squirrel Monkey



Yellow-rumped Cacique



Rose-faced Parrot by Ruth Guillemette



Spectacled Bear



Dramatic Antisana Volcano



Blue-black Grassquit



Cotopaxi National Park


Cost of the Journey
Cost of the main tour is $3,490 DBL / $3,990 SGL per person, based on double occupancy, from Quito. Cost includes: all accommodations; all meals as stated in the itinerary; ground transportation within Ecuador; professional guide services; park, preserve, and other activity fees; and miscellaneous program expenses. Tour price does not include: roundtrip airfare to and from Quito or items of a personal nature such as tips, laundry, porterage, telephone charges, or alcoholic beverages.
Travel Details
Please plan to make air travel plans only after the minimum group size has been met. We will send you a confirmation email as soon as the trip has been confirmed.
Arrival and Departure Airport: Mariscal Sucre International Airport (UIO), Quito Ecuador
Arrival Details: Plan flights to arrive December 21 at your leisure.
Departure Details: Plan to depart December 29, after 2:00 PM. After breakfast we have an hour drive to the airport in Quito. Many flights leave Quito around midnight so please check the flight dates carefully.
Travel Tip: If you would like to arrive early and rest up from your travels you can book an early night at our first night tour hotel, the Holiday Inn Quito Airport. This is a modern airport hotel very close to the airport with a pool, restaurant, bar and spa. It has an airport shuttle. If you want a location with birding, if available we recommend the Puembo Birding Garden, a small bed and breakfast about 20 minutes away. Another nearby hotel with birding in Puembo is the San Jose de Puembo Hotel. The airport is out of the city, and it is about 45 minutes into the city (pending traffic) so if you wish to explore Quito you may want to base there and return for the start of the tour. There are any number of small boutique hotels and B&B's from economical to elegant. You can also explore the city by day without going in to stay there. If you wish to stay in the downtown area, there is plenty to do! A visit to El Panecillo, a small volcanic hill located on the south side of Old Town, is worth it for the views of Quito and nearby volcanos on a clear day. Calle La Ronda, a cobbled pedestrian street in Old Town, is lined with galleries, traditional shops, and cafes. The Basilica del Voto Nacional is the largest neo-Gothic basilica in the Americas and one of many churches in Quito with stunning architecture. These sites and many others are a short taxi ride from the downtown area or walkable from the Old Town area. If staying downtown sounds appealing, we would recommend: La Casona de La Ronda Mercure Alameda Quito
Browse below for trip reports and species lists from past versions of this and other tours from this destination.
Ecuador
November 2017
November 2018
November 2019
November 2022
January 2023
Andrea Molina

Andrea is an Ecuadorian bird guide who has been guiding since 2006. She started as a local guide at the Bellavista Reserve cloud forest in Ecuador and then was recruited by Neblina Forest as a guide in 2010. Since then, Andrea has trained in Brazil, Peru, and other locations in Ecuador. Her good energy and kind touch with clients, as well as her good ears and great eye for birds, ensures her groups have an excellent experience. Andrea lives in Ecuador with her family.

Guest Quote: *I'm writing to tell you how excellent our guide, Andrea Molina, was. She has an outstanding blend of knowledge, interpersonal skills, and professionalism, and is overall a cool person who is fun to be around. She really made the trip special.*

Other trips with Andrea Molina
Essential Information +
Pace & Protocols +
Packing List +
Suggested Reading List +
Useful Links +
Photo credits: Banners: Yellow-rumped Cacique (NJ Stock), Green-crowned Woodnymph (courtesy of Neblina Forest), Cotopaxi National Park (NJ Stock), Green Honeycreeper (NJ Stock) Thumbnails: Andean Condor (NJ Stock), Red-headed Barbet (NJ Stock), Black-tailed Trainbearer (NJ Stock), Golden-rumped Euphonia (NJ Stock), Turquoise Jay (NJ Stock), Giant Hummingbird (NJ Stock), Silvery Grebe (NJ Stock), Blue-and-yellow Tanager (NJ Stock)