Because it is centrally located at the crossroads of four major biomes in South America, Bolivia has more bird species than any land-locked country in the world (more than 1,400). Within the Andean foothills of central Bolivia, on this Bolivia birding tour we visit the lowland savannas and dry forest near the city of Santa Cruz, the transitional foothill forest of Serranía de Los Volcanes and around Samaipata, and the arid middle altitude area of the Red-fronted Macaw Reserve and the Cochabamba Valley. The last section covers the High Andes around La Paz, including Lake Titicaca at the foot of the Royal Range and near the Peruvian border.

Bird highlights on this Bolivia nature tour include Greater Rhea, Red-legged Seriema, Andean Condor, Military Macaw, Cliff Parakeet, White-eared Puffbird, and Bolivian Recurvebill. October is the peak of the dry season in Bolivia and usually an excellent time of year for naturalists. One organization in Bolivia, Asociación Armonía, has been working tirelessly for years with great success in conserving land and birds in Bolivia. During the main tour, we stay at one of their conservation lodges — the Red-fronted Macaw Lodge – and the extension is a flight to another of theirs — the wilderness-like and rarely visited Blue-throated Macaw (Barba Azul) Nature Reserve. Among the few that visit the Blue-throated Macaw Reserve, many say that it was the highlight of their trip to Bolivia, because of great looks at unusual birds and rarely seen large mammals (including carnivores).

Bolivia is a multicultural country, enabling visitors to interact with indigenous populations of pre-Columbian heritage, mostly Quechua and Aymara, to share your love of nature with them. Join us for this exciting and NEW! Bolivia birding and nature tour.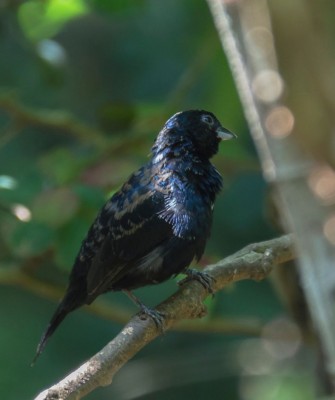 Tour Highlights
See the endemic and Critically Endangered Red-fronted Macaw
Enjoy hummingbirds, toucans, tanagers, warbling-finches, and crescentchests
Encounter several species of monkeys and many other mammals, such as sloths, giant anteaters, tapirs, and the usually elusive Jaguars and Spectacled Bear
Visit a wide variety of habitats and altitudes, providing incredible views and scenic photos
Ride a boat to Isla del Sol on the world-renowned Lake Titicaca for both natural and cultural highlights
Study Andean archeological sites, including but not limited to Incan sites
Buy crafts or textiles at Cochabamba's open-air market
For the extension, fly to the Beni Savanna to see Critically Endangered Blue-throated Macaw, a wide variety of birds, and our best chances for exciting mammals such as Giant Anteater, Marsh Deer, Pampas Deer, Collared Peccary, Black Howler Monkey, and Capybara and hard-to-see predators such as Pampas Cat, Puma, Jaguar, Ocelot, and Maned Wolf.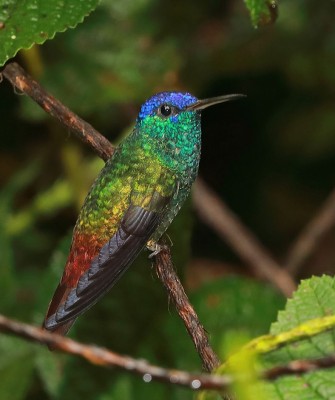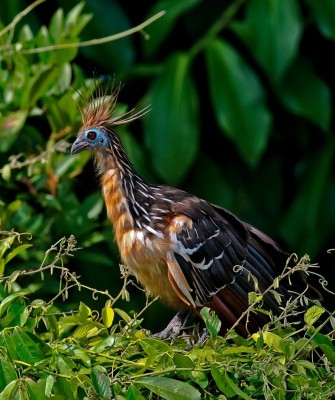 Trip Itinerary
Itineraries are guidelines; variations in itinerary may occur to account for weather, road conditions, closures, etc. and to maximize your experience.
Fri., Nov. 1:
Arrivals in Santa Cruz | Optional Afternoon Birding
Welcome to Bolivia! Arrive today at your leisure. Many flights arrive in the early morning hours, so watch the times/dates carefully. We plan to offer some casual afternoon birding for those who are interested. The group officially assembles for a welcome dinner tonight.
Accommodations at Hotel Los Tajibos or similar (D)

Sat., Nov. 2:
Santa Cruz de la Sierra
Santa Cruz de la Sierra may surprise you with its small-town feeling, colonial buildings, and relaxed tropical atmosphere. We visit the city and bird the botanical gardens with a chance to see monkeys, sloths, Toco Toucan, White-wedged Piculet, Chotoy Spinetail, White-bellied Nothura, Red-legged Seriema, Green-cheeked Parakeet, and the near-endemic Bolivian Slaty-Antshrike. We travel to other nearby parks and lagoons as time allows.
Accommodations at Hotel Los Tajibos or similar (B,L,D)

Sun., Nov. 3 :
Santa Cruz to Amboro National Park
Today we ride through Bermejo Canyon and into the heart of Amboró National Park. Looking for birds in the early morning, from the small village of Montero to Bermejo, might produce the very rare Huayco Tinamou, White-eared Puffbird, Giant Antshrike, and Green-winged Saltator. En route, we enjoy a picnic breakfast in semi-humid forest along a rushing river on the lower mountain slopes, then hike a dry, gently undulating trail through the forest. The lodge is truly impressive, set in a small clearing in a thickly forested valley, surrounded by dramatic sandstone pinnacles.
Accommodations at Refugio Los Volcanes (B,L,D)

Mon., Nov. 4:
Amboro National Park
Just at the lodge we could find Gray-throated Leaftosser, Rufescent Screech-Owl, Dusky-green Oropendola, Black-streaked Puffbird, Blue-browed Tanager, White-backed Fire-eye, Yungas Manakin, Ochre-cheeked Spinetail, Slaty Gnateater, and with some luck the endemic Bolivian Recurvebill. Then we go deeper into the park where Amboro's steep, densely forested slopes support an astonishing biodiversity. More than 830 different bird species have been recorded here, including rarities such as the Andean Cock-of-the-rock, Military Macaw, and the almost-mythical Horned Curassow. There are also Jaguars, Giant Anteaters, Tapirs, and several species of monkey. And the scenic views are astounding!
Accommodations at Refugio Los Volcanes (B,L,D)

Tues., Nov. 5:
Samaipata
Our first stop is the ancient Inca site of El Fuerte de Samaipata. Then we are on our way to El Pueblito Lodge while looking for condors and hummingbirds. Set on one of the highest peaks around the village, this lodge offers quaint boutique-style rooms, a multitude of local animals, and a charming plaza. Near the lodge are Red-faced Guan, White-throated Antpitta, Scissor-tailed Nightjar, Rothschild's Swift, Huayco and Tataupa Tinamous, Olive-crowned Crescentchest, Sooty-fronted Spinetail, Rusty-browed and Black-capped Warbling Finches, the very rare Huayco Tinamou, Green-winged Saltator (both very difficult), and Giant Antshrike.
Accommodations at El Pueblito Lodge (B,L,D)

Wed., Nov. 6:
Red-fronted Macaw Lodge
As we make our way into progressively drier country dominated by cacti and acacia woodlands, we stop along the roadside to look for Streak-fronted and Spot-breasted Thornbirds, Gray-hooded Parakeet, and Gray-crested Finches. The lodge is situated along the Mizque River, a rain-shadow valley at mid-elevation (about 5,500 feet) of the eastern Andes. Other birds to look for include Turquoise-fronted Parrot, Red-tailed Comet, the cactus-loving White-fronted Woodpecker, Fawn-breasted Tanager, and Bolivian Warbling Finch.
Accommodations at Red-fronted Macaw Lodge (B,L,D)

Thurs., Nov. 7:
Vicinity of Red-fronted Macaw Lodge
The arid valleys in this part of central Bolivia are home to three endemic species: Bolivian Blackbird, Cliff Parakeet (considered a subspecies of Monk Parakeet by eBird), and the endangered Red-fronted Macaw. This is a conservation project by Asociación Armonía and profits of a stay here go to three local indigenous communities that help to protect the macaw and the many additional species we are seeking, such as White-eared Puffbird, White-tailed Plantcutter, and Ultramarine Grosbeak.
Accommodations at Red-fronted Macaw Lodge (B,L,D)

Fri., Nov. 8:
Drive back to Samaipata
Our stops on the return depend on the birds we missed Thursday. We enjoy birding in the afternoon (and tomorrow morning) just around the clearing of the lodge. This place can be very productive with the local residents: Black-chested Buzzard-Eagle, Channel-billed Toucan, Chestnut-eared Aracari, Rufous-breasted Thrush, Crested Oropendola, Hooded Siskin, and flocks of various species of parrots.
Accommodations at El Pueblito Lodge (B,L,D)

Sat., Nov. 9:
La Yunga Reserve | Drive back to Santa Cruz
Today we plan an early start to Laguna Esmeralda in Quirusillas protected area where we look for Red-faced Guan, Tucuman Parrot, Blue-crowned Parakeet, Golden-winged Cacique, Straw-backed Tanager, and more. Then we detour for a condor trek above 6,500 feet if time allows before heading back Santa Cruz. If the timing is right, we look for a night roost in mango trees in Santa Cruz with hundreds of Crested, Russet-backed, and Olive Oropendolas.
Accommodations at Hotel Los Tajibos (B,L,D)

Sun., Nov. 10:
Flight to Cochabamba
We spend the morning enjoying birds and culture in both Santa Cruz in the morning and Cochabamba in the afternoon following a 45 minute flight. Cochabamba occupies a fertile green bowl, fifteen miles long by six miles wide, set at a comfortable altitude just under 8,500 feet amid a landscape of low hills. We acclimate to altitude here before heading to La Paz (11,975 feet) and Lake Titicaca (12,507). Cochabamba fits the Spanish Colonial city model: The city has been laid out in a grid pattern, and most of the streets in the downtown area are narrow with room for one-way traffic only. The city center maintains its colonial archways and residential style.
Accommodations at Hotel Aranjuez (B,L,D)

Mon., Nov. 11:
Cochabamba | Polylepis Forest
We depart early to visit Polylepis forest patches. While not particularly large or contiguous, this Polylepis forest abounds with incredible species including Wedge-tailed Hillstar, Giant Conebill, the endemic Cochabamba Mountain Finch, Maquis Canastero, Brown-capped and Tawny Tit-Spinetails, d'Orbigny's Chat-Tyrant, and Glacier (formerly White-winged Diuca) Finch. Our afternoon's birding takes place at the nearby Laguna Alalay, where we have a host of waterbird in our sights, including Silvery and White-tufted Grebe, Puna Ibis, Puna Teal, and Red Shoveler, before turning to the surrounding scrub and forest patches for White-tipped Plantcutter, Gray-crested Finch, and Greater Wagtail-Tyrant.
Accommodations at Hotel Aranjuez (B,L,D)

Tues., Nov. 12:
Cochabamba
Today we have many choices: birding, city tour, rest, or a combination of all three. Cochabamba boasts Bolivia's biggest open-air street market — 'La Cancha' — just a few blocks from the main plaza, where locals from the surroundings come to buy and sell produce and crafts (musical instruments, pottery, and high-quality textiles) and you can hear people speak the ancient Quechua language. We have many birding choices depending on what we might have missed yesterday.
Accommodations at Hotel Aranjuez (B,L,D)

Wed., Nov. 13:
Flight from Cochabamba to La Paz | Drive to Lake Titicaca
We head to Lake Titicaca, the Sacred Lake of the Incas. According to legend, the Sun God, as well as the pre-Inca god, Viracocha, rose from its depths. It is 120 miles long by 50 miles wide: the Inland Sea of Bolivia and Peru. We know we've reached our destination in Copacabana (not the one in Brazil!) when we see the dazzling white Moorish-style basilica decorated in colorful azulejos (ceramic tiles) and domes that tower over the central square.
Accommodations at Hotel Rosario del Lago (B,L,D)

Thurs., Nov. 14:
Lake Titicaca | Isla del Sol
From this small town, we cross the lake to the Island of the Sun (a two-hour boat ride). We wander among the ancient ruins hidden in the folds of the steeply terraced slopes of Pilkokaina, Stairway of Yumani. We follow the path upwards towards the ruins after a brief visit to the small but quaint Museum of Gold in Challapampa, which features sacrificial artifacts found in the bottom of Lake Titicaca. We expect to find some interesting highland birds such as Puna Ibis, Puna Teal, Tawny-throated Dotterel, Bar-winged and White-winged Cinclodes, Rufous-naped Ground-Tyrant, d'Orbigny Chat-Tyrant, and Peruvian, Mourning, and Ash-breasted Sierra Finches.
Accommodations at Hotel Rosario del Lago (B,L,D)

Fri., Nov. 15:
Basilica | Lakeside | Tiwanaku | La Paz
We start with a visit to the basilica. Copacabana's religious celebrations, cultural patrimony, and traditional festivals are well known throughout Bolivia. Thousands of pilgrims visit the Indian virgin of Copacabana every year. Then we look for the flightless Titicaca Grebe, other waterbirds, and songbirds like Wren-like Rushbird, Cream-winged Cinclodes, Cinereous Conebill, and Many-colored Rush Tyrant. Time permitting, we visit the Tiwanaku (also spelled Tiahuanaco) pre-Inca site on our way back to La Paz. The ancient city of Tiwanaku was the capital of a powerful empire of the same name that dominated a large area of the southern Andes and beyond.
Accommodations at Hotel Ritz (B,L,D)

Sat., Nov. 16:
Visit La Paz
Set at 12,000 feet on the central plaza and with a population of one million, Bolivia's de facto capital is a frenetic medley of fascinating Andean culture, bizarre food stalls, quirky markets, interesting museums, and haphazard architecture that overwhelms the senses at any time of the day or night. The best view of the sprawling cityscape is from a six-mile-long cable-car route that connects the city center to the sky-high settlement of El Alto. La Paz's outskirts also offer an array of spectacular sites, such as eerie rock sculptures created from ancient erosion at the Valley of the Moon. And we may look for a few last bird species in the local parks. We have a glorious final dinner in the city!
Accommodations at Hotel Ritz (B,L,D)

Sun., Nov. 17:
Departures
Depart today for flights home. (B)
Blue-throated Macaw Reserve Pre-Tour Extension
Itineraries are guidelines; variations in itinerary may occur to account for weather, road conditions, closures, etc. and to maximize your experience.
Blue-throated Macaw Reserve at Barba Azul
Once thought extinct, Blue-throated Macaw can only be seen in the wild in northern Bolivia, where a population was discovered in 1992. A brilliant blue beard (barba azul) distinguishes this charismatic species from Blue-and-yellow Macaws found elsewhere in South America. More than 300 birds live in the pristine old-growth savannah surrounding our Blue-throated Macaw Nature Reserve lodge, as do dozens of mammals. Take both the tour and extension for the Best of Bolivia!
Mon., Oct. 28:
Arrivals in Santa Cruz | Optional Birding
Arrive today in Santa Cruz at your leisure. Those arriving in time can enjoy some casual birding you're your guide. Dinner tonight kicks off the trip!
Accommodations at Hotel Los Tajibos (D)

Tues., Oct. 29:
Flight to Barba Azul Nature Reserve
We fly to Barba Azul from Santa Cruz with a scheduled flight to Trinidad and a chartered flight to Barba Azul. Located north of Trinidad in the Beni Savanna, the Blue-throated Macaw Nature Reserve (AKA Paraba Barba Azul Field Station) protects several different habitats including a river stream, palm islands, cerrado, and savanna grasslands. Run by Bolivian nonprofit Asociación Armonía (Birdlife Bolivia), it is a field station that can receive researchers and tourists. Of course, the key attraction here is the endemic and critically endangered Paraba Barba Azul — the Blue-throated Macaw. Enjoy unspoiled nature, great numbers and varieties of wildlife and a fantastic opportunity to be a visitor here. Only 69 people visited in 2022! Many of those few say that it is the highlight of their trip to Bolivia!
Accommodations at Barba Azul Nature Reserve (B,L,D)

Wed., Oct. 30 & Thurs., Oct. 31:
Paraba Barba Azul Field Station
In addition to the macaw, there are 300+ other bird species (with a record of 179 birds seen in a single day in September) and 25+ mammal species, including Giant Anteater, Pampas Cat, Puma, Jaguar, Ocelot, Marsh Deer, Pampas Deer, Collared Peccary, Maned Wolf, Black Howler Monkey, and Capybara. We expect it to be the end of the dry season when we are here, so birds and mammals congregate at the few remaining water sources, including one in view from our lodge.

While searching for the macaws we can expect to see many other key bird species: Southern Screamer, Orinoco Goose, Maguari Stork, Jabiru, Ocellated Crake, Swallow-tailed Hummingbird, White Woodpecker, Golden-collared Macaw, Large-billed and Rusty-backed Antwrens, Narrow-billed Woodcreeper, Rufous Cacholote, Sharp-tailed Tyrant, Hudson's Black-Tyrant, White-rumped and White Monjitas, Cock-tailed Tyrant, Tawny-bellied, Dark-throated, Rufous-rumped, and Rusty-collared Seedeaters, White-browed, Chopi, and Unicolored Blackbirds, Epaulet Oriole, and Orange-backed Troupial.
Accommodations at Barba Azul Nature Reserve (B,L,D)

Fri., Nov. 1:
Flight to Santa Cruz via Trinidad | Afternoon Birding
We climb back on our charter flight and head back to Trinidad. Switching back to a scheduled flight, we fly the short distance to Santa Cruz. We sample the birds of Santa Cruz after we arrive and join the participants in the main tour.
Accommodations at Hotel Los Tajibos (B,L)

Chestnut-eared Aracari



Amboró Park, Bolivia



Sparkling Violetear



Orange-backed Troupial



Plush-crested Jay



Flora in Amboró National Park



Chestnut-backed Antshrike



Blue-throated Macaw



Lianas in Amboró National Park


Cost of the Journey
Cost of the tour, from Santa Cruz Bolivia, is $7890 DBL / $8390 SGL. Tour price includes: 16 nights' accommodations, airport transfers, and professional guide services. It includes internal flights, land transportation within Bolivia, park and reserve entrance fees, pre-departure information and services, miscellaneous program expenses, accommodation and meals at all lodges, private transport, and private bilingual bird/naturalist guide. Cost of the tour does not include your international flights to/from Bolivia. The tour cost does not include items of a personal nature such as beverages from the bar, porterage, laundry, phone calls, or gift items. We also recommend a gratuity for maid service, and for our local drivers and guides, which is left to your discretion. The cost of the extension is TBD.
Travel Details
Please plan to make air travel plans only after the minimum group size has been met. We will send you a confirmation email as soon as the trip has been confirmed.
Arrival airport is Viru Viru International Airport (VVI); departure airport is El Alto International Airport (LPB)
Greg Butcher

Greg recently retired as the Migratory Species Coordinator for U.S. Forest Service International Programs, working throughout the Western Hemisphere. He is Vice President for Audubon Society of Northern Virginia, serving on the Conservation and Citizen Science committees. For his Ph.D. in Zoology at University of Washington, he studied the coloration and behavior of Bullock's Orioles. Greg studied ecology in Costa Rica with the Organization for Tropical Studies and has worked internationally for the past 19 years. Greg has previously worked for the National Audubon Society, American Birding Association, Birder's World magazine (now Birdwatching), Partners in Flight, and Cornell Lab of Ornithology. He is a Fellow of the American Ornithological Society (AOS). He has been a birder since he was 11 and has birded in all 50 states and 46 countries.

Other trips with Greg Butcher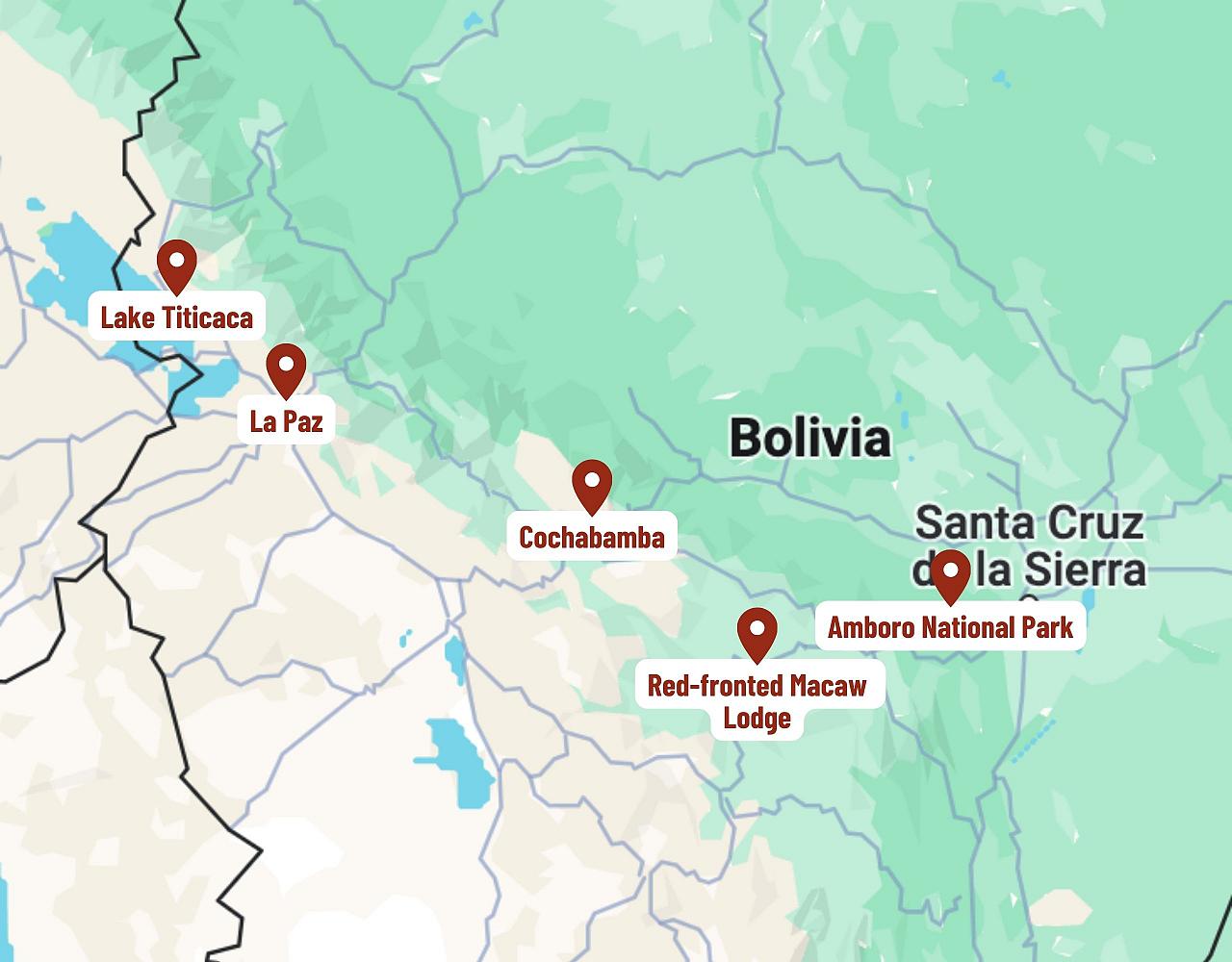 Pace & Protocols +
Suggested Reading List +
Useful Links +
Photo credits: BANNERS: Red-fronted Macaw, Amboró National Park, Fawn-breasted Tanager, Night Sky (courtesy of Refuge Los Volcanes Ecolodge), Carmiol's Tanager, Russet-backed Oropendola THUMBNAILS: Collared Trogon, Tropical Screech-Owl, Ultramarine Grosbeak, Toco Toucan, Blue-and-yellow Tanager, Golden-tailed Sapphire, Broad-billed Motmot, Hoatzin