Naturalist Journeys is excited to offer this Southern Belize nature tour for the second year in a row. This unique tour explores both the high and low elevations of Southern Belize, spending time in the Maya Mountains before working our way down to seacoast mangrove estuaries along the Gulf of Honduras. This fascinating combination of habitats offers the chance to see a greater number and diversity of species, while highlighting Belize's fascinating geography and beautiful scenery along the way.

An enchanting blend of Mayan ruins, beautiful coastline, and lush tropical forests (hosting tapirs, jaguars, and an astonishing array of tropical birds) lures visitors to Belize, Central America's least populated country. The warm Belizean people speak English (often with Spanish and Mayan as second languages), have a strong tradition of caring their country's natural heritage, and enjoy sharing their knowledge of the region's biodiversity. Some of the absolute best wildlife and birding guides in Latin America live and work in Belize.

Our tour traverses several of Belize's distinctive ecoregions, focusing on the submontane Caribbean pine habitat and waterfalls of the rugged Maya Mountains, as well as the lowland tropical pine and broad-leaved forests and open savannas of the Toledo and Cayo Districts (near the Caracol archaeological site, and the villages of Big Falls and Red Bank). We also spend a day visiting tropical riparian scrub, mangrove, and seagrass environments along the Monkey River north of Punta Gorda.

We stay at two outstanding eco-lodges, letting us settle in and reduce the number of hours spent on the road. The first property is situated in a remote and private nature reserve in the Mountain Pine Ridge area and boasts an extensive trail system; our other lodge is strategically located in far southern Belize, along a languid river and is home to a bird species not encountered further north. Both lodges offer professional and knowledgeable staff, delicious cuisine, refreshing pools, and charming, comfortable, and quiet accommodations.

Join us for this in-depth exploration of a less-visited region of Southern Belize. Emphasis is on natural history, birding, forest ecology, Mayan heritage, and simple, relaxing fun.

See our other Belize birding tours here.
Tour Highlights
Explore the Caribbean pine forests of central and southern Belize, one of the most unique and threatened habitats in Central America
Bird watch at Central America's highest waterfall
Meet with conservationists at Hidden Valley Inn, with the chance to observe seldom seen species like Orange-breasted Falcon and Solitary Eagle
Discover the impressive Mayan ruins at Caracol on a guided tour and bird the Vaca Plateau
Watch the endemic Ridgway's Rough-winged Swallow at historic Barton Creek Cave, which has a navigable underground stream that we explore by canoe
Bird at St. Herman's Blue Hole National Park in the Maya Mountains, a picturesque location featuring quiet trails and a tranquil forested pool
Hunt for toucans, woodpeckers, and woodcreepers during an early morning visit to Nim Li Punit, a highly regarded, yet little-visited Mayan site on the coastal plain of southern Belize
Cruise the Monkey River looking for Manatee, Neotropical River Otter, Howler Monkey, and the reclusive Agami Heron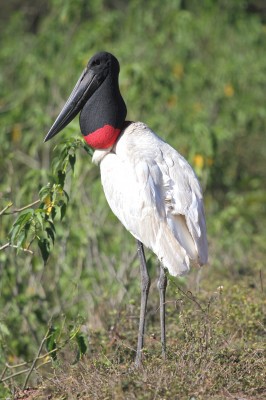 Photo credits: Banner: Lesser Nighthawk by Peg Abbott; Keel-billed Toucan by Narca Moore-Craig; Belize Group, Naturalist Journeys Stock; Chestnut-colored Woodpecker by Sandy Sorkin; Great Curassow Pair by Sandy Sorkin; Black Howler Monkey by Peg Abbott; Jabiru by Barry Ulman; Black-collared Hawk by Barry Ulman; Laughing Falcon by Sandy Sorkin.