Thank you for your interest! This journey is either underway or complete, but we do have
many other tour options
for you to choose from.
Naturalist Journeys is excited to explore the fascinating world of neotropical mammals and birds on this Panama wildlife tour. Enjoy both great birding and the chance to seek out and watch Two-toed and Three-toed Sloths, neotropical monkeys like Geoffroy's Tamarin and Howler Monkey, Manatee, Armadillo, and more.

There are parts of the world, like Africa, where we are awed by the sheer number of large mammals — elephants, giraffes, and lions are out in the open and easy to see. Mammal observation in Central and South America, however, can be a bit more challenging. Many mammals here are found in lush forests and are small to medium-sized; many are mostly nocturnal. 

This Panama tour is tailored to finding the interesting and unique mammals of the neotropics, as well as the birds they share company with. It's easy to combine the two interests, and the pace is set to observe, not just tick species off the list and run. We strive to find diurnal mammals like monkeys, coatis, agoutis, and tamanduas during the day; at night, we venture out with our spotlight in search of nocturnal mammals, like Kinkajou and various opossums and bats. A good list of night birds are a bonus for our efforts.

Central Panama's forests are full of mammals, and although it may take a little searching, finding neotropical mammals is rewarding and memorable! And we, of course, also take advantage of the forests around us to find birds, reptiles, frogs, and insects — there won't be a dull moment!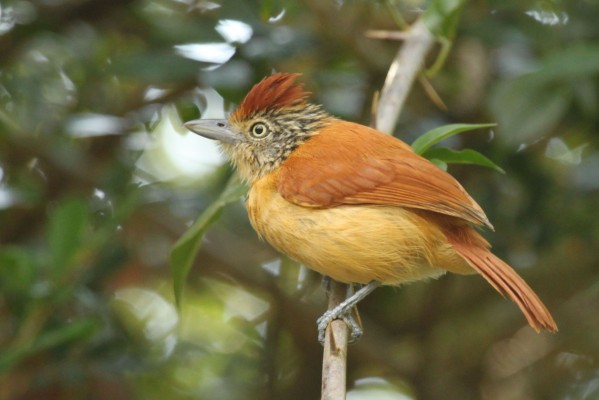 Tour Highlights
Enjoy six nights at Canopy Tower, an old radar tower, fully surrounded by wildlife
Walk Semaphore Hill Road in Soberanía National Park looking for tamanduas, sloths, and coatis; trogons, motmots, and antbirds
Ride in the Birdmobile to Pipeline Road, then search for wild cats like Jaguarundi, and great birds
Take night drives in search of Common Opossum, Peccary, sloths, and birds like Spectacled Owl
See San Lorenzo National Park and the San Lorenzo fortress, a World Heritage Site
Explore by boat on Gatun Lake, looking for Lesser Capybara, West Indian Manatee, and more
Spend an afternoon at the Canal, learning about its history and watching the cargo ships go through the locks
Enjoy two nights at the Canopy Lodge, with cool mountain temperatures and fabulous birds on feeders and trails
Photo credits: Banners: Black Howler Monkey by Peg Abbott; Yellow-throated Toucan by Greg Smith; Ocelot by Xavier Muñoz; Birding at Canopy Tower by Pat Lueders; Juvenile Harpy Eagle by Pat Lueders; Capped Heron by Peg Abbott; Geoffroy's Tamarin by Howard Topoff; Barred Antshrike, Naturalist Journeys Stock; Orange-collared Manakin by Bud Ferguson; Three-toes Sloth by Peg Abbott; Coati, Naturalist Journeys Stock; Boat-billed Herons by Tom Dove; Golden-hooded Tanager by Peg Abbott.