With three nights each at three great lodges, we have the luxury of birding at leisure as we explore the dramatic scenery, rich culture and biodiversity on this Guatemala birding tour, home to more than 700 birds, including 40 regional endemics!

The main part of the tour focuses on the highlands of interior Guatemala, whose rugged chain of mountains was formed by the interaction of the North American and Caribbean tectonic plates. A jagged landscape of lush mountains, dry intermontane valleys, scenic lakes, and spectacular volcanoes creates a diversity of microclimates and habitats for many endemics: Bushy-crested Jay, Pink-headed Warbler, Grey Silky-flycatcher, Blue-throated Motmot and many more. This habitat diversity that makes this Guatemala nature tour exciting also produces some of the world's greatest shade-grown coffees with no less than eight distinct coffee-growing regions, each with its distinct quality and flavor. See (and taste!) it for yourself. It is simply a magical place.

We explore many facets of culture on this tour, including UNESCO World Heritage colonial capital Antigua, where we learn more about the country's history and art, including its iconic textiles. We enjoy pre-Colombian dining and make our own lunch in a cooking class!

Make sure to book the post-tour extension birding the UNESCO World Heritage Maya ruins at Tikal and Yaxha, which goes on to spend a half day birding El Remate, an idyllic setting on Lake Petén Itzá.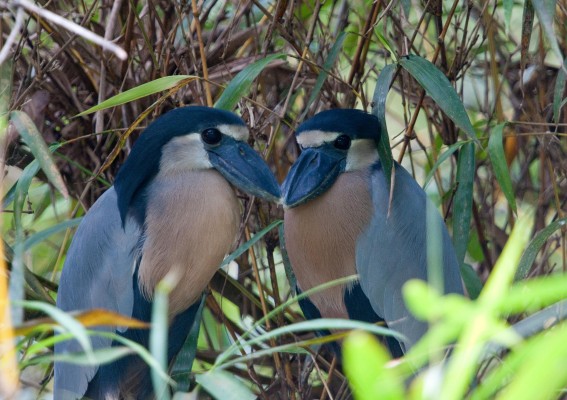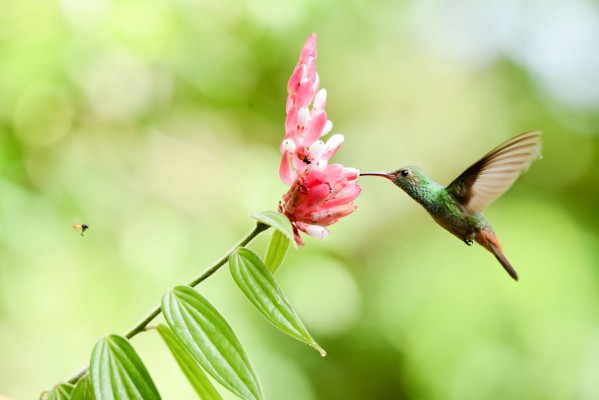 Tour Highlights
Settle in and get a sense of place with three-night stays at three great lodges.
Search for Resplendent Quetzal, Blue-throated Motmot and Green-throated Mountain-gem on this Guatemala birding tour.
Find overwintering warblers in mixed flocks with resident species, including the iconic Pink-headed Warbler and stunning Golden-browed Warbler.
Marvel at volcano-fringed Lake Atitlan, the deepest lake in Central America, from our lakefront lodge and spa on this Guatemala nature tour.
Develop an appreciation for Guatemalan textiles, art, and history at Guatemala City's Museos Ixchela and Vox Popol.
Explore and dine in beautiful Antigua Guatemala, which retains its grandeur as former capital of the Kingdom of Guatemala, a UNESCO World Heritage Site! During our stay we enjoy pre-Colombian dining and take a fun group cooking class!
Bird at El Pilar, replete with colorful and regionally special bird species such as Bar-winged Oriole, Green-throated Mountain-gem, and Blue-throated Motmot.
Discover one of the best eco-lodges in Central America, Los Tarrales Reserve, offering bird lovers and coffee lovers an unforgettable experience!
See owls, nightjars, small mammals, and frogs at night around the lodge.
Extend your trip with three nights at a lodge inside Tikal National Park whose impressive Maya ruins are among the most impressive in the world.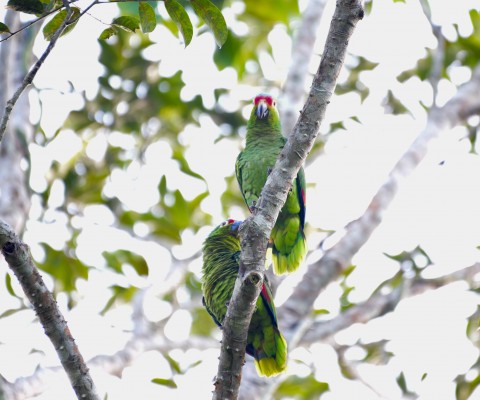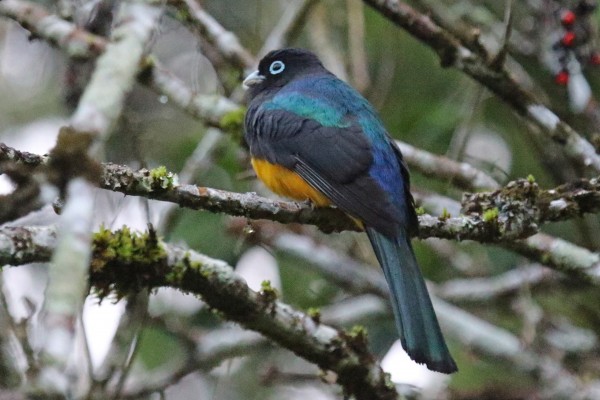 Trip Itinerary
Itineraries are guidelines; variations in itinerary may occur to account for weather, road conditions, closures, etc. and to maximize your experience.
Tues., Mar. 12:
Arrival in Guatemala CIty
Welcome to Guatemala! Arrive today at La Aurora International Airport. It is about a three-hour flight from most USA gateway cities to Guatemala. Upon arrival, you are met at the airport for the transfer to our first hotel in the city, a short 10-minute drive from the airport. For those arriving one or more days early, your transfer is coordinated with the regular hotel shuttle.
The group officially gets together today at 6:30 PM in the hotel lobby to enjoy a welcome dinner where we meet our guides and fellow travelers and enjoy an overview of our birding adventure in Guatemala.
Accommodation at the Clarion Suites Hotel, Guatemala City (D)
Wed., Mar. 13:
Museo Ixchel | Los Tarrales Reserve
After our breakfast at the hotel our first stop is the nearby Museo Ixchel, the textile museum named after the god of the moon, women and textiles. Here we'll get a background of the Maya textiles which we will see throughout our tour. (In Atitlán we visit a weaving co-op to get a more personal understanding.) Just across from Museo Ixchel is Museo Popol Vuh, named after the 1701 book recording the mythology and history of the K'iche' people. The museum is home to one of the major Maya art and artifact collections in the world, both pre and post Columbian. Here we get a broad look at Maya, and therefore Guatemalan, history, culture and beliefs, as 42% of the Guatemalan population is Maya and a more than half of the rest are Mestizo - mixed Mayan and other ethnicities. Both museums are on the Universidad Francisco Marroquín campus, and if time we'll do some birding at the delightful Arboretum here. Lesson´s Motmot, Rufous-browed Peppershrike, White-napped Brush-Finch and White-faced Ground-Sparrow may be seen here. We then head west of the city to Los Tarrales Reserve, south of Lake Atitlán, getting lunch along the way. The reserve is part of the Atitlán Important Bird Area (IBA), designated by BirdLife International. The comfortable lodge comprises the original farmhouse where family-style meals are served and newer cabins a short walk away. The immediate grounds are home to a wide variety of birds and extensive walking and 4WD trails range out from the central area. Walking to the dining room through hedgerows of flowers brings sightings of active and colorful hummingbirds. This is a cozy, simple birding lodge to long remember.
Accommodations at the Los Tarrales Eco Lodge (B,L,D)
Thurs., Mar. 14:
Full Day at Los Tarrales
We rise early today for breakfast before meeting our local guide to bird a different area of the reserve. We drive partway up the mountain in four-wheel drive vehicles to a higher area of the forest, where a viewpoint affords splendid views of a lush landscape as far as the eye can see. Finding the mountain specialty birds takes time, so plan on spending much of the day walking the road with scenic views all along the way. Avian treasures we may observe on this walk include Azure-rumped Tanager, White-winged Tanager, Blue Seedeater, Bar-winged Oriole, Blue-crowned Chlorophonia, and so much more. Returning to the lodge, we check a secretive pond area that is often highly productive.

Those not up for the walk can enjoy this delightful lodge and the nearby coffee plantation, with chances to watch Blue-tailed Hummingbird, Long-billed Starthroat, White-bellied Chachalaca, Turquoise-browed Motmot, Spot-breasted Oriole, White-throated Magpie-Jay, Barred Antshrike, Roadside Hawk, and other species. Each evening usually finds us watching a variety of parrots flying to their nighttime roosts, with our guide teaching us their distinctive calls and flight patterns.

Dinner is at the lodge each and we may go out to listen for owls and nightjars.
Accommodations at Los Tarrales Eco Lodge (B,L,D)
Fri., Mar. 15 :
Full Day at Los Tarrales
Those that wish can greet the dawn beside the lodge, scanning the mature trees that grow along an open soccer field for a variety of species such as Yellow-naped Parrot and Pacific Parakeet—these parrots may provide great scope views as they perch and socialize in the early morning light. We then enjoy breakfast, watching the birds as they busily go about their morning. Hummingbirds love the blooming hedgerow next to the building, putting on an energetic show. This morning and afternoon we explore the walking trails at the lodge. Natural forest is interspersed with shade coffee plantations from 2300 to 5200 feet. It is incredibly scenic and the varied elevation gives us a great variety of birds. The reserve hosts over 400 species of birds and 99 mammals—wow! It is one of Guatemala's richest birding and natural history areas. Included in the list that the verdant forests of Los Tarrales are home to are Emerald-chinned Hummingbird, White-faced Quail-Dove, White-winged Tanager, and White-eared Ground-Sparrow. As the day warms up, there is also a rich diversity of butterflies, from morphos to daggerwings to crescents. Situated at a lower elevation, your comfortable lodge immerses you in nature with splendid scenery and birdy surroundings with shade-grown coffee plantations (yes, you can buy local coffee!). Some of the highlights we may see right around the lodge include Orange-chinned Parakeet, Lesson's Motmot, Long-billed Starthroat, White-bellied Chachalaca, White-throated Magpie-Jay, Masked Tityra, Rufous-naped Wren and Yellow-winged Tanager.
Accommodations at Los Tarrales Eco Lodge (B,L,D)
Sat., Mar. 16:
Lake Atitlán
Those that wish can greet the dawn birds beside the lodge once again before we enjoy breakfast, watching the birds as they busily go about their morning. Hummingbirds love the blooming hedgerow next to the building, putting on an energetic show. Then, it's time to pack up and head to our next exciting destination. After saying farewell to our local guide and others at the lodge we head towards our lodge for the next three nights in the community of Santiago Atitlán on the shore of Lake Atitlán. Few places in the world can match the spectacular beauty of this lake, one of Guatemala's most prized natural treasures. Geologists state its origin is due to a large volcanic blast that occurred millions of years ago. Pockets of broad-leaf and mixed pine-oak forests grow in the region.

For many centuries, several native groups of Maya origin have lived on the shores of Lake Atitlán and continue to share a relationship based on community. Divided among numerous small townships, the two main groups that share the lake are the T'zutujiles and Kaqchiqeles.

The Mesoamerican Permaculture Institute (IMAP) is in the community of Pachitulul, part of the municipality of San Lucas Tolimán, on the south side of Lake Atitlán, and i we stop here to continue this morning's birding. The programs of IMAP work to defend natural resources, the land, and its people by promoting food sovereignty and biodiversity conservation, empowering individuals and communities in Mesoamerica. The property is one of the best places to see Slender Sheartail; other species looked for here are White-eared, Blue-tailed and Azure-crowned Hummingbirds, Sora, Least Grebe, Painted Bunting, White-faced Ground-sparrow, Gray-crowned Yellowthroat, Tropical Mockingbird and Gray Silky-flycatcher. We then continue around Lake Atitlán to Santiago Atitlán and our accommodation for the next three nights, Hotel Bambu, set in extensive (and birdy) gardens overlooking the lake.

After lunch we have one of our tour's cultural events, visiting a women's textile weaving and embroidery co-op. We'll see the ways of making dyes from natural ingredients, spinning and dying yarn and weaving using hand looms. As we will have seen at Museo Ixchel individuals make designs traditional for their areas but here also bring their own personal touch to color and design. Late afternoon we will likely visit a lakeside farm for a variety of waterbirds and open scrub birds. Azure-crowned Hummingbird, Purple Gallinule, up to seven or eight species of herons and allies, the sedentary local white-breasted race of Sharp-shinned Hawk, Green Kingfisher, Golden-fronted and Golden-olive Woodpeckers, Dusky-capped Flycatcher, Bushy-crested Jay, Blue-and-white Mockingbird, Brown-backed Solitaire, Black-headed Siskin, Black-vented Oriole and Melodious Blackbird are among the many species found here.
Accommodations at El Bambu, Santiago Atitlán (B,L,D)
Sun., Mar. 17:
Chichicastenango
We make an early start today with just coffee and snacks (we'll stop to sample some typical Guatemalan food along the way) as we are heading for Chichicastenango and its famous market, located at the base of the Santo Tomás church, built in 1545, and the adjacent monastery where the Popol Vuh was discovered. We'll cross the lake by boat with the dawn light starting to brighten the encircling volcanoes, then meet our vehicle for the ninety minute drive north. The market is the largest in Central and South America and attracts local sellers and buyers from all over the region, plus its share of international travelers. Textiles, clothing such as women's Huapile blouses, distinct to each village, market goods - the variety of fruit and vegetables can be overwhelming – and much more. Just down the street is the colorful cemetery which we can also visit. As it is a Sunday depending and on our timing access to the inside of the church may be restricted but the market will be in full swing. The inside often has candles, drawings and offerings on the floor, plus petals and other items not usually associated with Catholicism. The church was built on the site of a Mayan temple and the eighteen steps leading to doors are part of that temple. As such the steps, each representing a month of the Mayan calendar, are revered by the Maya people and offerings and other rituals may be seen here; the whole church has a mix of Catholic and Mayan religions.

After Chichi we return to Panajachel for a late lakeside lunch and birding the grounds; Sparkling-tailed Hummingbird will be one of our main targets. We then return across the lake to our hotel.
Accommodations at El Bambu, Santiago Atitlán (B,L,D)
Mon., Mar. 18:
Birding Mirador Rey Tepepul
Today we have a choice of birding activities in the morning. The standard one is after breakfast at the lodge setting off for our birding destination of Mirador del Rey Tepepul. At this site we hope to observe not only the stunning and iconic Resplendent Quetzal, but also the highly sought after endemic Azure-rumped Tanager, as well as Blue-crowned Chlorophonia, Barred Parakeet, Chestnut-capped Brush-finch, Cinnamon-bellied Flowerpiercer, Grey Silky-flycatcher, Brown-backed Solitaire, Green-throated Mountain-Gem, Golden-browed Warbler, the Northern Central American sub-species of Hairy Woodpecker, Mountain Elaenia, and so many more. Finding a late Wine-throated Hummingbird is also possible here. We spend the whole morning birding the trails here before heading back to the hotel.

Alternatively you may opt for a very early start and a long and harder hike up Cerro Paquisis for the near-mythical Horned Guan; a bird that may not make the work required seem worth it, until you lift your bins and see it properly; the hike then fades away as you stand transfixed. The hike gains some 3000ft of altitude ending around 8500ft. The plan is basically a march up for the guan, then birding for the plethora of other high to mid altitude birds to be seen along the trail on the way back, including Emerald Toucanets, Singing Quail, the brilliant all-blue Central American Steller's Jay and perhaps Chestnut-sided Shrike-vireo. The night before these alternatives will be discussed more fully so you choose the most suitable alternative.

During our stay at Atitlán we will visit the local home housing the effigy of Maximón. Maximón represents both dark and light, a trickster who is a go-between the Gods and the Shaman who people hire to help them in some way. The Shaman engages in a lawyerly like discussion with Maximón entreating him to ask the Gods for assistance. Smoking and drinking by both Shaman and Maximón is part of the ritual. Each year a different home houses Maximón and we will endeavor to time our visit when an entreaty is to be made.
Accommodations at El Bambu, Santiago Atitlán (B,L,D)
Tues., Mar. 19:
Pink-headed Warbler at Tecpan | Antigua Guatemala
After breakfast at the hotel we check out and travel to Antigua Guatemala, stopping in route at Finca Chichavac, located in Tecpan. Finca Chichavac is in the mountain forest biome of Sierra de Tecpan, 30 miles from La Antigua Guatemala at an altitude of 8200 feet. Today we look for the Pink-headed Warbler again, easily observed in this pine-oak forest that dominates much of the interior highlands of Guatemala. This beautiful warbler occurs in the same forest type where we may find Tufted Flycatcher, Olive Warbler, Gray Silky-flycatcher, Band-backed Wren, Cinnamon-bellied Flowerpiercer, Hooded Grosbeak, and possibly the rare Black-capped Siskin. We may also see a few friends we know from back home: Steller's Jay (though this Central American form is all brilliant blue, without the black head of US birds), Acorn Woodpecker, Hutton's Vireo, and Spotted Towhee. Warblers are here in good number and species may include Red-faced, Rufous-capped (a local form), Golden-browed, Townsend's, and Hermit.

After lunch we start making our way to Antigua Guatemala. Depending on our arrival time there may be some free time for a look around the city from our well-situated and delightful lodgings. We have dinner at the hotel. Afterwards perhaps enjoy the rooftop bar overlooking Volcán de Fuego or take an after-dinner stroll to admire the lights and historic buildings.
Accommodation at Posada de Don Rodrigo or similar, Antigua (B,L,D)
Wed., Mar. 20 :
Antigua Birding at El Pilar | Free Time or a City-tour in Antigua
In the morning we head to an excellent reserve at Finca El Pilar. This site features a mixture of shade-grown coffee plantations and oak-pine forest. Patches of good bird habitat occur at the nature reserve and shade-grown coffee plantation. Here, we may find a fantastic and stunning variety of regional highland endemics such as Black-capped Swallow, Bushy-crested Jay, Highland Guan, Blue-throated Motmot, Rufous-collared Robin, and Blue-and-white Mockingbird. Other species we may observe include Singing Quail, Northern Emerald-Toucanet, Pacific Parakeet, Chestnut-sided Shrike-vireo, Brown-backed Solitaire, and Gray Silky-flycatcher. Hummingbird feeders attract numerous species such as Green-throated Mountain-gem, Rufous Sabrewing, Azure-crowned Hummingbird, Berylline Hummingbird, and White-eared Hummingbird. We return to downtown for lunch at a local restaurant featuring Pepién, a traditional chicken stew derived from the fusion of very old Mayan and Spanish recipes.

In keeping with our lunch this afternoon we learn more about Guatemalan food, including how to prepare it ourselves, at a local cooking school. Guatemala is one of the largest exporters of vegetables, fruit and spices to the US and Mexico thanks to its year-round growing season, range of altitudes and widespread volcanic soils. We'll learn how to transform this bounty, and the spices for which Guatemala is a major exporter such as cardamom, to delicious meals and snacks.
Accommodation at Posada de Don Rodrigo or similar, Antigua (B,L,D)
Thurs., Mar. 21 :
Finca El Pilar | Guatemala City
We return to El Pilar this morning to further explore the hillside trails and the birds of this forested area, going further into the reserve where we may encounter Fulvous Owl, and have a second opportunity at the feeders. Also not to be missed is the water drain which attracts a variety of moths and butterflies. The drain offers great close photo opportunities for these insects, and often the lizards that also take advantage of it.

This afternoon we enjoy a guided tour of Antigua (more correctly La Antigua Guatemala or just Antigua Guatemala , and even more correctly its original name, Santiago de los Caballeros de Guatemala. Antigua Guatemala is a UNESCO World Heritage Site due to its incredibly well-preserved 17th Century Spanish colonial architecture. Founded in 1542 and partially destroyed by an earthquake in 1776, it was once the third largest city in the Americas, after Mexico City and Lima. It was also the colonial capital of the Kingdom of Guatemala, which at that time extended from Costa Rica into southern Mexico. We explore the city's plazas, palaces, churches, and convents. Tonight, we enjoy a farewell dinner at a favorite local restaurant to celebrate all the beauty and fun of our Guatemala tour!
Accommodation at Posada de Don Rodrigo or similar, Antigua (B,L,D)
Fri., Mar. 22 :
Departures
We leave Antigua this morning and head back to Guatemala City where the tour ends. This afternoon those going on the Tikal extension will fly to Flores and then visit the Yaxha area in route to their lodging in Tikal; others will either catch their flights home or overnight to fly out tomorrow.
Tikal Post-Tour Extension
Itineraries are guidelines; variations in itinerary may occur to account for weather, road conditions, closures, etc. and to maximize your experience.
Tikal & Yaxha: Birding the Maya Ruins
Two important and birdy Maya ruins sites are the focus of this terrific post-tour extension, which also spends a half day at El Remate, an idyllic setting on Lake Petén Itzá. We spend two nights inside UNESCO World Heritage Tikal, whose impressive plazas and pyramids are surrounded by birdy rainforest. We also visit the causeway-connected pyramids of Yaxha, ancient allies to Tikal, and spend a half day birding El Remate. There is a lot of culture and birding packed into this short extension!
Fri., Mar. 22 :
Flight to Flores | Tikal
We check in for our short flight to Flores we meet up with our local guide; en route to Jungle Lodge we visit the beautiful Yaxha area, located 40 miles from the airport. Yaxha, always an ally of Tikal, has imposing pyramids and is all connected with causeways. It is also within the Maya Biosphere Reserve and located near the Yaxha Lake. The site is part of the National Park Yaxhá-Nakúm-Naranjo, which protects lowland rainforest. It is birdy here, as well as fascinating from a cultural perspective—a good start to seeing a host of new species in this lush habitat. Birds we might see include Slaty-tailed and Gartered Trogon, Red-lored and White-fronted Parrot, Blue Bunting and Keel-billed Toucan – our first taste of birding in the wet Central American lowlands.
Accommodations at Jungle Lodge or similar, Tikal (B,L,D)
Sat., Mar. 23 & Sun., Mar. 24:
Tikal National Park
Protected as a national park in 1955, Tikal preserves the most magnificent example of pyramids, plazas, and temples of the ancient Mayan culture. With towering pyramids that reach more than 240 feet, one cannot understand how impressive they are without being in their presence. Once the epicenter of Mayan commerce and trade, Tikal's towering pyramids stretch towards the heaven and beyond the highest jungle canopy, providing a mystical view of the area's rich flora and fauna.

In addition to its rich architecture and archeology, Tikal encompasses more than 3 million acres of rainforest in northern Guatemala's Mayan Biosphere Reserve. In fact, UNESCO designates Tikal as a World Heritage Site based on both its incredible biodiversity as well as its historical heritage. More than 400 species of birds have been found within Tikal National Park, including exceptional numbers of parrots and raptors. While walking through the forest, visiting the different archaeological groups with plazas, pyramids, and palaces, Howler and Spider Monkeys, and showy birds like Squirrel Cuckoo, Keel-billed Toucan, and Ocellated Turkey are also moving around. We enjoy lunch at a local restaurant inside the park, and then you have the option to continue exploring. If you find yourself wanting a siesta, our hotel is just outside the gate! These days are to wander through the jungle among the famous ruins, learning about Maya history with time for birding. The archeological zone of Tikal is large, magnificent, and worthy of additional exploration. Mornings and evenings can be very active with the cacophony of commuting parrots, including Brown-hooded, White-crowned, Red-lored, White-fronted, and Mealy Parrot. We also pay attention to what is soaring above us, and we may see Hook-billed, Plumbeous, and Swallow-tailed Kite, perhaps even Ornate or Black Hawk-Eagle!
Accommodations at Jungle Lodge or similar, Tikal National Park (B,L,D)
Mon., Mar. 25 :
El Remate | Guatemala City
This morning we continue our birding at another site today, El Remate. This is an idyllic spot at the eastern end of Lago de Petén Itzá, and here we have lunch. A nice variety of water birds occur along the shores of the lake, including both Limpkin and Snail Kite. Rank grasses might attract small flocks of Morelet's Seedeater and Groove-billed Ani. We should also see a nice selection of herons and egrets.

We have scheduled an afternoon flight for the 45-minute jaunt back to Guatemala City, where we spend our last night in the same comfortable city hotel. This evening you have time to pack, get organized for your trip home, and relax during a final evening with friends.
Accommodations at Clarion Suites Hotel or similar, Guatemala City (B,L,D)

Tues., Mar. 26 :
Departures
Depart at your convenience this morning from La Aurora International airport. Keep in mind when booking flights that you need to be at the airport approximately three hours ahead of your flight, so mid- to late-morning is far more comfortable than an early morning flight. Breakfast for those on a schedule that allows is in the hotel. The tour ends this morning with the transfer to the international airport. (B)
Cost of the Journey
The cost of this Guatemala birding and nature tour is $4390 DBL / $4750 SGL, per person, from Guatemala City. This cost is based on double occupancy and includes all accommodations; meals as specified in the itinerary, group airport transfers, professional guide services, local park and other area entrance fees, and miscellaneous program expenses. If you plan to join your expert local guide on a hike to search for the Horned Guan, there is a $150 excursion charge. While the hike is formidable, we highly recommend taking the opportunity if you are able, as the Horned Guan is an amazing bird, a bonus bird if there ever was one for our Guatemala birding tour! Cost of the Tikal extension is $1790 DBL / $1995 SGL and includes your internal flight. The cost does not include transportation to or from your home to Guatemala, or items of a personal nature such as laundry, telephone charges, porterage, maid gratuities, or beverages from the bar.
Travel Details
Please plan to make air travel plans only after the minimum group size has been met. We will send you a confirmation email as soon as the trip has been confirmed.
Arrival and Departure Airport: La Aurora International Airport (GUA) in Guatemala City
Arrival Details: Plan to arrive March 12, no later than 4:00 PM. We have a 6:30 PM group dinner on the first day.
Departure Details: Plan flight departures March 22, after 12:00 PM. For those going on the extension tour, plan March 26 flight departures at your leisure.
Travel Tips: If you are arriving early to rest up from your travels, we can book extra nights for you at our first night tour hotel, the Clarion Suites Guatemala City. The hotel is in a good part of the city with many dining options nearby and has a convenient airport shuttle. If you want to explore Guatemala City, there are plenty of things to do! We'll visit some fabulous museums on our first day of the tour, but there are many other sites worth visiting. The National Palace, the former headquarters of the President, has beautiful architecture and many paintings and sculptures done by Guatemalan artists. It's also adjacent to Central Park, the main outdoor area in the city that's a popular hangout for both locals and tourists. On a clear day you can have a great view of Agua Volcano from here. If you want to do some shopping, check out one of the local artisan markets such as Mercado Central, a popular market for local food and crafts. All these attractions can be reached via taxi or Uber. We can also arrange a guided tour of the city for an additional cost.
Visa Requirements: A visa is not required for US Residents for tourist visits of this length of time.
Items of Note
Browse below for trip reports and species lists from past versions of this and other tours from this destination.
Guatemala
March 2018
January 2019
January 2020
January 2022
February 2023
Andrew Haffenden

Andrew has birded all the southern coastal states, from South Carolina to Texas, and more diverse states and habitats from the mossy rainforests and mountains of Washington to the conifers and bogs of Minnesota to the winter seabirds of New York's Long Island. The dry and desert states of the Southwest have been favorites of Andrew's, from the furthest southwest point in the US to the high mountains and plains of Northern Colorado. Further afield, numerous visits to Mexico, 25+ trips to Central America and 17+ trips to northern South America including Guyana has enabled Andrew to become familiar with the birds of those regions. Some 15 tours to Greater Antilles places him in the top 20 eBirded species in the Greater Antilles. Andrew's also birded and led tours to several other Caribbean Islands. In addition to Dauphin Island he also leads Naturalist Journeys tours in the Southeast US and Central/Southe America. His many trips to Southeast Asia, and of course a lifetime of experience in Australia and New Zealand round out his wildlife experiences.

Photo credit: Peg Abbott

Other trips with Andrew Haffenden
Essential Information +
Pace & Protocols +
Packing List +
Suggested Reading List +
Useful Links +
Photo credits: Banners: Tikal Ruins by Lori Conrad; Central American Spider Monkey by Peg Abbott; Keel-billed Toucan by Doug Greenberg; Red-eyed Tree Frog by Greg Smith; Boat-billed Herons by Tom Dove; Red-capped Manakin by Peg Abbott; Rufous-tailed Hummingbird by Sandy Sorkin; Black Howler Monkey by Peg Abbott; Fork-tailed Flycatcher by Hugh Simmons Photography; Red-lored Parrots by Sandy Sorkin; Black-headed Trogon by Peg Abbott; Unicolored Jay, Irene Rodriguez, courtesy Operador Latino; Horned Guan, Peg Abbott; Spot-breasted Oriole, Paul Roberts; Blue-crowned Chlorophonia, Robert Gallardo; White-throated Magpie-Jay, Robert Gallardo; Wine-throated Hummingbird Luis Burbano, courtesy Operador Latino; Pink-headed Warbler, Majo Lou, courtesy Operador Latino; Azure-rumped Tanager Majo Lou, courtesy Operador Latino; Keel-billed Toucan, Doug Greenberg; Tikal x2, Lori Conrad; Central American Spider Monkey, Peg Abbott; Squirrel Cuckoo, courtesy Operador Latino; Barred Antshrike, Carlos Sanchez; Olive-throated Parakeet, Paul Roberts; Crowned Fairy, Alex Navarro, courtesy Operador Latino; Pygmy Kingfisher, Peg Abbott; Spot-breasted Oriole, Paul Roberts; Indigo-throated Anole, Paul Roberts. Unicolored Jays, Irene Rodriguez, courtesy Operador Latino; Lake Atitlan, PA; White-throated Magpie-Jay, RG; Wine-throated Hummingbird Luis Burbano, courtesy OL; Pink-headed Warbler, Majo Lou, courtesy OL; Azure-rumped Tanager Majo Lou, courtesy OL; Rose-throated Becard, Tom Dove; Violet Sabrewing, Sandy Sorkin; Northern Emerald-Toucanet, Sandy Sorkin (SS); Yellow-backed Oriole, PA; Olive Warbler, PA; Pygmy Kingfisher, PA; Tikal x2, Lori Conrad; Central American Spider Monkey, PA; Keel-billed Toucan, Doug Greenberg.