Explore the largest river and the greatest tropical forest in the world during a journey full of discoveries in the Peruvian Amazon. On land and by riverboat, explore two very different parts of the legendary Amazon rainforest to discover an incredible variety of flora and fauna and meet with indigenous communities. We start the tour with several days at an incredible lodge in the Amazonian Rainforest with all the comforts of home, including air conditioned rooms, private bathrooms, swimming pool, and elaborate gardens. The majority of the tour is spent on our comfortable riverboat, La Perla, our floating hotel moves with us as we explore the heart of the largest river in the world.

From its first trickle high in the Andes Mountains, the Amazon River winds more than 4,200 miles through South America. The river and its thousand tributaries snake past frontier cities and remote villages in six countries before spilling 500 billion cubic feet of water into the Atlantic. More than just water, the Amazon is the lifeblood of a rainforest that is home to more than 40,000 plant species and an eclectic culture of shamans, farmers, and curious children.

Under a rich forest canopy, find an astounding diversity of bird species: Over 1,800 species — more than 50% of South America's recorded birdlife — have been spotted in Peru. Over 450 species of mammals are known from Peru, including over 40 species of primates.

Tour Highlights
Delve deep into the rainforest along jungle paths and myriad tributaries on hikes and excursion boat rides
Ascend high above the rainforest floor for a bird's eye perspective on the suspended pathways and platforms of canopy walkways
Savor abundant birdlife, wildlife, and all that the Amazon offers while traveling in modern comfort
Immerse yourself in the nature and culture of the Amazon with expert naturalists who ensure you learn about the Amazon's plants, wildlife, people, and history
Witness birds and mammals here so difficult to see in less-pristine areas, from macaws to guans, large woodpeckers to fabulous raptors, and so much more
Discover the fascinating relationship between the river and the people who live along the banks
Intertwine yourself in an atmosphere that pulsates with life
Trip Itinerary
Itineraries are guidelines; variations in itinerary may occur to account for weather, road conditions, closures, etc. and to maximize your experience.
Wed., Oct. 23:
Arrivals in Lima
Arrive at your leisure at Jorge Chávez International Airport in Lima, Peru (LIM). As many international flights arrive late in the evening, you may consider coming in a day early to rest and explore a bit of Lima, the large and dynamic capital of Peru and home to excellent museums and a world-renowned culinary scene.
Accommodations at Wyndham Costa del Sol Airport Hotel

Thurs., Oct. 24:
Fly to Iquitos | Boat to Ceiba Tops Lodge
After breakfast at our hotel, we transfer to the Lima Airport for our two-hour morning flight over the Andes to Iquitos. After arrival, we are met by our Lodge's drivers and transferred to the nearby boat dock with a brief orientation to Iquitos. Here, we board the lodge's speedboat to travel twenty-five miles downstream to Ceiba Tops Lodge. We admire the vast Amazon as we move along the river and expect to see many Turkey and Lesser and Greater Yellow-headed Vultures, Cocoi and Capped Herons, egrets, Large-billed and Yellow-billed Terns, and other typical Amazon mainstem species. Upon arrival at the lodge, we settle into our comfortable rooms, which offer hot water and air conditioning. The lodge also has a swimming pool, hammocks, public wi-fi, and a lounge, for those who care to indulge.

After a buffet lunch at the lodge, we begin our bird and wildlife observations as we walk through the rainforest to a small lake, where giant Victoria Regia lily pads grow, some spanning three feet. The long toes of the Wattled Jacana enable it to walk across the lily pads. We also look for Gray-cowled Wood-Rail, Purple Gallinule, Sunbittern, and, if we're lucky, Sungrebe. The vegetation right around the lodge harbors Glittering-throated Emerald, White-bearded Hermit, and other hummingbirds and we search for White-eared Jacamar, Chestnut-eared Aracari, and Russet-crowned Oropendola in the trees. Here, conservationists hatch turtles that can be seen sunning themselves. This evening, we head out for a nocturnal forest walk and search for caimans on the banks of the lake with the aid of spotlights. We also look for the unique frogs and insects that create the nightly symphony of forest sounds and, with luck, an owl or two.
Accommodations at Ceiba Tops Lodge (B,L,D)

Fri., Oct. 25:
Primate Reserve | Yagua Indigenous Community
Those who wish can get up at dawn and meet your guides for a birding excursion on the grounds of the lodge. After breakfast, we travel by speedboat to a private reserve dedicated to primates, both free-roaming and rehabilitated. The reforested area is planted with fruit trees and creates a natural rainforest environment for Wooly, Equatorial Saki, and Yellow-handed Titi monkeys as well as tamarins and marmosets. Photo opportunities abound!

After lunch, our speedboat takes us along the river to the Yagua Indigenous community. Our guides introduce Yagua culture and we discuss how their traditions and lifestyle have evolved over time. We also have the chance to see how Yagua elders still use blowguns for hunting and have opportunities to support the community by purchasing their handicrafts.
Accommodations at Ceiba Tops Lodge (B,L,D)
Sat., Oct. 26:
Canopy Walkway | Maijuna Indigenous Community
Today, we get an early start for a full day adventure along the Amazon and Napo Rivers. We board our speedboat and travel to the Napo-Sucusari Biological Reserve and the Maijuna Indigenous Community in Sucusari. The Maijuna land reserve encompasses over 390,000 hectares of rainforest spread between four Maijuna communities that oversee its conservation. We meet a Maijuna elder who shares his stories while leading us on a walk through their ancestral lands to the canopy walkway.

The suspended canopy walkway spans over 500 meters (one-third of a mile) across the rainforest, with connected platforms reaching a height of over 35 meters (115 feet) above the ground. The walkway provides a unique opportunity to easily access a perspective of the rainforest rarely seen by people. There have been over 450 species recorded from the Canopy Walkway and we get a unique and otherwise not attainable perspective on this immensely biodiverse portion of the rainforest. We may see Greater Yellow-headed Vulture and Plumbeous Kite soaring overhead while White-necked Puffbird and White-fronted Nunlet perch on the branches, looking for insect prey. If we're lucky, a fruiting tree near the walkway may attract a huge variety of species for us to sort through. Highlights might include Gilded Barbet, Golden-collared Toucanet, Black-headed Parrot, Wire-tailed Manakin, and Spangled Cotinga. Hopefully, one of the mixed-species flocks that this area is known for passes through and filled with colorful tanagers, dacnises, and honeycreepers!

After lunch at the ExplorNapo Lodge, we spend time in the ReNuPeRu Ethnobotanical Garden, where over 240 species of plants are tended by a shaman and his assistants. Our guide translates as the shaman describes the medicinal and spiritual uses of these plants. We return to Ceiba Tops in time to enjoy the pool or hammocks before dinner.
Accommodations at Ceiba Tops Lodge (B,L,D)

Sun., Oct. 27:
Depart Ceiba Tops | Butterfly Garden | Embark La Perla
After breakfast we travel by speedboat back to Iquitos, making a stop en route to visit Morphosapi, a community butterfly garden managed by local families. We then reboard the speedboat and continue to Iquitos, where we meet our motorcoach to drive the 75 kms (2 hours) to the port of Nauta and embark on the riverboat La Perla, our home for the next six nights. As we settle into our cabins and take in the panoramic views from the observation deck, the ship begins navigating upriver toward the Marañon River (in Peru, the Amazon River above the junction with the Ucayali River is known as the Marañon).

The La Perla hosts just 28 guests in its 14 cabins, and we enjoy lovely rooms with plenty of space and fresh, bright interiors. The covered observation deck is perfect to relax in the shade, with chairs, tables, and even hammocks, while the other common spaces like the dining room and bar offer similar simple elegance.

During our river cruise, we explore the waterways and go ashore via the ship's small skiffs in the company of our expert naturalist guides, with excursions in the early morning and late afternoon. Small villages, home to local communities of "ribereños" (river people), dot the shoreline and channels weaving through island mazes provide close-up views of a variety of birds. We may find marsh birds such as Oriole Blackbird, Green Ibis, Yellow-headed Caracara, Black-capped Donacobius, Solitary Black Cacique, and White-headed Marsh-Tyrant. After relaxing lunches aboard, our guides provide enriching presentations and discussions on the areas we visit, local culture, and customs. The bartender demonstrates the best recipe for the iconic Peruvian cocktail — the pisco sour — and there is ample time to refresh, relax, and take in the scenery.

After sunset, we head out to search for nocturnal wildlife. We are likely to see various species of nighthawks, nightjars, and fishing bats as they come out to forage in the darkness. Enjoy a special welcome reception and dinner tonight aboard with live music from our ship's band.
Accommodations Aboard La Perla (B,L,D)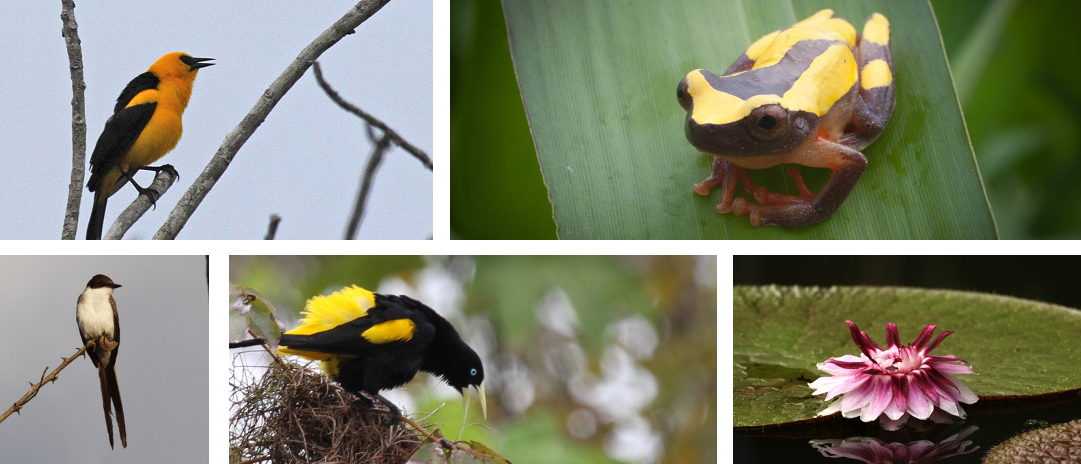 Mon., Oct. 28:
Pacaya-Samiria National Reserve
Those who rise early get to experience the amazing "dawn show" on the Amazon: raptors (Black-collared Hawk, Great Black Hawk, Yellow-headed and Black Caracaras), Russet-backed Oropendola, toucans, macaws, parrots, and parakeets galore. A lucky few may even spot a Bare-necked or Purple-throated Fruitcrow. We begin our discovery of Pacaya-Samiria National Reserve, one of the largest and most well-protected conservation areas in Peru. Renowned for its biodiversity, the forests remain flooded for much of the year and are most easily accessed by boat, as we do on this tour. Pacaya-Samiria is the known home to 450 bird species, 102 species of mammals, over 130 species of reptiles and amphibians, and countless plants. An excursion into this largest wetland reserve in the world provides the opportunity to see 13 species of primates, including Monk Saki, Red Howler, Saddle-backed Tamarin, and Squirrel Monkey.

Our wildlife observations may also include Amazonian Umbrellabird, Scarlet-crowned Barbet, macaws, sloths, monkeys, toucans, trogons, quetzals, parrots, and more. We have a special picnic breakfast on the Yanayacu River in Pucate, one of the best protected and preserved areas of the Pacaya-Samiria National Reserve. This area is often visited by Gray River and Amazon River (pink) dolphins which sometimes cavort near the boat or along the shoreline. Then we board local canoes and paddle through one of the most beautiful aquatic ecosystems in the world. You may want to take a refreshing dip in the river. Back on board the ship, lunch is served in the dining room. Afterwards, join our guides for a presentation on Amazon philosophy.

Go ashore this afternoon for a meeting with a shaman—a wise woman from the San Regis community who, with translation by our guides, shares her knowledge about ancestral rituals, medicinal plants, and the Amazonian perspective, providing an opportunity for reflection and spiritual exploration. We end with a tree planting ceremony, our contribution to the local environment.

Back aboard the riverboat, enjoy live music before dinner, then enjoy the sounds of the Amazon rainforest that surround us in the night.
Accommodations Aboard La Perla (B,L,D)

Tues., Oct. 29:
Small Boat Excursions | Jungle Walk | Piranha Fishing
Before breakfast, we take our small boats through Iquitos Brook, a privileged area for sighting numerous species that are hard to find elsewhere, such as Bluish-fronted Jacamar, Dusky-billed Parrotlet, Bluish-slate Antshrike, and Hauxwell's Thrush. Afterward, a buffet breakfast is served on board. On our morning jungle walk, we keep our eyes peeled for Rufous-breasted, White-bearded, Great-billed, and Reddish Hermits and other hummingbirds that collect nectar from the exquisite, huge flowers of the towering Heliconia rostrata, or "false bird of paradise."

Lunch and mid-day relaxation aboard. This afternoon, we take our small boats to the Shiriyacu stream. For those interested in something different, our guides find the perfect location for piranha fishing, using local equipment and techniques. Piranha are very common in the slower-moving water. With luck, we may catch red-breasted, white, or black piranha, and feast on our catch this evening at dinner!
Accommodations Aboard La Perla (B,L,D)

Wed., Oct. 30:
Gasparito Brook Birding | Yacapana Creek
We enjoy an early morning boat excursion towards Gasparito Brook, a very popular area for bird and primate watching. We look for wading birds such as herons, Azure Gallinule, Wattled Jacana, Black-banded Crake, and Horned Screamer. After breakfast, our small boats take us to Marayali Lagoon, where we observe wildlife and giant waterlilies, the largest aquatic plants on the planet. Return to the ship for lunch on board and time to relax. In the afternoon, our small boats explore Yacapana Creek in search of new imposing landscapes and more emblematic species of the Amazon, such as Muscovy Duck, White-eyed Parakeet, Pale-legged Hornero, and Silvered Antbird. As we head back to the riverboat, enjoy the wonderful light and the incomparable colors that unfold in the sky during sunset. Few experiences compare to contemplating the endless colors on the Amazonian horizon, as night falls and the prodigious symphony of the forest envelopes us.

Enjoy a tranquil evening aboard with live music and delicious cuisine.
Accommodations Aboard La Perla (B,L,D)

Thurs., Oct. 31:
Ucayali & Yarapa Rivers | Vista Alegre Community
At dawn, we board the skiffs and glide along the banks of the Ucayali River to observe Canary-winged Parakeet and spectacular Blue-and-Yellow and Scarlet Macaws that fill the dense treetops, a true spectacle of color and life in the heart of the forest. Primates are also fairly common, including noisy Squirrel Monkey. Following breakfast, our small boats explore through the black waters of the Yarapa River, where we search for toucans, aracaris, Short-tailed, Mealy, and Orange-winged Parrots, parrotlets, Purple-throated Fruitcrow, iguanas, sloths, and monkeys high up in the trees. The riverside vegetation might harbor caciques, Red-capped Cardinal, Red-and-white Spinetail, and maybe tanagers such as Paradise, Turquoise, or Green-and-gold.

After a delicious lunch on board and siesta, our guides present a discussion on local Amazonian culture prior to this afternoon's visit to the town of Vista Alegre, where our guides facilitate conversations with members of the community to learn about their daily life and local traditions.

Back on board, we enjoy live music and entertainment by the crew along with a delicious dinner.
Accommodations Aboard La Perla (B,L,D)

Fri., Nov. 1:
Amazon River
Today we arrive at the place where the Amazon River forms; the confluence of the Marañón and Ucayali rivers, where the Amazon River is born. Amazingly, we are about 2,400 miles from where the river flows into the Atlantic. The river drops only about 350 feet the entire way! Before returning to La Perla, we explore the Piraña Cocha area, looking for more wildlife. A Ccocha is an oxbow lake where a former river channel has been cut off from the mainstem—these lakes harbor unique species of plants and animals; we look for Sungrebe, terns, Black Skimmer, kingfishers, parrots, and parakeets. The forest alongside the cocha may harbor Long-billed Woodcreeper, Castelnau's Antshrike, Spotted Tody-Flycatcher, and Hooded and Orange-headed Tanagers.

After lunch we have our final adventure: a walk through the winding jungle trails where we search for poisonous frogs and countless exotic animal species. In this area we also observe a variety of giant trees known by the locals as "avatar." We have opportunities to support the local economy by purchasing handicrafts made by the women of the community.

We'll raise a toast to our final majestic Amazon sunset and enjoy a farewell celebration dinner on board.
Accommodations Aboard La Perla (B,L,D)
Sat., Nov. 2:
Disembark | Fly to Lima | Departures
After breakfast on board, we arrive at the port city of Nauta, and have time for an early morning visit to the city market before we disembark and drive to Iquitos Airport for the flight to Lima. Please schedule your flight from Lima to the US to depart after 8:00 PM tonight from Jorge Chávez International Airport (LIM). (B)

Please Note: Due to the ever-changing nature of the rainforest and conditions beyond our control, day-by-day activities are subject to weather, trail, or river conditions on the day of operation. First and last day schedules may be adjusted to accommodate flight arrival/departure times.

Cost of the Journey
The cost of the tour ranges from $TBD – $TBD per person, double occupancy based on cabin type. Single occupancy is available on a limited basis at $TBD for a Standard room and $TBD for an Amazon View cabin. Tour price includes 10 nights' accommodations, all meals as noted in the itinerary, land and boat transportation during the journey, domestic airfare (Lima-Iquitos-Lima), professional guide services, park and other entrance fees, and miscellaneous program expenses.
Tour cost does not include personal expenses such as laundry, telephone, drinks from the bar, and gratuities for luggage handling or other services. This cruise is in high demand with very limited space on the boat. Payments are due in full at 120 days before departure.
Cabin Prices Observation Deck (Top Deck) — Superior Cabin Double: $TBD Per Person Upper Deck (Middle Deck) — Standard Cabin Double: $TBD Per Person — Standard Cabin Single: $TBD — Amazon View Cabin Double: $TBD Per Person — Amazon View Cabin Single: $TBD Lower Deck — Superior Cabin Double: $TBD Per Person
Please note: Cruise payments are subject to the terms and conditions of the cruise company, Conservancy Travel, we contract with and may be fully non-refundable. These terms and conditions are primary over those of Naturalist Journeys.
Naturalist Journeys' Added Value: Why cruise with Naturalist Journeys? First and foremost, it doesn't cost you more to cruise with us. You pay the same rate you would if you booked directly through the operator. That's where the perks come in! When you book with Naturalist Journeys, you're part of a group. We send a leader with you who adds excellent hosting and interpretation skills, and facilitates group interaction. We also send you a species list and trip report once the trip is over. So really, you get the benefit of a small-group guide without the added cost!
Travel Details
Please plan to make air travel plans only after the minimum group size has been met. We will send you a confirmation email as soon as the trip has been confirmed.
Arrival: October 23, 2024
Arrival Airport: Lima, Peru (LIM) at leisure
Departure: November 2, 2024
Departure Airport: Lima, Peru (LIM) Evening flights out after 8:30 PM. Most carriers depart around mid-night; if yours is a morning choice plan to overnight and go out the next day. We fly back from Iquitos to Lima this day from the cruise to connect to evening flights onward.

VISAS: A tourist Visa is required for Peru but is free and can currently be completed at the Port of Entry.

Travel Tips: The Costa del Sol at the Lima Peru is a modern and very comfortable choice right there at the airport for early arrivals. It is easy to book online, send us your confirmation number and we'll be sure to send that with our tour room list. Remember if your flight arrives at dawn, and you want to get into a room (normal check in time is 2:00 PM), you need to book the night before. Lima has many fascinating museums and delightful parks and neighborhoods to explore if you enjoy city time at your leisure. There are numerous boutique hotels in the city.
Items of Note
Wyndham Costa Del Sol Lima Airport
Located within Jorge Chávez International Airport, the Hotel Costa del Sol serves as a convenient stopover, with a walkway directly connecting the airport terminal to the hotel entrance. The hotel features a restaurant, lounge, indoor pool, 24-hour fitness facilities, Jacuzzi, sauna and steam room, and massage. Rooms are available either nightly or hourly, if needed, to recharge during a long layover of before late international flights.

Ceiba Tops Lodge
Situated 25 miles downstream from Iquitos on the banks of the Amazon River, the rustic, comfortable lodge is set amongst delightful gardens and pathways. The lodge features bungalow-style, air-conditioned accommodations with two twin beds that can be made up as one large bed. Buffet style meals are served in a large, screened, river-view dining room. The full bar with lounge areas invite guest to relax in local ambiance. Hammocks and an outdoor swimming pool provide ample relaxation opportunities. Walking trails and discoveries along the river by boat are led by excellent naturalist guides.

Riverboat La Perla
La Perla's 14 cabins blend modern amenities and traditional Amazonian style and feature a panoramic window. Each cabin has air conditioning, desk, closet, a chest with drawers, hair-dryer, toiletries, private bathroom with shower, 24-hour hot water, and smoke detectors. Meals aboard La Perla are a combination of traditional and international cuisine created with locally sourced ingredients. Breakfast, lunch, and dinner are served buffet style. Most special diets can be accommodated with advance notice. Rubber boots and ponchos are provided on board the ship.

Standard cabins: 151 sq. ft. with two twin beds convertible into king bed.
Amazon View cabins: 151 sq. ft. One cabin with one double bed; one cabin with one king bed; access to shared balcony.
Superior cabins: 215 sq. ft. with two twins beds convertible into king bed.

Browse below for trip reports and species lists from past versions of this and other tours from this destination.
Amazon
August 2012
March 2015
March 2016
March 2017
November 2018
November 2021
November 2023
Essential Information +
Pace & Protocols +
Packing List +
Suggested Reading List +
Useful Links +
Photo credits: Banner: Hoatzin by Greg Smith; Three-toed Sloth by Howard Topoff; Red-capped Cardinal by Peg Abbott; Ladder-tailed Nightjar by Peg Abbott; Cream-colored Woodpecker by Peg Abbott; Exploring the Amazon by Peg Abbott; Exploring the Amazon by Peg Abbott; Red Howler Monkey by Howard Topoff; Blue-and-Yellow Macaw by Peg Abbott; Monk Saki by Peg Abbott; Kayaking by Peg Abbott; Hoatzin on Nest, Naturalist Journeys Stock; Oropendola Colony, Naturalist Journeys Stock; Black-capped Donacobius by Peg Abbott; Blue-and-yellow Macaw, Peg Abbott; Poison Dart Frog, International Expeditions; Village Children, International Expeditions; Three-toed Sloth, Howard Topoff; Great Black Hawk, Carlos Sanchez; Kayaking with Egrets, International Expeditions; Oriole Blackbird, Peg Abbott; Clown Tree Frog, International Expeditions; Fork-tailed Flycatcher, Peg Abbott; Yellow-rumped Cacique, Peg Abbott; Amazonica Water Lily, International Expeditions; Red-capped Cardinal, Peg Abbott; Squirrel Monkey, International Expeditions; Capped Heron, Peg Abbott; Sunset on the River, International Expeditions; Wooly Monkey, International Expeditions; Excursion Boat, International Expeditions; Jabiru, Peg Abbott; Machu Picchu with Rainbows, Naturalist Journeys Stock; Machu Picchu Scenic, Bob Hill; Paso Finos and Riders, Bob Hill; Orchid, Bob Hill; Orchid, Bob Hill; Andean Cock-of-the-rock, Greg Smith; Machu Picchu Pueblo Hotel, International Expeditions; Sunset, Lynn Tennefoss; Head-dress model, Lynn Tennefoss; Local Woman, Lynn Tennefoss; Black-collared Hawk, Peg Abbott; Black-fronted Nunbird, Peg Abbott; Blue-yellow Macaws, Peg Abbott; Chestnut-eared Aracari, Peg Abbott; Horned Screamer, Peg Abbott; White-eared Jacamar, Peg Abbott; Yellow-rumped Cacique, Peg Abbott.