Trinidad is a magical place to spend the holidays, and what could be a better base than the venerable Asa Wright Nature Centre and Lodge, a 200-acre wildlife sanctuary in Trinidad's rainforested Northern Range. The Centre has a 50+ year legacy of research and conservation that continues today. After a two-year closure during the pandemic we are thrilled to return. The Centre is a place you can readily soak in the ambiance of lush montane forests over your morning coffee or afternoon rum punch or tea. And, while you're there, why not add three nights on Tobago to feel inspired by classic Caribbean scenery, wonderful birding, and a chance to see seabirds nesting on Little Tobago island.

Our special Christmas tour is set at a relaxing pace to which you can add field trips if you wish. Without getting in a vehicle you can surround yourself in tropical wonder. Walk the Centre trails and watch a rainbow of birds from the famous verandah. Photographers delight in beautiful images of the varied and colorful species at close range including honeycreepers and hummingbirds. We include three of our most popular outings, of course watching Scarlet Ibis come in to roost in Caroni National Park—a show of red and green, perfect for the season. Walk to the Dunstan Oilbird Cave, and bird your way up the Blanchisseuse Road to Brasso Seco Village for lunch and to sample some scrumptious local chocolate. This is birding at its best, punctuated by special meals, camaraderie, and fun at a special time of year.
Tour Highlights
Experience outstanding birding from cozy cottages used as our base for exploring the mountains, savannah, and mangroves of Central Trinidad
Enjoy big vistas up in the mountains of Trinidad's Northern Range
Bird in varied habitats from savannah to mangroves, lowland forest to mountain terrain
Dine in a local village known for making quality chocolates and great birding
Discover intimate views and potential photos of birds at gardens in selected lunch stops, with brilliantly colored hummingbirds, honeycreepers, tanagers, toucans, and more
Witness skies turned crimson with thousands of Scarlet Ibis coming in to roost in Caroni National Park as you glide through mangroves on a quiet boat ride
Find the tiny Tufted Coquette and up to 14 other species of hummingbirds
Add the three-night Tobago extension at the delightful Cuffie River Nature Retreat to explore the world's oldest protected forest, cruise in a glass-bottomed boat for seabirds and marine life, and see a different, more Caribbean suite of birds.
Trip Itinerary
Itineraries are guidelines; variations in itinerary may occur to account for weather, road conditions, closures, etc. and to maximize your experience.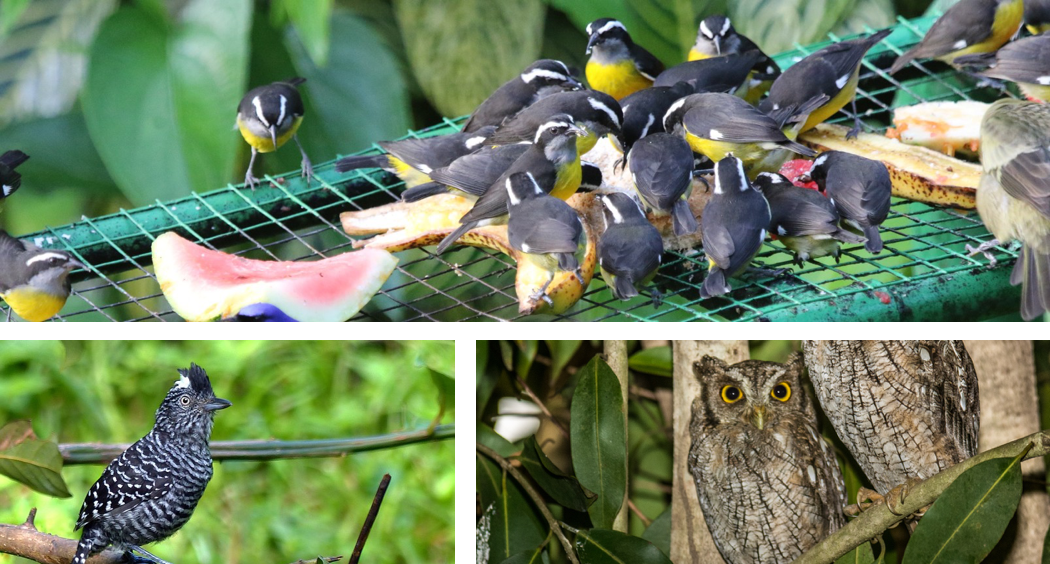 Sat., Dec. 21:
Arrival & Welcome to the Asa Wright Nature Centre
Our guides meet all flights arriving at Trinidad's Piarco International Airport in Port of Spain. Expect a warm greeting at the Centre, where the colors of the birds rival decorations for the holiday, and hospitality is shared to make you feel welcome. Coffee and tea is served at 4:00 PM, Rum Punch at 6:00 PM, both accompanied by one of the most amazing bird shows of any eco-lodge in the world! Share dinner with other tour participants and guests staying at the Lodge in the Centre's cozy dining room.

In the evening, we walk the Centre's driveway though lush overhanging forest, listening to night sounds and with luck, the call of Tropical Screech Owl. If your flight arrives late in the evening, you may wish to come in the day before so as not to miss anything. Or, despite the late hour, come on up and get settled, knowing you will wake up to the birds!
Accommodations at the Asa Wright Nature Centre (AWNC) (D)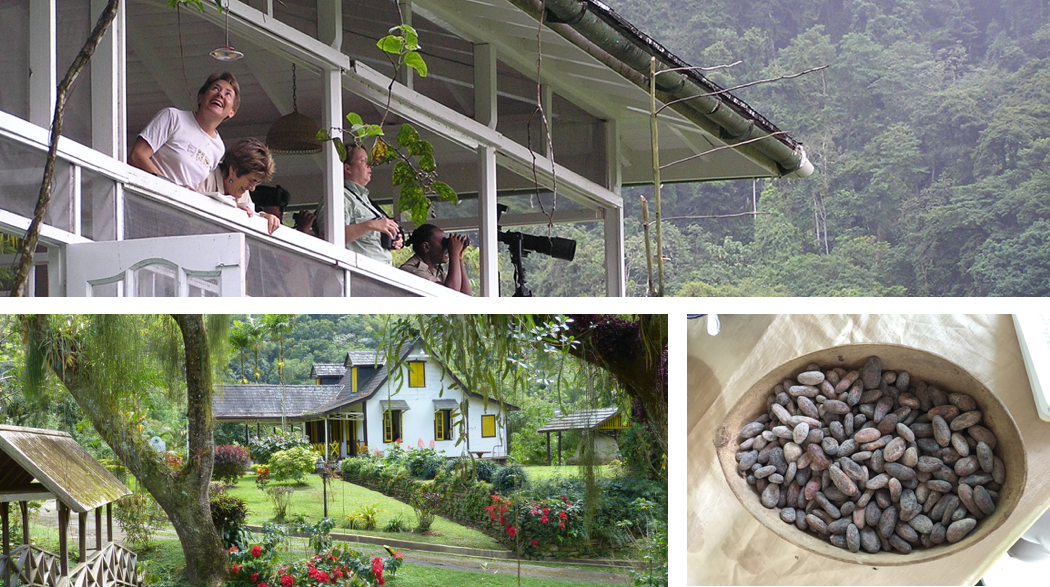 Sun., Dec. 22:
Forty Species Before Breakfast | Birding the Northern Range from Blanchisseuse Road | Brasso Seco
Morning begins with the raucous noise of the Crested Oropendola and a host of other exotic sounds. A first-time visitor might see 20 – 30 life birds among the 40 or more species often seen before breakfast! Treasure the rainbow of color at arm's length as honeycreepers and hummingbirds come in to feed.

Today's scenic, day-long excursion takes us high into the Northern Range on the Blanchisseuse Road. We make frequent birding stops and then enjoy a local lunch and cacao demonstration in picturesque Brasso Seco. We then continue through the mountains to the village of Morne la Croix for afternoon tea and cakes (yum!) as we enjoy watching parrots head in to roost.

Today also offers the opportunity to examine the strange world of leaf-cutter and army ants, as well as the chance to photograph butterflies, orchids, and other tropical flora.
Accommodations at AWNC (B,L,D)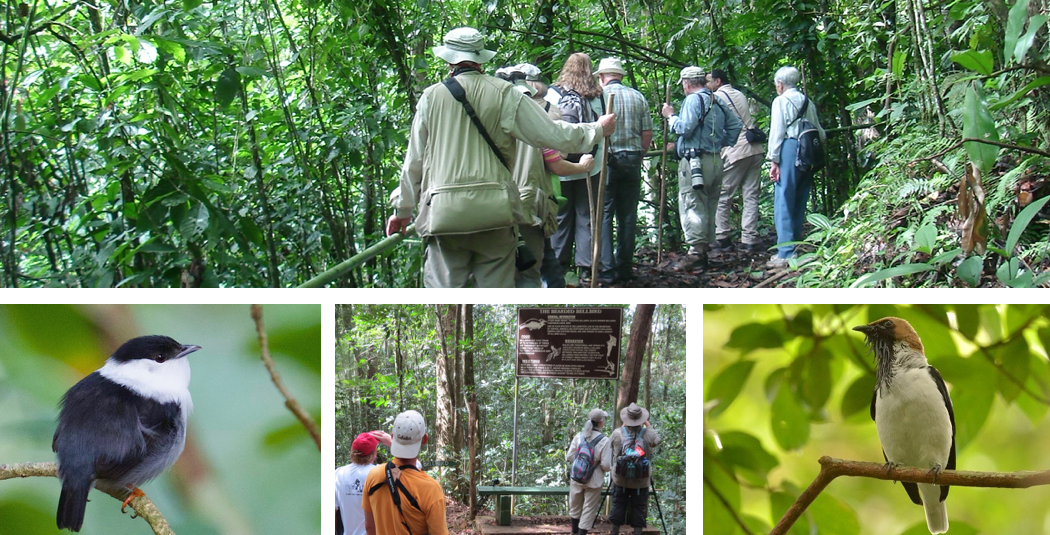 Mon., Dec. 23:
Oilbirds | Exploring Centre Trails
After breakfast, we visit Dunstan Cave, one of Trinidad's major colony sites for Oilbirds, a unique species in that it is a nocturnal, fruit-eating bird. This colony has been monitored for many years. Enjoy a chance to learn about their ecology and conservation. The trail to the cave is steep in some locations, so wear secure footwear especially in wet conditions. We take it at a birder's pace and if you are not up to it, feel free to enjoy free time on the verandah or grounds at your leisure.

The Centre is situated in a typical valley of Trinidad's Northern Range. These sites have been traditional centers of coffee, cocoa, and citrus plantations and many of these plants are still maintained at the Centre. Natural second-growth has taken over and festooned the abandoned plantation vegetation with vines and a host of epiphytes. The whole effect is one of being deep in a tropical rainforest.

The afternoon today is free to allow you to relax or enjoy the trails on an afternoon walk if you like. Choose one of several trails that traverse this rich and diverse wildlife sanctuary with a chance to see species as Guianan Trogon, Channel-billed Toucan, Chestnut Woodpecker, White-bearded Manakin, Rufous-browed Peppershrike, and Turquoise and Bay-headed Tanagers. Or, take a dip in the natural swimming hole on one of the trails decorated year-round by ferns and tropical plants of the wild.

Birds and people both gather in time for the 4:00 PM tea (and cakes). Birding from the verandah of the Asa Wright Nature Centre as the day winds down is one of the world's most pleasant and exciting ornithological experiences. Ruby-topaz Hummingbird, Tufted Coquette, Barred Antshrike, Green Honeycreeper, and Bare-eye Thrush are among the many species that are seen. Golden Tegu Lizard and Agouti are busy below the verandah. 6:00 PM rum punch is next on the list.
Accommodations at AWNC (B,L,D)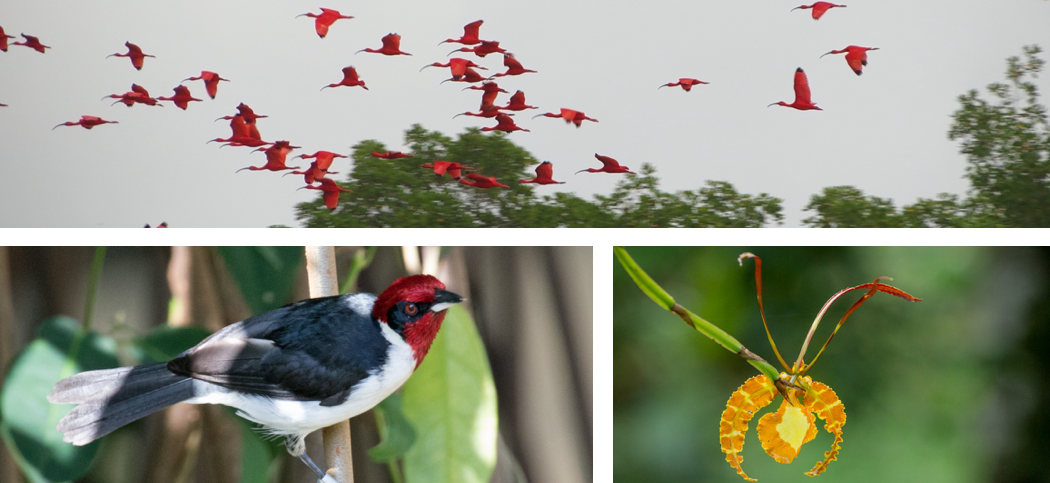 Tues., Dec. 24 :
Caroni Marsh & the Spectacle of Scarlet Ibis
What better way to celebrate the holiday than the vivid show of rich magenta displayed on the wings of thousands of Scarlet Ibis coming in to roost! The Scarlet Ibis was recently portrayed on the cover of a book about the world's most remarkable birds. This field trip has long been a highlight of Trinidad's many wonders.

We board a small boat, reserved for our group, to explore a very specialized mangrove forest that contains several genera and species of mangroves, showing classic examples of plant adaptation in this unique brackish water community. We seek out some of its more specialized denizens — Neotropical Cormorant, Anhinga, Striated Heron, White-cheeked Pintail, Large-billed Tern, Pied Water-tyrant, Bicolored Conebill, and Red-capped Cardinal. Our day ends with the spectacular flight of Scarlet Ibis returning to their mangrove roosts at dusk, truly one of the world's most dramatic natural moments.

We bring the rum punch along to celebrate, and as we return to the boat dock we search the mangrove-lined channels for the mysterious sounding Common Potoo. Return to the Centre for dinner a bit later this evening, still aglow from your fabulous sightings.
Accommodations at AWNC (B,L,D)
Wed., Dec. 25 :
Christmas at Asa Wright Nature Centre
Trinidad is one of the most multi-cultural nations in the world, and one of their secrets to getting along is to jump in and celebrate ALL the holidays. There are lights on homes of Hindus, music and song in the streets, and on this day, family feasting. All of this and you can wake up to watch colorful birds, agoutis, and huge tegu lizards!

We spend the morning enjoying gifts from nature, watching and tallying up species that we see from the verandah. Lunch is often the big meal of the day and its sure to be wonderful!

In the afternoon, fueled by a delicious Christmas lunch, we walk leisurely out the driveway to the entrance, an excellent route for spotting birds in trees that arch overhead. More adventurous walkers may want to return via one of the forest loop trails.

Enjoy rum punch and relax in the late afternoon on the beautiful verandah as the birds come to you. Finding butterflies in December reminds you that you are in the tropics.

A special place to enjoy Christmas day with nature and none of the commercial hype!
Accommodations at AWNC (B,L,D)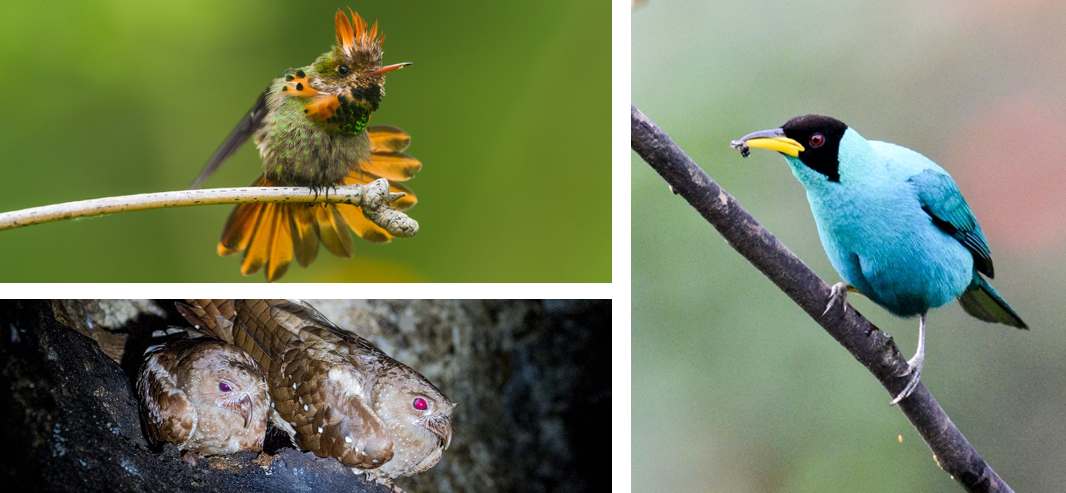 Thurs., Dec. 26 :
Full Day at the Centre | Optional Field Trip
Today is a perfect day to do what many long to do, spend a full uncharted day at the Centre! Photograph to your heart's delight, walk with a naturalist to learn more about butterflies and tropical plants, log more tropical species from the verandah, sit quietly among a chorus of Bearded Bellbird on the Discovery Trail, and watch manakins dance on their leks. The Centre holds many treasures that take time to observe and today is the perfect time to do just that.

Optional: Full Day Nariva Swamp Excursion
This field trip is a chance to see more of the country and the special birds of Trinidad's East Coast and the Nariva Swamp, the largest freshwater herbaceous swamp on the island. This field trip starts with a stop in the morning in the lowlands where may find White-headed Marsh-Tyrant, Pied Water-Tyrant, Savanna Hawk, Bat Falcon, Red-breasted Blackbird, Southern Lapwing, and possibly a flock of Green-rumped Parrotlet.

The east side of Trinidad hosts an ecosystem very different from that of Caroni on the west side. Here, where the Nariva River reaches the sea, freshwater environments are comprised of herbaceous swamp and swamp forest, dotted with a few patches of mangroves such as the area around Bush Bush Creek. Along the edges are "palm islands," where the tall Moriche Palm is common. Here too we see a unique mangrove community, made up primarily of the stilt-rooted rhizophora mangrove, which often reaches a height of 80 feet. Limpkin, American Pygmy and Green Kingfishers, Black-crested Antshrike, Green-throated Mango, and a mix of other species can be found.

We pass Manzanilla Beach with its swimming beaches and picnic pavilions, and south of here travel through long lines of coconut trees, often with Yellow-headed Caracara or possible Pearl Kite perched in them. A mangrove area nearby can prove fruitful for the more elusive species such as Silvered Antbird, Bicolored Conebill, and Least Bittern. An expansive open area with small ponds and flooded fields known as the Melon Patch hosts Wattled Jacana, and possible (rare) Pinnated Bittern.

We join our comrades back at the Centre for a final dinner together, recounting highlights of our journey
Accommodations at AWNC (B,L,D)

Fri., Dec. 27 :
Departures or Stay on to Enjoy Tobago!
Depart at your leisure today, the Centre arranges airport transfers according to your flight time. If you have a late flight, enjoy the bonus of another day in birding paradise! (B)

Tobago Post-Tour Extension
Itineraries are guidelines; variations in itinerary may occur to account for weather, road conditions, closures, etc. and to maximize your experience.
Tobago Birds & Wildlife Extension at Cuffie River Nature Retreat
Adding this post-tour extension to Tobago does more than prolong your island time: Tobago is home to a different (more Caribbean) suite of birds. Based at the delightful Cuffie River Nature Retreat, which has its own birdy trail system, we find furtive montane species at the Main Ridge Forest Reserve, the world's oldest legally protected forest, take a short hop flight to Little Tobago, and cruise a seabird colony in a glass-bottomed boat — perfect for watching for turtles and other marine life. Add delightful local meals and poolside birding at our small ecolodge, and you won't want to miss the chance to add Tobago to your holiday week in Trinidad!
Fri., Dec. 27 :
A Short Flight | Cuffie River Nature Retreat
Or, better yet treat yourself to time on Tobago. We take you to the airport for a short (25 minute) scenic flight and voila, you land by turquoise-colored reefs and you feel those lovely ocean breezes. Our excellent naturalist and birding guide Jason Radix has set time aside for you and looks forward to showing you this truly spectacular island.

Our lodging is at one of our favorite eco-lodges anywhere on the planet, the delightful Cuffie River Nature Retreat. The rooms are spacious and cooled by natural breezes. Lush vegetation surrounds the place and a raised deck swimming pool is the perfect spot to unwind. Decks invite watching birds as do the very active feeders replete with hummingbirds, notably the large and beautiful near-endemic White-tailed Sabrewing, a species once thought extinct. Other common feeder species include Ruby Topaz Hummingbird, White-necked Jacobin, Bananaquit, Spectacled Thrush, and Barred Antshrike. A lodge naturalist helps you explore the grounds.

Cuffie River Nature Retreat is a small inn with just 11 rooms. Please ask the staff for any needs such as tea, beer, or wine, a pool towel, etc. Dinner is announced daily, usually at 7:30 PM. Food is local and specially prepared, so relax and enjoy this wonderful dining experience! Perhaps we see and hear a Common Potoo right outside the dining area as you linger over dessert.
Accommodations at Cuffie River Nature Retreat (L,D)
Sat., Dec. 28 :
Birding & Beauty on Tobago
In keeping with Tobago's laid-back vibe, today is easy-going. In the morning we explore a nature trail close to the lodge, walking from the entry with the lodge's expert guide, Desmond Wright. While we never move faster than a birder's pace, the trail is up and down small hills, so a walking stick may be handy. Bird highlights today can include Rufous-tailed Jacamar, White-tailed Sabrewing, Blue-backed Manakin, Yellow-legged Thrush, Rufous-vented Chachalaca, Ruby Topaz Hummingbird, Collared Trogon, Red-crowned Woodpecker, White-fringed Antwren, Orange-winged Parrot, Fuscous, Yellow-breasted, and Venezuelan Flycatchers, Caribbean Martin, Scrub Greenlet, and White-tailed Nightjar.

Return to the lodge for a delicious lunch and brief rest before traveling off site to Adventure Farm, a delight for birders and the culinary-inclined. The farm is a mix of varietal fruit trees rimmed by natural forest. Enjoy a winding trail through the property spending time at fruit and hummingbird feeders. Tropical Mockingbird provide a serenade. This location is a favorite for photographers.

Keep your binoculars handy as we may have time for some wetland birding stops. Walk around well-placed ponds that attract ducks and wading birds like Black-bellied Whistling Duck, Green and Tricolored Herons, White-cheeked Pintail, Least Grebe, Southern Lapwing, and Eared Dove, and possible Spectacled Caiman. We always add several species as we explore.

Be sure to be at a good viewpoint for sunset, as hordes of parrots, parrotlets, and noisy chachalacas fly here to roost—quite a spectacle! After dark, check the driveway's streetlight for night birds.
Accommodations at Cuffie River Nature Retreat (B,L,D)
Sun., Dec. 29:
Gilpin Trace on Tobago's Main Ridge Preserve | Little Tobago Island Boat Trip & Seabird Colony
We have an early breakfast and head out for our drive high into the mountains in the historic Tobago Main Ridge Forest Reserve, the world's oldest legally protected forest. Scientific American once said that "the protection of Tobago's Forest was the first act in the modern environmental movement." In 2022, UNESCO named much of Northeast Tobago part of a new Man and the Biosphere Reserve.

Tobago's montane forests are home to 210 species of birds. On a trail into the forested interior, we look for several elusive species, including White-tailed Sabrewing, a large hummingbird once thought to be extinct. We have chances for this near-endemic on our Main Ridge Forest Reserve trip, and even better chances at the feeders and flowers of our lodge, Cuffie River Nature Retreat.

We also seek out Blue-backed Manakin, Yellow-legged Thrush, and other Tobago specialties, including Red-crowned Woodpecker and White-fringed Antwren, as well as Trinidad Motmot, Collared Trogon, Yellow-legged Thrush, Red-crowned Woodpecker, Plain Antvireo, White-throated Spadebill, Olivaceous Woodcreeper, Stripe-breasted Spinetail, Golden-olive Woodpecker, Rufous-breasted Hermit, and Rufous-breasted Wren.

After a satisfying walk, we then travel through vibrantly colored hillside villages to the dock at Blue Waters Inn, where we board a glass-bottom boat for a pleasant cruise to Little Tobago Island. The island, one of the country's most significant wildlife sanctuaries, offers incredible views of plentiful and rare seabirds, both from the boat and by walking a trail up to a lookout point on the island, where Tropical Dry Forest occurs. Highlights include Brown Noddy, Red-billed Tropicbird, Red-footed and Brown Boobies, Sooty Tern, Chivi Vireo, Brown-crested Flycatcher, Pale-vented Pigeon, Roseate and Bridled Terns, Scaly-naped Pigeon, and Audubon's Shearwater sitting in its burrow (if we're lucky).

Leaving the island (if sea conditions are right), the captain takes time to look for colorful fish and possible Hawksbill Sea Turtle as we pass a former coral garden off Goat Island. The Atlantic side of the island has experienced extensive coral bleaching and while it's still excellent for divers, snorkeling is not what it once was.

After a long but fulfilling day, we head back to our delightful digs and another delicious meal at Cuffie River Nature Retreat. Tonight is our farewell dinner and we share highlights, favorite birds, and favorite moments of the journey.
Accommodations at Cuffie River Nature Retreat (B,L,D)
Mon., Dec. 30:
Departures
After a filling breakfast, bid farewell to Tobago. We arrange drivers for you to connect to the flight you schedule. International flights MUST be booked out today AFTER 10:00 AM. You need to leave time for the inter-island flight back to Port of Spain. Book the flight from Tobago to coordinate with your outbound International as soon as possible; the first flight out is typically 7:00 AM and they usually run about every hour. If you see an early morning International flight that you want, you can enjoy the day at our nature lodge, go back to an airport hotel (additional cost) in Port of Spain and fly out the next day. Regardless of when you go, you need time in Port of Spain to collect luggage and check in with your International carrier. The 10:00 AM rule is firm.

Your departure time is confirmed the night before with the front desk to arrange your return transfer. Late check-out may be available for you for an additional fee, to be arranged with the front desk at the time of your visit. Luggage can be stored if you plan activities ahead of later flights. (B)
Cost of the Journey
The cost of this journey is $TBD per person, from Port of Spain, departing Tobago Crown Point. Tour cost is based on double occupancy and includes all accommodations; meals as specified in the itinerary, group airport transfers, professional guide services, local park and other area entrance fees, and miscellaneous program expenses. The cost of the Tobago extension is $TBD. The deposit for this tour is $750 per person.
Cost does not include transportation to and from Trinidad or from Tobago (extension only), or items of a personal nature like laundry, telephone charges, porterage, maid gratuities, or beverages from the bar.
Travel Details
Please plan to make air travel plans only after the minimum group size has been met. We will send you a confirmation email as soon as the trip has been confirmed.
Please plan to arrive into Port of Spain's Piarco International Airport (POS) at your convenience on December 21 and please plan to depart at leisure on December 27. If you opt for the Tobago extension, we book your flight TO TOBAGO so that the group stays together; YOU need to book your flight home FROM TOBAGO. You may depart on a flight from Tobago to Port of Spain at your leisure on December 30. There is typically a 7:00 AM flight with subsequent flights every hour. You need to book your international flight from Port of Spain after 10:00 AM on December 30. The 10:00 AM rule is firm.
If you are planning on the taking the extension, most likely you will book a round trip ticket to POS, and then add a Caribbean Airlines segment from TAB to POS to meet up with it. Make sure to leave time to pick up your luggage from Tobago, then recheck it with your international carrier – best if you have two hours minimum for this as the only airline Caribbean Airlines will transfer luggage to is Caribbean Airlines. As the first flight leaves Tobago around 7:00 AM, we have the 10:00 AM rule in place for that reason. If you are on the late flights out, you can enjoy additional time to relax or bird on Tobago – our hotel can store luggage and provide meals for that time (additional cost for meals). Please check with us that the tour is confirmed before booking flights.
Browse below for trip reports and species lists from past versions of this and other tours from this destination.
Trinidad & Tobago
June 2011
December 2014
February 2015
March 2015
March 2017 (Trinidad Only)
January 2018
December 2018
January 2020
March 2020
December 2022
March 2023
April 2023
June 2023
Dave Mehlman

Dave is a naturalist with interests in birds, migration, ecosystems and natural disturbances, plants, and gardening. He holds a PhD from the University of New Mexico. Dave worked for The Nature Conservancy for 25+ years as Director of its Migratory Bird Program. He has researched in Latin American and the Caribbean. An avid birder, Dave enjoys teaching about natural habitats and local cultures. He has published papers in scientific and popular journals.

Other trips with Dave Mehlman
Essential Information +
Pace & Protocols +
Packing List +
Suggested Reading List +
Useful Links +
Photo credits: Banners: Channel-billed Toucan by Steve Wolfe; Long-billed Startthroat by Hugh Simmons Photography; Scarlet Peacock by Peg Abbott; Bananaquit Feeding Frenzy by Hugh Simmons Photography; Bearded Bellbird by Bob Rodrigues; Clear-winged Butterfly by Ray Mendez; Birding at Breakfast by Sandy Sorkin; Blue-chinned Sapphire by Steve Wolfe Bananaquit Breakfast, Sandy Sorkin (SS); Barred Antshrike, Kim Wright; Tropical Screech-Owl, MB; Birding from the Verandah, Peg Abbott (PA); Lopinot Valley, Mukesh Ramdass; Cacao Beans, Lynn Tennefoss; Exploring the Centre's Trails, Caligo Ventures Stock (CVS); White-bearded Manakin, Dave Ramdass; Birding at Bellbird Lek, DL; Bearded Bellbird, Bob Rodrigues; Tufted Coquette, RW; Oilbirds, Buck Snelson (BS); Green Honeycreeper, SS; Scarlet Ibis, DL; Red-capped Cardinal, CVS; Butterfly Orchid, BS; Red Howler Monkeys, HT; Yellow-rumped Cacique, Mike Boyce (MB); White-headed Marsh-Tyrant, SS; Ruby-spotted Swallowtail, CVS; Blue-and-yellow Macaw, PA; Barred Antshrike, Doug Greenberg; AWNC, Mike Boyce; Bananaquit, Doug Greenberg; Bearded Bellbird, Doug Greenberg; Crested Oropendula, Doug Greenberg; Navigating the swamp, Doug Greenberg; Oilbird, Doug Greenberg; Green Honeycreeper, Doug Greenberg.