Join Naturalist Journeys on this exciting tour to Trinidad. June is a fabulous time to witness the richness of life and all its complexities on this Trinidad nature tour, a fast and fun study of tropical biology and ecology. In addition to Trinidad's famed rainbow of birds, June's cool rains bring out a kaleidoscope of life, from land crabs to katydids to Tegu lizards and more. Ph.D. biologists, Carol Simon and Howard Topoff, lead this tour and are known for making learning fun. Imagine this as a tropical ecology course with no exams!

The continental origin and proximity of Trinidad to South America, along with its varied habitats, results in an extremely diverse biota. Dominated by the beautiful Northern Range, which rises to about 3,000 feet and was historically covered by tropical rainforest, the island is just 50 miles long and about 37 miles wide, yet boasts 97 native mammals, 400 birds, 55 reptiles, 25 amphibians, and 617 butterflies, as well as over 2,200 species of flowering plants. No other area in the West Indies, and few areas of comparable size in tropical America, match this incredible species diversity.

Dive in to your tropical forest experience at the famous Asa Wright Nature Centre (AWNC) in the Northern Range. Although world famous for its bird-watching opportunities, AWNC offers so much more for the wildlife-interested traveler. This journey also enjoys time in Grand Riviere, the stronghold for rare Trinidad Piping-Guan and Leatherback Turtle nesting. Carol and Howard present on topics that include primates, bats, social insect systems, reptiles, plants, and more. Gain new skills as you are introduced to many smaller-winged creatures, and even a few that crawl.

This tour is the perfect opportunity to immerse yourself in tropical biodiversity as you watch the rainforest come to life on day and night excursions. Carol and Howard spend their time touring the world, sharing their knowledge on cruises and land excursions. We are so thrilled they can be with us this week!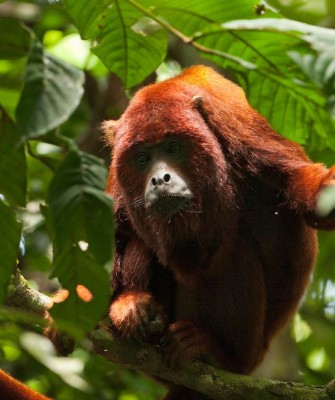 Tour Highlights
Enjoy morning coffee and incredible birding on the Asa Wright Nature Centre's famed verandah
Discover the Centre's trails to witness manakin and bellbird leks, army ants, tarantulas, native mammals, and more
Gain exclusive access to enigmatic Oilbirds in the AWNC's own grotto of Dunston Cave
Experience skies turned crimson with thousands of Scarlet Ibis coming in to roost in Caroni National Park
Search for the highly endangered Trinidad Piping-Guan while at Grande Riviere
Witness the largest sea turtle, the Leatherback, nesting on the beach and possibly see emerging hatchlings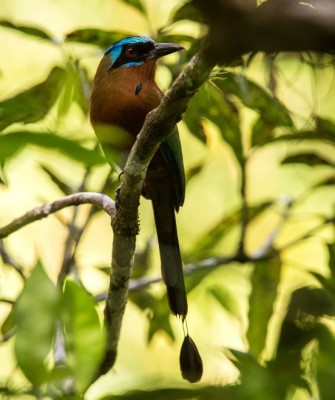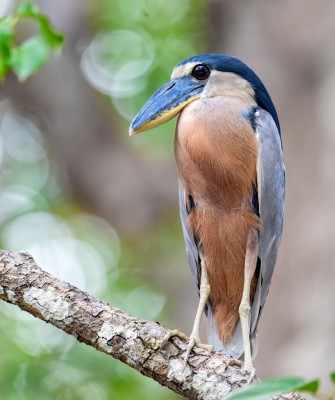 Ruby Topaz Hummingbird



Green-backed Trogon by Scott Page



Group at Asa Wright Nature Center by Dave Mehlman



Tayra



Barred Antshrike



Ocelot



Group in Trinidad Sheri Williamson



White-tailed Sabrewing by Scott Page



Agouti



Green Anaconda



Channel-billed Toucan by Peg Abbott


Travel Details
Please plan to make air travel plans only after the minimum group size has been met. We will send you a confirmation email as soon as the trip has been confirmed.
More details to come!
Browse below for trip reports and species lists from past versions of this and other tours from this destination.
Trinidad & Tobago
June 2011
December 2014
February 2015
March 2015
March 2017 (Trinidad Only)
January 2018
December 2018
January 2020
March 2020
December 2022
March 2023
April 2023
June 2023
Drs. Howard Topoff & Carol Simon

Drs. Howard Topoff and Carol Simon have been study leaders on natural history trips for over 30 years. Both are formerly professors at the City University of New York and Research Associates at the American Museum of Natural History. Howard Topoff has spent 40+ years researching the social behavior of animals. His field research has been conducted in Central and South America, Africa, and in the deserts and mountains of Arizona. In addition to his publications in scientific journals, his more popular articles have appeared in magazines such as Scientific American and Natural History. His research has been featured on National Geographic Television, and Scientific American Frontiers. Carol Simon is broadly trained in ecology, behavior and evolution. Her research on the social behavior of reptiles has taken her to many areas of North and Central America. Her current field research on reptile behavior is based in the Chiricahua Mountains of Arizona. As an added bonus, Carol and Howard provide multimedia presentations that provide in-depth insights into the natural history of the regions visited.

Other trips with Drs. Howard Topoff & Carol Simon
Essential Information +
Pace & Protocols +
Packing List +
Suggested Reading List +
Useful Links +
Photo credits: Banners: Green Honeycreeper (NJ Stock), Scarlet Ibis (Hugh Simmons), Group at Asa Wright (Hugh Simmons), Purple Gallinule (NJ Stock), Red Howler Monkey (Mukesh Ramdass), Trinidad Motmot (NJ Stock), Asa Wright Nature Center (Hugh Simmons), Thumbnails: Channel-billed Toucan (Peg Abbott), Red Howler Monkey (NJ Stock), Blue-and-Yellow Macaw (NJ Stock), Malachite Butterfly (NJ Stock), Southern Anteater (NJ Stock), Trinidad Motmot (NJ Stock), Tufted Coquette (NJ Stock), Boat-billed Heron (NJ Stock)