Join us in January for an Arizona birding and nature tour, a gorgeous time to explore Arizona's saguaro deserts. Temperatures are typically perfect and light is ideal for photography. Birds abound as wintering species arrive to join residents such as Greater Roadrunner, Vermilion Flycatcher, Verdin, Gambel's Quail, Pyrrhuloxia, and Phainopepla. Every year rarities occur in Tucson's tree-lined parks or outlying pecan groves where in many years Lewis' Woodpecker can be found.

This Arizona birding tour starts and ends in Tucson, a delightful, multicultural city recognized for its local cuisine. Indulge in warm desert days among saguaros as we walk trails in Saguaro National and Catalina State Parks with fine views of the surrounding Sky Island Mountain ranges. Visit desert botanical gardens that hummingbirds frequent and the famed Sonoran Desert Museum. Northwest of the city, visit Santa Cruz Flats, where big agricultural fields create a winter birding hotspot with habitats ranging from turf farms to ponds and fields. We search for Yellow-headed Blackbird, Ferruginous Hawk, and Crested Caracara. One section of the flats is a reliable spot to find three species of thrashers: Curve-billed, Bendire's, and with some luck, Le Conte's.

Enjoy three nights in Tucson on this Southeast Arizona birding tour followed by two nights along the Santa Cruz River south of the city in view of the Santa Rita Mountains. At Madera and Montosa Canyons, Elegant Trogon may overwinter, feeding on fruits and on warm days, large insects. Trails near the artisan town of Tubac are ideal for natural history exploring. This tour make a nice short getaway, or pairs perfectly with our Arizona Fall Sampler that ventures to Patagonia, the Huachuca Mountains near Sierra Vista, the San Pedro River, and Sulphur Springs Valley.
Tour Highlights
Explore stunning Saguaro National Park, where, on quiet roads and trails through dramatic cactus forests, we seek out Gilded Flicker, Gila Woodpecker, Gambel's Quail, Harris's Hawk, and other desert-associated species
Learn about the geology and biodiversity of the saguaro desert while soaking in some southwestern sunshine
Tally sightings of raptors, hummingbirds, wintering sparrows, and longspurs and desert mammals such as Javelina and Black-tailed Jackrabbit
Dine in fun, local restaurants that feature a mix of borderland and bistro-style international cuisine
Enjoy photography—our guides lend tips as we travel and site various birds and wildlife
Seek out that elusive Le Conte's Thrasher!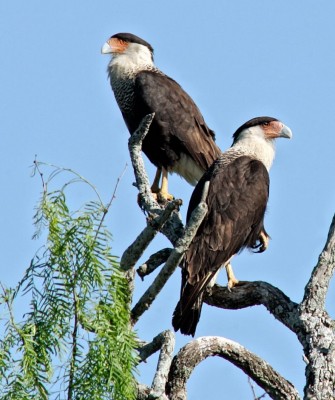 Trip Itinerary
Itineraries are guidelines; variations in itinerary may occur to account for weather, road conditions, closures, etc. and to maximize your experience.
Wed., Jan. 10 :
Arrive in Tucson | Arizona-Sonoran Desert Museum | Local Cuisine
Tucson is surrounded by picturesque mountains. After a mid-day meet-up at the airport, we wind through them to visit the world renowned Arizona-Sonoran Desert Museum, a wonderful introduction to the rich natural history of the area. Its aviary lets you see species up close and personal, and mammals are displayed in open-air habitat zones with plants of the region. Wild species, such as Costa's and Anna's Hummingbirds, are attracted to the lush vegetation, so have your binoculars handy! There should be shrubs still in bloom and butterflies feeding at them as well.

Following our visit to the museum, we take a scenic drive to our hotel over Gate's Pass to check into our lodgings in the northwestern corner of Tucson and enjoy dinner at a nearby favorite local restaurant.
Accommodations at La Posada, Tucson (D)

Thurs., Jan. 11 :
Birding Tucson | Tohono Chul Park | Saguaro NP West | Tucson Mountain Park
This morning we start out at a delightful botanic garden not far from our hotel. Tohono Chul has an excellent café where we enjoy brunch with the hummingbirds and a walk to see what plants are still in bloom and birds and butterflies attracted to them.

We then head west to bird at the Sweetwater Wetlands, one of Tucson's many birding hotspots. Harris's Hawk rest in tall eucalyptus trees, while Song Sparrow and Abert's Towhee hide in thick stands of salt brush. Ducks float past cattails and willows as Red-winged, Yellow-headed, and Brewer's Blackbirds are on the wing. One year, we had a surprise glimpse of a Bobcat on the prowl!

By mid-day we enjoy a picnic and visit to Saguaro National Park, a 90,000-acre wilderness preserve teeming with desert life. The park is home to Vermilion Flycatcher, Gilded Flicker, Gila Woodpecker, Rufous-winged and Black-throated Sparrows, Curve-billed Thrasher, and a host of other species. Greater Roadrunner may zip past us, chasing lizards!

After a couple of short walks and an informative drive, we leave the park on its northern side, as time allows making a stop at a good wetland site for birding on the way home, timed for species coming in to roost.

Freshen up at the hotel, then enjoy dinner at another favorite local restaurant.
Accommodations at La Posada, Tucson (B,L,D)

Fri., Jan. 12:
Santa Cruz Flats | Red Rock Feedlot | Thrasher Stalk | Tucson
This morning, we have an early breakfast at the hotel and drive north towards Picacho Peak and Phoenix. Our destination is an agricultural area that is a hotspot for wintering raptors, flocks of longspurs and sparrows, huge numbers of Yellow-headed Blackbird, and often Crested Caracara. Mountain Plover (rare), American Pipit, Loggerhead Shrike, and Horned Lark are also possible sightings.

We turn off the Interstate Highway at Red Rock, where at the Red Rock Feedlot we watch for Ferruginous Hawk, Prairie Falcon, Crested Caracara, and Merlin. We then spend the morning driving a series of farm roads, checking fields and powerlines for raptors and sparrows. A few ponds and run-off wastewater areas can be excellent for shorebirds. A turf farm has grassy areas prized by longspurs and if we're lucky, Mountain Plover.

In the southwestern corner in shrub habitat we check an area known for the chance to see three species of thrasher, including the much sought-after LeConte's.

Depending on what we are seeing we may linger here, make a day of it with a picnic lunch, or head back into Tucson with time to check some of the local parks for birds we've not yet encountered.

After time to freshen up at the hotel, we venture out for another good meal, and catch up on our species list.
Accommodations at La Posada, Tucson (B,L,D)

Sat., Jan. 13:
Catalina State Park | San Xavier del Bac | Madera Canyon
This morning we indulge in one more immersion into the Saguaro Cactus forests so unique to this area. Catalina State Park has some lovely trails, and brushy habitat prized by Rufous-winged Sparrow. Views of the Catalina Mountains are stunning here. We return to our hotel in time to pack up and check out to head down to the Santa Cruz River Valley. We may stop at a local park along the way if we hear of a sighting, and we make a stop at the beautiful San Xavier del Bac mission church for photos and to learn about the T'ohono O'odham people.

Weather pending, we have a picnic, or a local restaurant lunch, then spend the afternoon in Madera Canyon's oak-pine woodland and the grasslands that surround it. Scenery is dramatic here and birding can be excellent. Feeders at a local lodge are likely active with species like Acorn and Arizona Woodpeckers, and with luck some overwintering hummingbirds.

In the afternoon we settle into our lodgings and enjoy dinner at the nearby Tucson Country Club's restaurant, the Stables.
Accommodations at Tubac Golf Resort & Spa (B,L,D)

Sun., Jan. 14 :
Montosa Canyon | Tubac | Tumacacori | Local Hotspots
The corridor south of Tucson is legendary for winter birding, much of it centered on the Santa Cruz River. A trail connects the artisan village of Tubac to the historic site of Tumacacori National Monument and birding can be excellent here. Montosa Canyon is good for a variety of species and known as a favorite wintering location for Elegant Trogon that do not migrate south.

We visit Montosa in the morning, then walk along the Santa Cruz River in a couple of different spots to make the most of our day. We network with other guides to know the latest sightings and have a fun and full final day.

Dinner is at a favorite restaurant in Tubac.
Accommodations at Tubac Golf Resort & Spa (B,L,D)

Mon., Jan. 15 :
Canoa Pond | Return to Tucson | Connect to our Arizona Sampler Journey or Departures
Our flock disperses today. After breakfast, we pack up and head out to enjoy some local birding at a pond at Canoa Ranch, a birding spot on our route that can be quite productive. We then head to the airport, reaching there by 10:30 AM for flights out after NOON.

Sunrise in Tucson



Elegant Trogon by Homer Gardin



Vermillion Flycatcher



Santa Catalina Mountains



Curve-billed Thrasher



Birding Arizona by Homer Gardin



Western Meadowlark by Hugh Simmons



Prickly Pear



Broad-billed Hummingbird by Hugh Simmons



Tucson, Arizona



Painted Redstart by Hugh Simmons



Bobcat



Tucson, Arizona



Loggerhead Shrike


Cost of the Journey
Cost of the Journey is $2,590 DBL / $3,140 SGL based on double occupancy from Tucson, AZ. The tour price includes airport transfers, 5 nights' accommodation, ground transportation in vans, professional guide services, park and other entrance fees, and miscellaneous program expenses. The tour price does not include round-trip airfare to and from Tucson, personal expenses such as laundry, telephone, drinks from the bar, and gratuities for luggage handling or other services. Guide gratuities are at your discretion.
Travel Details
Please plan to make air travel plans only after the minimum group size has been met. We will send you a confirmation email as soon as the trip has been confirmed.
Arrival and Departure Airport: Tucson International Airport (TUS)
Arrive: Plan to arrive January 10, no later than 1:00 PM.
Depart: Plan January 15 flights leaving after 12:00 PM We plan to arrive at the Tucson International Airport (TUS) by 10:30 AM. If you wish to extend your stay in Tucson, you may use the below hotel recommendations or plan accordingly on your own.
Travel Tip: If you want to arrive a day or two early or stay on after the tour, Tucson is a great city to explore. The world-renowned Arizona-Sonora Desert Museum is a fun place to spend part of a day with a zoo, natural history museum, and botanical gardens all in one location. Tohono Chul Botanical Gardens offers easy nature trails through a variety of gardens and Saguaro National Park is a great place to visit for scenery, hiking, and to see the iconic saguaro cactus. The downtown area, which is close to the University of Arizona campus, offers many restaurants and shops. Downtown Tucson is about 8 miles from the airport and can be reached by a taxi, Uber/Lyft, or renting a car. You will need to return to the airport by 1 pm on January 10 if you are not staying at an airport hotel.
Hotel Recommendations: If you want to relax and stay near the airport after arrival (we can pick you up at these hotels), we recommend: La Quinta Inn Tucson Airport (520) 573-3333 Courtyard by Marriott Tucson Airport (520) 573-0000 Does staying downtown and exploring the many shops and restaurants sound interesting? We would recommend: Home 2 Suites by Hilton (520) 274-7400 The Leo Kent Hotel by Marriott (520) 549-5330 If you have a rental vehicle and plan on visiting Tohono Chul, a great hotel in that area is La Posada. There are many restaurants in this area as well. La Posada Lodge & Casitas (520) 492-6637.
Browse below for trip reports and species lists from past versions of this and other tours from this destination.
Arizona
May 2012
March 2016
January 2019
November 2019
January 2020
May 2021
November 2021
January 2022
February 2022
May 2022
November 2022
January 2023
February 2023 (Sweetheart Birding)
February 2023
May 2023
Monsoon Madness
August 2012
August 2014
August 2016
August 2017
August 2018
August 2019
July 2021
August 2021
July 2022
August 2022
August 2023
Chris Harbard

Chris Harbard is a well-known British ornithologist and conservationist who now lives in SE Arizona. After 24 years working with the world's largest bird conservation organisation, the Royal Society for the Protection of Birds, he moved to the Austrian optics company Swarovski and managed their birdwatching website for several years. He is now a freelance author, editor, broadcaster and lecturer, as well as an occasional bird guide in SE Arizona where he and his wife help to run the Southwest Wings Birding and Nature Festival. He is on the board of the Arizona Field Ornithologists.

Chris writes for Birdwatch magazine and was editor of the Birdwatchers' Guides series of books. His own books include Birdwatch, Songbirds, A Birdwatcher's Quizbook, A First Guide to Birdwatching.

Working as a naturalist lecturer on board expedition cruise ships for the last eighteen years has taken him to remote areas of the Arctic, Antarctic, Atlantic and Pacific. Although his main area of interest is birds, especially seabirds, he also enjoys a range of other wildlife such as cetaceans, butterflies, dragonflies and plants.

Other trips with Chris Harbard

James Petersen

James grew up in New Jersey and started birding at a young age. He continued that passion by getting an undergraduate degree in Wildlife Ecology from the University of Maine. Since then, he has worked and birded extensively across the United States, including conducting point counts and banding ducks in Maine; identifying and counting waterfowl in Nebraska; counting migrating raptors in Texas, Arizona and Wyoming; and surveying for Northern Goshawks in northern California. The past three springs he has been a bird guide in the Chiricahua mountains in southeast Arizona, and he enjoys sharing his passion for birds with others. His favorite bird is the Red-headed Woodpecker.

Other trips with James Petersen
Essential Information +
Packing List +
Suggested Reading List +
Useful Links +
Photo credits: Banners: Tucson Mountain State Park Scenic (NJ Stock), Loggerhead Shrike (NJ Stock), Desert Flowers (NJ Stock), Tucson Scenic (Steve Wolfe), Acorn Woodpecker (Hugh Simmons) Thumbnails: Harris' Hawk (Steve Wolfe), Broad-billed Hummingbird (NJ Stock), Albert's Towhee (NJ Stock), Yellow-headed Blackbird (NJ Stock), Anna's Hummingbird (NJ Stock), Crested Caracara (NJ Stock), Greater Roadrunner (NJ Stock), Gila Woodpecker (NJ Stock)