Join Naturalist Journeys for this Southeast Arizona birding tour, planned for the peak of summer monsoon season, which turns Southeastern Arizona's mountains and deserts a surprisingly verdant green. During the "second spring," see up to 14 species of hummingbirds, hear grassland sparrows singing on territory, and see breeding birds of Mexican affinity just outside your door. Witness varied and plentiful birds, butterflies, and dragonflies. Walk through cool, shaded canyons shrouded in oaks and mixed conifers, perfect for mid-day hikes; during the early mornings and evenings our group explores the open desert and grassland terrain.

Relax for two nights south of Tucson at Amado, where we take time to explore rich canyons of the Santa Rita Mountains and nearby Arivaca Cienega, part of the Buenos Aires National Wildlife Refuge. Stop at legendary birding sites such as Kino Springs, The Paton Center for Hummingbirds in Patagonia, The Nature Conservancy's Ramsey Canyon Preserve, and a terrific wetland at Whitewater Draw. We have booked four nights at the beautiful Casa de San Pedro from which we explore lush, cool canyons in the Huachuca Mountains looking for Red-faced and other warblers, Mexican Spotted Owl, butterflies, dragonflies, and more. In the surrounding Sky Island foothills, see hummingbirds galore at both public and private feeding stations.

Naturalist Journeys, LLC is an official permittee of the Coronado National Forest, following Leave No Trace principles. We also abide by the ABA's Code of Ethics for birding.
Tour Highlights
Travel with an experienced guide, who eagerly shares their knowledge of Southwestern natural history
Explore Southeastern Arizona's biodiversity at its peak season (we time this meticulously)
Relax at two delightful lodges that treat us with special meals and hospitality
See Old Bisbee, with its mining history and eclectic locals
Take advantage of the many photo opportunities — colorful birds and other wildlife abound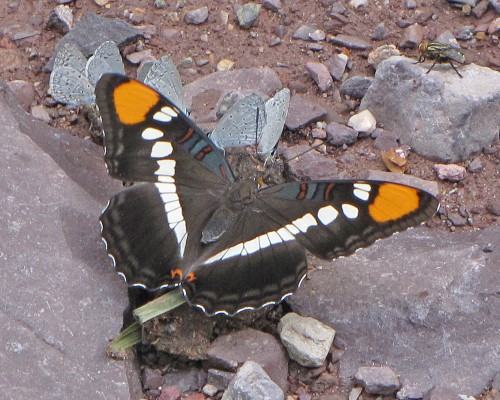 Photo credits: Banner: Portal, Arizona by Peg Abbott; Harris's Hawks, Naturalist Journeys Stock; Gila Monster by Tamara Winkler; Gila Woodpecker by Janice Petko; Montezuma Quail by Peg Abbott; Broad-billed Hummingbird by Evelyn Earlougher; Harris's Hawk by Peg Abbott; Butterfly by Mahlon Hale; Cactus Wren by Peg Abbott; Vermillion Flycatcher by Steve Wolfe; Black-chinned Hummingbird by Peg Abbott; Elegant Trogon by Peg Abbott; Arizona Sister by Mahlon Hale.